Albaggio's Week 12 NFL Picks Against The Spread
Updated: November 19, 2014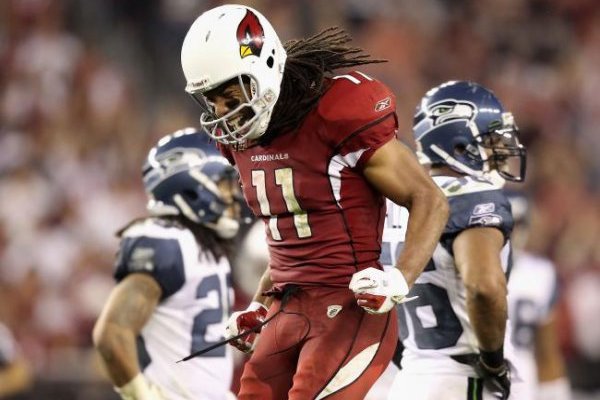 I'm back with a vengeance this week ladies and gents. Going 9-5 looks so much better than going 8-6 which is what I went last week ATS after Pittsburgh failed to cover the 5.5 points on Monday night. I find myself channeling my inner Al Davis "Just Win Baby" mentality at all costs lately. Luckily for me, I have a wonderful woman by my side who by any circumstances would have probably cause to leave my ass after a full Sunday of NFL games.
Between my profanity-laced tirades to my abrupt screaming at the television, she sticks by me through thick and thin. Even when I confuse her with my babbling about my picks one minute, and my terrible Fantasy luck the next, somehow I've tricked her into believing the reward in being with me is greater than the risk. The following is a consummate example of our previous Sunday.
Me: F%&*ing Sanchez, this mental midget is killing me today!
Her: But babe, I thought you picked the Packers in your column?
Me: Well I did, but they are already covering the spread so now I need Dr. Butt Fumble to play semi-competent because I'm playing against Green Bay's defense in my main league and they already have three touchdowns!
Her: Gotcha. Can you do me a favor and wake me up from my nap when the Charger game starts?
Me: Will do.
Her: Thanks babe. Zzzzzzzzzzzzzzzzz
Finding a good woman is like finding a 1989 Upper Deck, Ken Griffey Jr. rookie card. They're so valuable that once you get a hold of one, you never let it go because you might not be able to replace it. And yes, I just compared my girlfriend to a baseball card and simultaneously ruined any chance of getting a decent Christmas present from her. Son of a……on to my Week 12 picks.
As always, home team in ALL CAPS
Chiefs (-7) over RAIDERS
Watching the Oakland Raiders play football is like watching "Saved by the Bell: The Junior High Years." You'll do it because nothing else is on but the whole time you're thinking how much of a rip-off it is compared to the actual product. In Oakland's case the players are sporting silver and black but I'm not convinced even half of them have
NFL caliber talent and as far as "Saved by the Bell" is concerned, any episode that doesn't involve A.C. Slater and Kelly Kapowski is a sham and should immediately be removed from Nick at Nite's playlist.
FALCONS (-3) over Browns
I tried to guess this line before I looked it up and the number I came up with was Falcons (-1). I'm not sure what solace you can take in being first place in the worst division in football (NFC South) but evidently Vegas thinks it is worth an additional 2 points. Let's hope Josh Gordon's return isn't a triumphant one.
EAGLES (-11) over Titans
I'm 88% sure I saw a tear in Mark Sanchez's eye after he fumbled a snap and Green Bay recovered for their second defensive touchdown of the day. Now it may have been a melted snowflake he was pawing at but I highly doubt it. I haven't seen Mark that sad since the hot dog vendor told him he was out of relish back in 2009 during the 38-0 clobbering of the Raiders. Pull it together this week for crying out loud Sanchez, my pick is counting on you.
PATS (-7) over Lions
Believe it or not but this pick isn't based on Jonas Gray's monster performance (199 yds, 4 TD's) last week against the Colts. He's not duplicating that act against Detroit's front four. Rather, it's due to the fact that injuries have plagued the best WR in the NFL (Megatron) and although Golden Tate has done a wonderful job impersonating as Calvin Johnson's "Robin", he may be stuck on Revis Island if Johnson isn't a go. Detroit couldn't score against Arizona and I'm not confident that is going to change this week against New England.
Packers (-9.5) over VIKINGS
This line seems kind of high for a team playing against a divisional rival on the road, but if you think I'm betting against Aaron Rodgers after the way Green Bay has been decimating opponents you've lost your marbles. I'm taking the over on 3.5 Discount Double Checks (TD's) and praying at least half of them are thrown to one of my Fantasy saviors otherwise known as Jordy Nelson.
COLTS (-13.5) over Jaguars
You want to know I just secured only my third losing week out of the nine since I've been making my picks? I just re-read my past six segments and realized that I picked ALL of the favorites. Well I'm not going back and changing any of them especially in this case because I saw what Dallas did to Jacksonville in London with a QB who was playing with two broken vertebrae. Stubbornness gets you only one place in the gambling world…..broke.
Bengals (+1) over TEXANS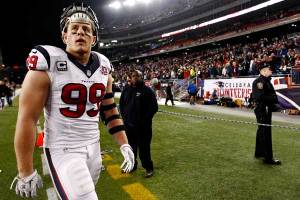 Are we sure J.J. Watt can't resolve worldly issues such as poverty, global warming, and Third World Debt? The guy's done everything you can possibly do on both the offensive and defensive side of the football so it just seems like the next logical step. Having said that, I'm not ready to anoint Ryan Mallett as the liberator of Houston's playoff hopes.
BILLS (-4.5) over Jets
Everybody knows that one guy who, no matter the circumstances, will bet on his favorite team regardless of the spread. Well that guy happens to be my brother and he is coming from out of town to visit this weekend.
It wouldn't matter if the police commissioner of Buffalo himself called my brother the night before the game and told him he had inside information that Mario Williams, Sammy Watkins, and Stephon Gilmore weren't going to play on Sunday due to an altercation at a nightclub that was being investigated. He would still take the Bills and root for the best. He has this illusion that Jim Kelly, Thurman Thomas, and Bruce Smith are going to resurrect their careers and save the day.
That's one of the downfalls of growing up in the early 90's; he never quite got over those four consecutive Super Bowl losses. Well Mikey Boy, the first bottle of Crown Royal is on you this weekend. We're going to need it if we're cheering for Kyle Orton to cover the 4.5 points.
Bucs (+6) over BEARS
Jay Cutler definitely missed his calling in life. If he was born just a decade earlier there is a 100% chance he would have been casted on the second greatest show of all time. That's right folks; here comes another Beverly Hills 90210 reference. Can't you just picture him sleezing it up at the Peach Pit After Dark?
He definitely would have hooked up with notorious bad girl Valerie Malone considering he married Kristen Cavallari in real life. I didn't think that show could get any better but then I envisioned Cutler throwing 50 yard bombs to Brandon Walsh to win the California University intramural title and Steve Sanders bringing a keg on the field after to celebrate. Man, what could have been….
Cards (+7) over SEAHAWKS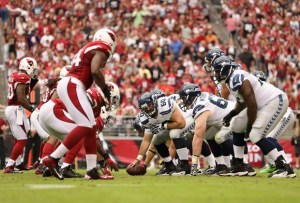 It's not that I believe in Drew Stanton, because I don't. It's more along the lines of I've never thought Carson Palmer was that good. I just checked ESPN.com to see where I would rank Palmer and guess what; he's not even in my Top 15. Crazy right? Go do the same and I got news for you, he won't be in yours either.
When you're betting on the Cards this year, you're basically betting on Bruce Arians coaching ability as well as their vaunting defense led by All-Pro Patrick Peterson. It may not always look pretty but how are you going to argue with the results when they are 9-1?
Rams (+4.5) over CHARGERS
First I compare my girlfriend to a baseball card and then I pick the loathsome Rams getting 4.5 points over her beloved Chargers. It's going to be a LONG holiday season at the Albaggio household.
BRONCOS (-7) over Dolphins
I don't care if Miami has looked sneaky good the last few weeks and are creeping into playoff contention. I also don't care if Julius Thomas and Emmanuel Sanders are questionable for the game with significant injuries which is the only reason this line is -7 instead of -10. I SHOULD, but I don't.
If you don't think Peyton Manning is seeking retribution from last week's debacle against the Rams, tune in at 4:25 Eastern time to see a pissed-off kid from Louisiana throw Miami's usually dependable Secondary into a crab broil and enjoy the festivities.
49ERS (-9) over Redskins
We're about one blowout loss, two overthrown passes, and three snide RGIII comments away from seeing DeSean Jackson spontaneously combust. Just you wait and see…
Cowboys (-3) over GIANTS
The Cowboys are only laying THREE points in this game?! Bahahahahaha (That's right Enrique, Rob, and the rest of you Cowboy lovers, I've officially tried to put the reverse Albaggio jinx on you guys. Let's see how it pans out).
SAINTS (-3) over Ravens
Dear Sean Payton,
I've been picking your team in my weekly column ATS rather regularly. So far there has been mixed results. I was wondering if we could set up something comparable to the "bat signal" in where you would notify me via symbols of how you thought your team would play that week. I was thinking a "good" symbol would be a moonlit image of Drew Brees' birthmark on his face and a "bad" symbol would be a picture of a Buddha that represented Rob Ryan's terrible defense. Let me know what you think.
Sincerely,
Albaggio
Thanks again for reading everybody and have a great weekend.
Last Week: 8-6 ATS
Overall: 59-51-2