Arsene Wenger Is Looking At The Invisible Man In The Mirror
Having self-awareness is one of the most difficult aspects of being human. Without self-awareness we lack the ability to truly see our flaws. This is why the idiom "You should look yourself in the mirror" is always thrown at someone when they do not seem to be realizing the flaws and lack of self-awareness everyone around them is fully aware of.
I do not know Arsene Wenger personally, although with all the love and respect and admiration I have for the man, I would love to sit down with him and discuss all things Futbol and Arsenal. But again, I do not know him personally, and all I can go on as far as the lack of self-awareness angle are what I have seen and heard from him in recent years.
Arsene Wenger never fully seems to get it. And by "IT" I mean that Arsenal Football club are not held in the same regard and esteem it was prior to 2006. I say 2006 because that was when Arsenal lost the Champions League Final to Barcelona in heart-breaking fashion. Since then, Arsenal has been a shell of the club it was while at Highbury.
This Emirates Arsenal team seems like a rudder-less ship on far too many occasions, and the captain of that ship, Arsene Wenger, seems to have lost what it takes to get Arsenal back on course. And that, as a massive Arsene Wenger supporter, hurts me to write. But as they say, the truth hurts.
The Dark Ages vs The Banter Era Under Arsene Wenger…
Many football fans, whether it be Arsenal fans, rivals of Arsenal, or just neutrals alike, love using the term "Banter Era" when discussing Arsenal's trophy drought prior to the 2014 FA Cup. That trophy drought was a dark period for the club and for us Gooners around the world. This is why the trophy drought era is what I have always called the "Dark Ages".
It was an awful and difficult time for anyone that loved the club. From 2005-2012 we saw Arsenal legends like Robert Pires, Thierry Henry and Patrick Viera move on to other challenges, while the next wave of the post Invincibles Era players who were supposed to be the next wave of greatness, all leave one by one. Losing the likes of Samir Nasri, Cesc Fabregas, Alex Song and Robin Van Persie hurt.
While shipping off our own young great talent, Arsenal missed out on the likes of Juan Mata and Eden Hazard. It seemed like our future and present greats were leaving, and we were not replacing them with the same quality of footballers. But, we were told that better times were ahead.
The new shiny Emirates stadium was costing Arsenal tons of money, so it was necessary to sell and not buy to balance the books. But our time would come! So for almost a decade Arsenal and its fans toiled in the mediocrity of 4th place finishes, no FA Cups or League Cups, and being bounced out of the
Final 16 of the Champions League. But Wenger, Ivan Gadzidis, and anyone associated with Arsenal kept telling us that there was light at the end of the tunnel. "You'll see", is what we kept being told. "Soon." It was always "soon." A lot of fans became impatient, but others tried to give the man who gave us the mighty Invincibles the benefit of the doubt.
So, toil in mediocrity Arsenal did. And the Dark Ages were awful but necessary, we thought. But then came the signing of Mesut Ozil. Eureka! We have done it! Wenger has done it! We are no longer a selling club! This proves it! We were just balancing the books for the new stadium! Now Arsenal were once again ready to purchase World-Class players like Mesut Ozil??
Time to get back to our winning ways. Little did I know at the time that the signing of Mesut Ozil wasn't the beginning of new hope and a shining light to rid of the Dark Ages. No, it was actually the beginning of the real Banter Era. I call 2013 to the present the actual Banter Era for Arsenal because we are blatantly being taken for fools and no one at Arsenal seems to be holding Wenger accountable for anything.
Back-to-back FA Cups is a damn good accomplishment, it means we can win trophies. But when exactly are Arsenal going to win the biggest trophy in England (the EPL Title) and the biggest club trophy on Earth (The Champions League)? Why is there money to be spent, as we've been told over and over, but there isn't much spending? Why on Earth would Petr Cech, a 33 year old goalie, be Arsenal's only marquee signing in the summer of 2015?
Wenger, the footballing genius, really believed Arsenal were only a goalkeeper away from winning the Prem? Surely me, who doesn't know anything about the game compared to Wenger, can see that we never replaced Viera or Robin Van Persie since their departures? Surely me, who is by no means an accountant, can see that with the new TV money, gate revenue and kit deals, that Arsenal should be flush with enough cash to go out and fill the positions of need. Unfortunately, those positions weren't filled in 2013, 2014, nor in 2015, and no EPL title or Champions League title were even close to being achieved in those years.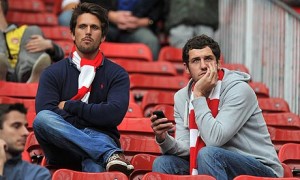 And that's where the real banter is. Having the resources to compete but choosing not to out of a sense of pride and stubbornness that is admirable, I guess, but outdated in 2016. The argument for Wenger when he doesn't spend is, "just because you spend doesn't mean you will win." Which is true. But this is Arsene Wenger.
He has an eye for talent that is legendary. So if HE spends, I believe we would have won at least one EPL title since Ozil's capture and Arsenal could have went deep into the Champions League. But, it's the same story every year. Arsene Wenger buys quality, but never the quantity needed to get the club over the hump.
And there is no greater banter than selling your fans and players dreams of trophies and re-enforcements, only to continually have mounting injuries, numerous dropped points because of lack of replacements, and have blame passed to everyone other than the man who is coaching the players and sanctioning the transfers of players. This rests at the feet of Wenger.
After the 2016 opening defeat to Liverpool, in which Wenger started two very young Centre Backs and a winger at striker while leaving his newest signing (Granit Xhaka) and experienced midifleder (Santi Cazorla) on the bench, I have to wonder what exactly was Wenger thinking not bringing in a striker and defender weeks prior to the opening weekend? Again, how can I, a regular fan, know Arsenal's needs more than Wenger? And that's where the lack of self-awareness keeps coming back to bite Arsene Wenger square in the back-side.
After the Arsenal loss to Liverpool, Arsenal legend Thierry Henry echoed what many Gooners have been thinking for years. If we keep being told that there is money to spend, but we refuse to spend, who is telling the truth? Is there money to spend? If so, why stash it away and not use it?
It's a terrible and idiotic method that Arsenal and Arsene Wenger abide by and it has led to 12 years without an EPL title and 20 years without a Champions League title under Wenger. A few friends have asked me recently are Arsenal still a "big club". I always laugh to myself when I hear the term "Big Club" thrown around.
Is Arsenal still a cash cow and massive revenue maker, yes. Are they still playing in London with a massive worldwide following and always finish in the top 4, yes. Do they have World-Class players, a few, but yes. So yes, Arsenal are still a "Big Club" so to speak. And can Arsenal attract big name players? Absolutely they CAN in my opinion.
But you have to pay for those players and have to pay the wages demanded and the fees to their agents. The ability to attract players, and the necessity you feel is needed to have them, are not the same thing. And that's the disconnect with Arsene Wenger and Arsenal. London is the capital of Europe.
Why would players refuse to play in London in a massive new stadium for thousands of fans every week? They wouldn't. But you can't go where you're not wanted. And if Wenger doesn't want to pay your asking price, someone else will.
Namely, one of Arsenal's rivals. The Banter Era will continue until Wenger either realizes he's turning the club he loves so dearly into a punch-line and spends what is necessary to get Arsenal to title(s), or, he leaves. Self-awareness, ladies and gentleman. It's an important human quality that so many geniuses lack. Wenger is no different.
He's living in a football world that has long since passed his ideals and virtues. I still have hope that this man, this footballing legend can get Arsenal to the title before he leaves, at least one more time. But in the end, maybe that makes me just as bad as Wenger.