Liverpool's Season From An American Gooner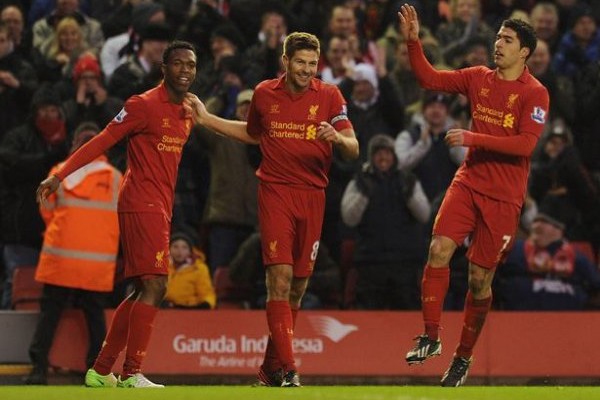 Barring Arsenal, there is no team in World Futbol I respect more than Liverpool FC.
I've always enjoyed watching the Reds play and I always wish them well except in the games they play against my Gooners. This team has always come off as nothing less than a class act to me, and when they are doing well in the English Premier League, I think it benefits all of England.
To be honest, I did not have Liverpool contending for the title this season. What I assumed would happen would be Liverpool making inroads back towards their "Big 4" position in the Prem and starting to regain some of their past dominance and relevance.
The Reds have proved me terribly wrong and I am very glad they have. 
With their emergence as genuine title contenders again this season it has made the race for the title that much more interesting.
For far too long the race for the title was either a 2 or a 3 horse race as opposed to 4-5 big teams fighting it out until the end for the privilege of raising the title.
Now that Manchester United have taken a momentary step back while they rebuild under new manager David Moyes, and now that Tottenham have been exposed for what us Arsenal fans always knew they were, non-contenders, Liverpool have staked their claim to return to the top of the league. 
Liverpool has done it a way that Arsenal fans should envy because ultimately, it's the way Arsenal won so many trophies during Arsene Wenger's first 500 games in charge of the club.
Liverpool plays with a drive and tenacity and quickness that strikes fear into every team they come up against.
The Reds have their own version of Dennis Bergkamp and Thierry Henry with their dynamic duo of Daniel Sturridge and Luis Suarez.
Is there a more feared tandem in World Futbol today than those two madmen?
If so I would love to hear who they are. Suarez and Sturridge have a combined 49 goals this season.
Keep in mind Suarez missed games earlier in the season due to suspension and Sturridge was out for weeks with an injury as well; that number of goals could be 10 higher had both been healthy and playing at the same time all season. 
And in their midfield they have an absolute legend in Steven Gerrard the same way Arsenal had when Patrick Viera was the clubs backbone.
Stevie G is one of the greatest players in Premier League history and he is still as important today for Liverpool as he was when he first came to the club.
When the Reds need a pick up or someone to calm down the youngsters they have like Couthinho and Raheem Sterling, Gerrard is always there to make sure the lads are calm, cool and composed. And who else but Gerrard to take and make penalties when the team needs them most. 
And the man who is the architect behind this entire new wave revolution at the KOP is none under than Brendan Rodgers, who similar to Wenger is a disciple of attractive/total Futbol.
During his time at Swansea Rodgers teams played in the manner in which English fans had grown accustomed to while watching Arsenal play; one touch passing and possession based Futbol that caused teams to fall apart from chasing the ball all game long. 
From watching Liverpool this season as well as last season under Rodgers, this Liverpool team does not play in a similar style.
Now, the Reds simply over match their opponents with a smash and grab sort of mentality and use the pace of their young stars to make opposing defenders and defensive midfielders looks silly.
This Liverpool teams does not rely mostly on build up play the way Rodger's Swansea's teams did, but I am sure in the summer they will be purchasing the type of number 10 that can direct the play and have a steady build from the back on forward to have Liverpool literally breaking down teams mercilessly all season long. 
If there is a glaring weakness for the Reds it is surely their central defenders Martin Skrtel and Daniel Agger. 
The Liverpool defense as a whole does not strike fear in anyone and there is always the belief that if both Suarez and Sturridge have an off game then the Reds can be punished because of their back line.
Luckily for the Reds their strikers rarely have an off day so they've been able to just outscore their opponents.
This is certainly another area Rodgers and the Liverpool brass will address in the summer and once they do, look out world. 
I never want anyone to win the Premier League title not named Arsenal, I can't; I'm a Gooner and always will be.
But if I can tolerate anyone other than Arsenal winning the Prem it would definitely be Liverpool FC.
Loading ...
I know some Arsenal supporters in England that despise the Reds and their fans but being an American supporter I don't have interaction with hateful Liverpool fans.
All the Liverpool fans I have ever come across luckily for me have been class people and never had a bad word to say about the Gooners, well at least not to me anyway. 
There is still a lot of season left to be played and it's anyone's guess who will win the league, but for me, Brendand Rodgers is easily the Premier League manager of the year and if the Gooners can't lift the trophy I hope the Reds do.
As long as it's anyone but Chelsea really, that's for sure. 
Follow @LSN_Frantz on Twitter