Arsenal F.C.: Where Do The Gunners Go From Here?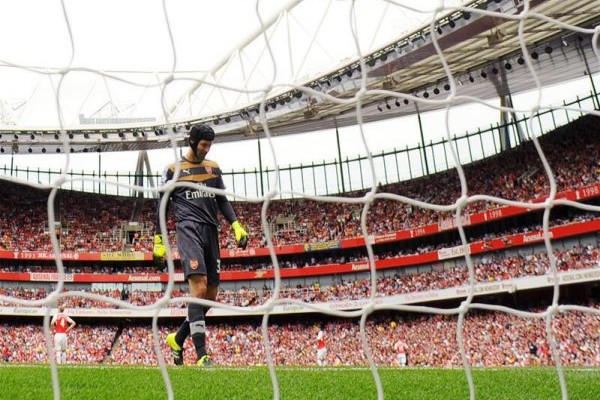 The heavily anticipated opening game in the Barclays Premier League for Arsenal F.C. was supposed to put a stamp on the season ahead by showing the rest of the league that Arsenal were in business. Arsenal fans came into this fixture believing that this Arsenal squad was "the one" which could finally challenge for a spot at the top.
But there was justification behind their expectations. Preseason started off the way we all would have wanted it to, with back-to-back wins in the Barclay's Asia Trophy winning 4-0 vs Singapore XI and 3-1 vs Everton.
Then came more success in the Emirates Cup for Arsenal by beating Olympique Lyon and VfL Wolfsburg 6-0 and 1-0 respectively. The team looked confident. There was fluidity in the passing and movement, and it felt like there was a real sense of camaraderie within the squad.
But the real challenge was just around the corner. The one everyone with any footballing knowledge knew would prove the real test for Arsene Wenger's team; Arsenal vs Chelsea in the Community Shield. A difficult game and a hard fought 1-0 win for the Arsenal side increased the belief in fans across the world that this very well may be "our year."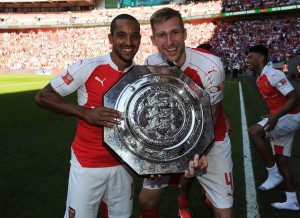 With the signing of Petr Cech for a fee of around £11m on 29th June, hopes were high. A proven world-class goalkeeper taken from our rivals made the signing even sweeter for the jubilant Arsenal fans. Things were looking positive for the Czech international winning his first three games and bagging three trophies.
The question "could Cech win Arsenal the league" was thrown around on social media platforms, as the 33 year-old seemed to command his defence in a way we have missed since the days of Jens Lehman. It didn't appear that, after this signing, we were really lacking in any other positions (apart from most fans wishing for a back up CDM and possibly a ST).
Everything looked positive for Arsenal and for their new signing going into the first game of the season. The morning of the game, fans were awaking hopeful and excited, there was an air of expectation that we would win this game, that we would build on back-to-back FA Cups and Community Shields to launch a title race challenge.
But this turned out to be the debut game Cech and most people associated with the club would rather forget.
Remember the opening game of the season in 2013 against Aston Villa? Furious fans left the ground, not just blaming the squad or the manager, but mostly the referee, Anthony Taylor, as well. Shocking refereeing that day combined with a poor performance sent the Arsenal fans into panic mode, highlighting the deficiencies in the squad and the need to sign players.
Yesterday's result against West Ham, although once again leaving The Emirates Stadium angry and frustrated, wasn't quite the same. Whether you're a fan of the guy based on previous games or not, referee Martin Atkinson cannot be blamed for this one, with him booking 2 West Ham players within the first 10 minutes (Noble 5', Obgonna 7') proving that he wasn't going to accept any foul play on this day.
This loss was simply down to poor performances from pretty much the entire team, which for me, made it worse than the Aston Villa game of 2013. 
So what was it that went wrong? We appeared to be ready. Preseason had gone perfectly to plan; Wenger and his Arsenal side finally had a victory over Mourinho; 4 trophies in 14 months – it was all there.
As a football fan, you would hope that the players and the manager wouldn't be approaching what has always been a tough game against West Ham with arrogance and ignorance, but it is difficult, on some level, not to believe that that was the case.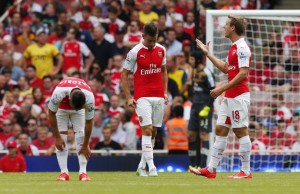 I believe it is quite simple why we lost yesterday:. First, Arsenal put in a poor overall performance and got punished by the Hammers for making silly mistakes. West Ham seemed more determined to get a win than Arsenal did.
Furthermore, the Gunners were complacent in their approach to the game. After a successful preseason, it seemed as if the players and the manager turned up thinking they could just win the game and be home in time to watch "The Great British Bake Off." Not smart.
Finally, Wenger's men didn't take advantage of the chances they created for themselves. That can be boiled down to needing a "world class" striker, or, it could simply be that it was just not Arsenal's day and whatever could go wrong, did go wrong. The choice is yours on either of those things.
The fact remains that Arsenal had 22 shots yesterday, and only 6 of those were on target, compared to West Ham's 8 shots with 4 on target, 2 being goals. Olivier Giroud is a sort of marmite character. Either you love him and appreciate what he does for the side, or you hate him and want him replaced. Giroud had 5 shots as the loan striker, and 2 of them were on target yesterday.
He was top of Arsenal's "shots on goal" tally, followed by Alexis Sanchez. Now, Alexis came on in the 67th minute, leaving him with just under 25 minutes of normal playing time to make an impact. We can all sit and question whether he should have been in the squad or not, and whether he should have played so soon after returning from holiday, but we must ask ourselves how is it that a guy who came on so late in the game can be second for highest shots/on target shots (with 3 shots, 2 on target).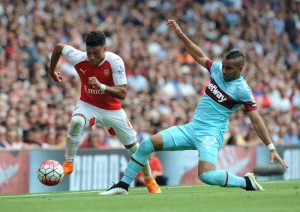 Blame is easily placed on the man leading the line, in this case Olivier Giroud, but we have to look at the rest of our attacking players too. Alex Oxlade-Chamberlain looked dangerous going forward, had 3 shots yet 0 on target. Aaron Ramsey, Mesut Ozil and Theo Walcott had 2 shots, 0 on target – and two of these player (Ozil, Ramsey) played for the entire 90 minutes.
Putting the ball in the back of the net (which is vital to winning) was Arsenal's biggest issue against West Ham. 
Where Arsenal don't lack is creativity in the midfield. The likes of Mesut Ozil, Santi Cazorla and Aaron Ramsey could be said to be one of the best midfield trio's in the league. Arsenal don't have an issue creating chances and likely never will under Wenger's style of play and the amount of brilliant midfielders the club has.
Against West Ham, Santi Cazorla created 5 chances, Mesut Ozil created 4, Alex Oxlade-Chamberlain created 3 and Aaron Ramsey created 2. It is clear that Arsenal as a whole must be more clinical, and not put the blame squarely on the shoulders of Olivier Giroud, who seems to take the brunt of all the blame. All of our attacking players must be making their chances count. 
The line up bared a resemblance to that of the side that faced Chelsea just one week before, with Olivier Giroud replacing Theo Walcott, and Mathieu Debuchy replacing an injured Hector Bellerin. The question for me when I saw the line up was if we would be seeing Aaron Ramsey or Santi Cazorla.
As the game began, it was Santi drifting wide and Ramsey taking up his preferred position in the middle of the midfield, as was the case in the Community Shield.
Now, this seems strange to me. Why push a player, (Santi) who arguably had this best season at the club in a deeper, central role the season before, out wide rather than rotate the squad, rest Ramsey and play a natural winger if Wenger was reluctant to play the Welshman out wide?
A strange decision to make when we have natural wingers, but it was a decision that Wenger felt would best the Hammers. Eventually we saw Santi move back centrally when Francis Coquelin was replaced with Theo Walcott. But at that point it seemed too little and too late for the Gunners. 
One aspect I find frightening is what Wenger had to say during his post-match comments. Wenger was asked about the opening goal and responded by saying,
"I knew that if the delivery was good, we would be in trouble before the free-kick was taken."
Never really something you want to be hearing after a defeat, but it does make you question how we could get our set-piece tactics so wrong if the manager knew the dangers of the opposition so clearly. Food for thought maybe? 
Was it complacency that saw us defeated by a more determined West Ham side, or was it purely just a bad day? I would like to this it is the latter of the two. These things happen at times, and as Arsenal fans we have seen this happen quite a bit unfortunately. But now the focus has to be to prevent such occurrences from happening in the future, and get back to winning ways next week against Crystal Palace. 
Arsenal can survive an opening day loss. It's how they respond to the loss is what makes them genuine title contenders. Arsenal are currently 1 point behind the current league champions Chelsea, and the Gunners have 37 games left this season. Yes, it is frustrating to lose a game which had so much promise.
Yes, there is disappointment that we couldn't continue our winning, but, in all honestly, Arsenal deserved to lose based on that performance. The important thing is that we use this loss, as we have done before, as a wake up call to push forward, make any additional signings we need earlier rather than later, and get back to winning ways.
A season with so much promise, as most Arsenal fans seem to believe, does not capitulate after one game. 
To sound incredibly cliché, this is a marathon, not a sprint. We have to bounce back, get behind the team again at Crystal Palace and ensure that, as fans, we are supporting the boys.