Jurgen Klopp, This generation's Arsene Wenger.
Updated: October 24, 2013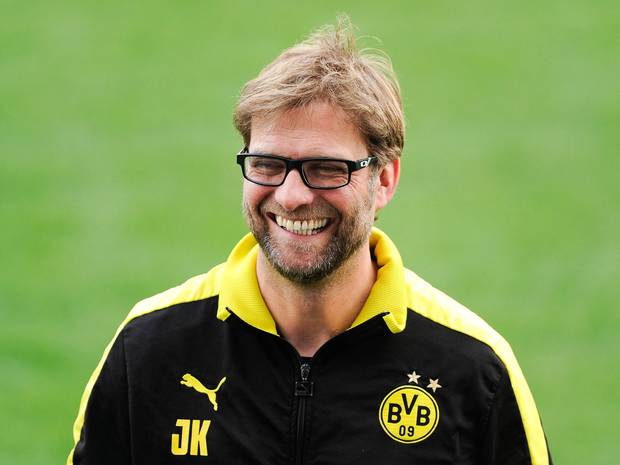 In sports, you sometimes have to see the game from a different perspective. When your team loses you also win – well, maybe "win" is a strong word; what you do is gain - gain is a better word. The thing you gain from a loss more than anything is insight, because when your team wins, all is right with the world - but when your team loses, you nit-pick and dissect every little thing. So even in losing, you take something positive away from that loss. On Tuesday night Arsenal played Borussia Dortmund in the Champions League. It was a great game for the clubs' supporters and for the neutrals to watch. Both teams play a beautiful brand of football. That one-touch passing, possession domination, counter-attacking, attractive football that is so pleasant to watch. In my opinion this is the best brand of football because it epitomizes the beautiful game, and these two teams are a joy to watch. 
Unfortunately my Arsenal lost the game 2-1, but in the process, the game confirmed something I have been suspecting for 3 years: Jurgen Klopp is this generation's mad scientist, he is this generation's Arsene Wenger, and he should succeed Le Professeur.
Jurgen Klopp's Borussia Dortmund is filled with young stars making  a name for themselves in Germany. Much to Klopp's and Dortmund fans' detriment, the rest of Europe has been noticing as well - especially Bayern Munich. FC Hollywood has already pilfered Dortmund's prized possession last year in Mario Goetze, and is on the precipice of doing it again this year with Robert Lewandowski. Dortmund lost Shinji Kagawa to Manchester United a couple of seasons back, and lost Nuri Sahin (who returned to them last season) to Real Madrid. Klopp keeps losing star players, yet his team still manages to play attractive football and remain relevant in the German Bundesliga and Champions League. Does this remind you of any other situation? It should - it has Arsenal written all over it.  The last few seasons – well, to be honest, the last 9 trophyless seasons at Arsenal - have been alarming and saddening for Gooners fans all over the world. We expect trophies, at least one a year. Unfortunately there have been many factors that have worked against Arsenal in recent seasons, for most of which we'll never get straight answers. Yet Arsenal has never finished out of the top four under Wenger and we are always in the Champions League group stages. So all has not been lost for Arsenal, but it's trophies the team should be striving for, not places in cup competitions. Regardless, Klopp and Dortmund continue to lose players and do not have the funding Arsenal has, yet win trophies. That's a testament to their coach.
Since 2010, Klopp has led his team to four trophies, including two league titles in the Bundesliga. Dortmund made it to the Champions League finals last season and is currently only one point behind FC Hollywood in the German top-flight. This team is beyond talented but there will come a point where Klopp will say enough is enough of his stars leaving for rival clubs or to other European clubs. Arsenal showed its intent to become the Arsenal of old when they signed Mesut Ozil at the end of the summer transfer window. Arsenal is starting to generate money for transfers again, and now have no need to sell their stars. If anything, Arsenal will not only keep its current crop of talent, but other world-class players will want to ply their trade at the Emirates next to Mesut Ozil, Jack Wilshere, and Santi Cazorla. I am sure Wenger will sign a contract extension at the end of this season and it will be for two years max; in two years' time, Klopp will only be 48 years old. Arsene will look for his successor similar to the way Sir Alex Ferguson did at the end of his Manchester United reign.
If you follow Arsenal then you know before anything, Arsene Wenger lives by one philosophy - his philosophy. Quality one-touch football, the lion's share of possession in games, deadly on the counter attack, breeding young talent, never overpaying for players, and playing the most attractive football on Earth. These are things Wenger lives by, and what all of us Arsenal fans have now come to live by and expect. Anything less would be a slap in the face of Arsenal. Wenger will pick a successor, and the only three people I can envision him appointing are Pep Guardiola, Frank Rijkaard, and Jurgen Klopp.
All three men follow the Total Football principle made famous by Rinus Michels of the Netherlands, then continued on by Dutch legend Johan Cruyff. Any of these men would be excellent replacements for Wenger, and although it will be a sad day when Wenger leaves Arsenal, he's getting the club back on track for the next manager to come in and take over the reins. Because regardless of which manager Wenger picks, it'll be his manager, the best manager, and the right manager for Arsenal. Wenger will make us proud because as always, "In Arsene, We Trust."