College Basketball made a believer out of me.
Updated: November 13, 2013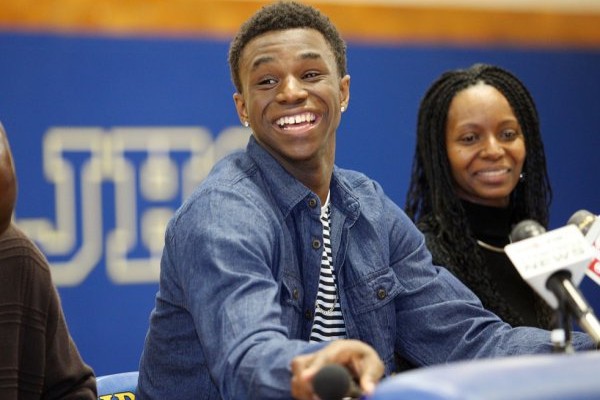 Last night I tuned in to the Duke vs. Kansas State match-up I had been hearing about all week. I am not a college basketball fan, and I have been very critical of the sport for quite sometime. In my opinion, the product the NCAA puts on the floor is just not worth watching unless you have a rooting interest in the team as part of a school's alma mater or the team is located in your town.
Last night I wanted to see for myself if the kids I had been hearing so much about were as good as advertised. And if last night was any indication of how the rest of the college season is going to be, then I am all in, and for this season I won't be dismissing college basketball until the Sweet 16. 
After watching Jabari Parker and Andrew Wiggins, I was sold on this season's freshmen class. Numerous people have told me there are other freshmen in this season's class that will also surprise me once I have a chance to watch them. If that is the case, the NCAA better capitalize on this and promote these games as much as possible because from what I saw last night, a couple of the freshmen were NBA caliber ready. Jabari Parker, Julius Randle and Andrew Wiggins are definitely one and done's, and with what I saw from those three last night, they are going to be very good NBA players.
Prior to last night's game, I had seen footage of Jabari Parker when he announced he was going to be attending Duke and a few highlights of him from high school. When the game started and they had him listed at 6'8, I had no idea he was that tall; then when his weight was listed at 235, I was in shock. Once he finally got on the court and got going there were two things that came to mind. First, this kid has an NBA frame and he looked like a man amongst boys out on the court. The second thought was how much he reminded me of Carmelo Anthony.
The same size, the same confidence to pull up from anywhere, the ability to bully his way to the rim whenever he felt it necessary, this was 'Melo 2.0. The kid is a tough match-up because he's so much bigger than everyone else and knows how to use his size. Not only that but he has a great court vision and was making some very nice passes last night. I was thoroughly impressed last night by Jabari Parker and I will tune in to Duke games to watch him play.
John Calipari keeps finding these amazing 18-year old one and done athletes and he's not ashamed of it, nor should he be. I was looking at this Julius Randle kid play last night and I wanted to see a birth certificate to verify his age. You mean to tell me a few months ago Julius Randle and Jabari Parker were playing against high school juniors and seniors? It seems unfair, they are just that much bigger and better than most of these college kids, I can't fathom how it must have been watching them in high school.
Julius Randle is the college version of Zach Randolph. The young man is a bully in the paint. He gets people out of his way and then it's ball in the hoop at will. He's also a very good rebounder. When he gets more experience under John Calipari and really learns how to use his skill set then, he will have to be doubled down low all game long leaving teammates open for easy shots all over the floor. Because playing him alone would be suicide, and he did this against a Tom Izzo coached Michigan State defense. Nice pick up coach Cal.
Last but not least is the man being compared to everyone from Magic Johnson to LeBron James and every player imaginable in-between, Andrew Wiggins. Has any player ever had such a sneaky great game in such short amount of time? I was texting my college basketball friends last night asking where was he all night. Every time I looked up he was off the court sitting on the bench talking to one of Bill Self's assistant coaches.
I thought maybe he had picked up an injury or something, but it was due to his two fouls. The college game does not have the luxury of six fouls like the NBA so after two fouls a player usually gets pulled. He sat most of the first half and I know he had to watch Jabari Parker catching alley oops and hitting three pointers all over his team and thinking to himself this kid is not better than me. Wiggins ultimately got the last laugh on this night.
Regardless of how great Jabari Parker was last night, and he was great, the last 5-10 minutes of last night's game belonged to Andrew Wiggins. In the first half, when he was on the floor, he seemed timid to me and was not what I was expecting. But during the closing portion of the second half, he was playing like the player I had been hearing about for months. He was engaged, asking for the ball, making plays for his team, playing defense; basically taking the game over when his team needed him most. In sports they refer to that as clutch.
It was a great night for the college basketball neutral fan last night, meaning it was a great night for college basketball overall. Those three freshmen last night had me glued to the television for two straight games. That usually wouldn't happen with me when college basketball is on. So good luck to those three budding superstars, and good job NCAA, you have my attention for this season. Then it's back to me being a one and done fan. Hell, at least I tried.