Mikhail Prokhorov: From Russia with Pink Slips.
Updated: November 14, 2013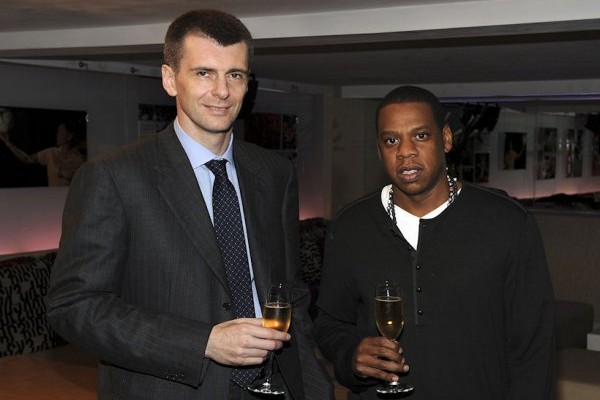 Foreign owners of sports teams are a difficult people to read if you have not been privy to one owning a team you root for. An owner from a different country will understandably have a different view on matters than what the fans of the native sports team have come to expect. It makes sense, to an extent; and is to be expected, of course.
As long as the team's supporters and the new management agree to one important aspect, then all is forgiven. That one important aspect is winning, and nothing should be above winning when it comes to the owner and supporter relationship. The owner promises to do everything in his power to get the team in a position to win, and the fans agree to support the team at every turn. 
It's similar to marriage vows. If you aren't into sports then this may sound silly, but the average sports fan has taken this vow with all of their team's owners.  And within the last 10 years, I have been able to see foreign owners from one country in particular rule their teams with a quiet iron fisted demeanor that is absolutely frightening. And that country is Russia. 
My first glimpse into Russian ownership came from English football, and London powerhouse Chelsea F.C.'s billionaire owner Roman Abramovich. When he purchased the team in 2002 I wasn't quite sure what expect. I knew from reading books or from things I had learned or watched growing up that the Russian people are incredibly intelligent and amazing businessmen and women; and they also will not tolerate mediocrity, or rather, what they deem to be mediocre. 
The owners from Russia have an objective whenever they purchase anything, and they need that objective completed with maximum efficiency and in an amount of time they feel is reasonable. And above all, it's their team so it's their way or it's your job on the line; there is no room for negotiation or discussion. In his 11 years as owner of Chelsea, Abramovich has fired 10 coaches. The man has a short fuse when it comes to his coaches not winning; and not winning often enough.
Roman Abramovich fired Carlo Ancelotti in the stadium tunnel after the end of Chelsea's final game in the 2010-2011 season. Ancelotti did not bring a trophy to Stamford Bridge that season, and for Roman Abramovich that was the last straw. The puzzling thing about Ancelotti's firing was the season before he was fired he had won the two most important trophies in England, the EPL trophy and the FA Cup. 
There are managers that go their entire careers and not even sniff an opportunity to play for those two titles. The Italian born Ancelotti won both in his first season coaching in a foreign county. He gets fired in his second season? Note to world, the Russians play no games.
The Chelsea madness was at arm's length for me because I am an Arsenal fan, so while watching what was happening at Chelsea, I was wondering what would happen if a Russian owner ventured over to American soil. Then one landed in my backyard and purchased a team I root for, the Nets. 
Once the Nets moved to Brooklyn I knew it was only a matter of time before the madness on our end would ensue similar to how it was in London. Brooklyn Nets owner Mikhail Prokhorov comes off as a completely different type of person than Roman Abramovich, on the surface. Where Prokhorov is more outgoing and seems like everyone's favorite billionaire uncle, Abramovich is quite, reserved, rarely smiles and just seems to always be observing everything at Chelsea closely.
Don't let the contrast in demeanor fool you, it didn't me, and I had warned my friends of what was to come. In December of Nets inaugural season in Brooklyn, they had a very rough month. The team was not playing well, their star point guard Deron Williams was hurting, their star center Brook Lopez was out injured, and the team was embarrassed on national television in a Christmas day match-up against the Boston Celtics. I saw the writing on the wall before anyone else did, then came the announcement that Mikhail Prokhorov had fired Avery Johnson. 
I immediately received text messages from friends telling me I called it 100% correct. I told them don't worry, this is just the start. At the end of the same season after the Nets were ousted in the first round of the playoffs by a depleted Chicago Bulls team, I again told my friends PJ Carlesimo was next. No way they told me, he helped the Nets win 49 games with Gerald Wallace and Reggie Evans as his starters. 
Then came the announcement that Billy King had relieved Carlesimo of his duties on orders from Mikhail Prokhorov. That's two coaches in one basketball season. I thought to myself Roman Abramovich would be proud of his compatriot.
The best step for Brooklyn after Carlesimo's firing would have been to hire one of two kinds of coaches. The first would have to be a seasoned coach who had playoff experience and could handle pressure from management and fans. The second would be an assistant coach that had been an assistant for years and had experience working under winning head coaches. The two coaches I was sure Brooklyn would go after were Lionel Hollins and Brian Shaw. Both coaches met the criteria of what Brooklyn needed going forward. 
The Brooklyn Nets management decided to go the silly route and chose a man with no coaching experience and who had been on the Nets rival a month and a half before, Jason Kidd. You can't be serious. Jason Kidd is our coach? People were raving it would be a good idea and I was left looking like the skeptical jerk. 
Unfortunately for Jason Kidd I am the least of his worries. I didn't believe firing Avery Johnson was the best decision at the time, I know firing PJ Carlesimo was a dumb move, and firing Jason Kidd too soon will be another step in the wrong direction for this team. I haven't heard any rumblings of Jason Kidd being on the hot seat, but the loss last night to the Sacramento Kings was embarrassing. And I know Billy King and Prokhorov are fully aware of it. 
The Nets were on three days rest and came out looking as if they were playing in their fourth game in five days. The team looked lifeless, Kevin Garnett looks very unmotivated so far this season, and the team is missing shots from right under the basket. The Brooklyn Nets have two wins in their first 7 games, and unless Kidd can get his team to play better basketball, he won't make it to Christmas.
Lionel Hollins is still on the market and has a proven track record as being a very good coach when he was with the Memphis Grizzlies; so he's always an option. George Karl is currently available as well because he is working as an analyst on ESPN. And of course the big fish will always be Phil Jackson. But at this point Phil Jackson is not coaching anyone ever again not named Kobe or Jordan so that's just a pipe dream.
I don't think Jason Kidd should be fired, it is still too early in his tenure and there are over 70 games left to play in the season. But with Prokhorov and his other compatriots like Roman Abramovich of Chelsea, Suleyman Kerimov of Anzi Makhachkala in Russia, and Dmitry Rybolovlev owner of AS Monaco in France, there is no job security for a coach. Especially when there are other options available. So good luck on this road trip Mr. Kidd, because you're going to need it. Here's looking at you Jason.