Albaggio's Week 6 NFL Picks ATS
Updated: October 18, 2015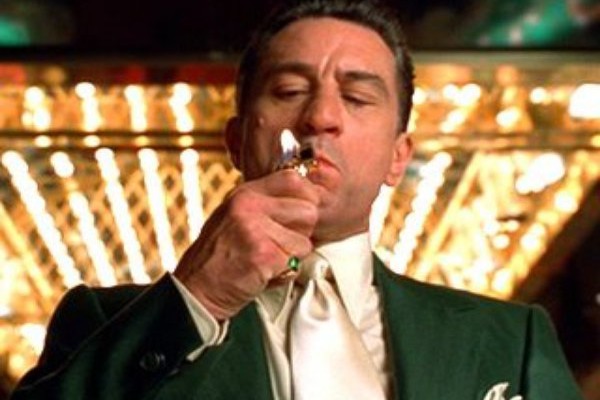 Cognitive dissonance is the state of having inconsistent thoughts, beliefs, or attitudes, especially as relating to behavioral decisions and attitude change. I have less than one paragraph to explain why I led with a psychological term otherwise half of my readers will be seething in angst wondering if my 3-11 ATS in Week 4 has derailed my childish humor and savvy Beverly Hills 90210 knowledge.
It hasn't and I'm willing to test my 90210 chops in a quiz show against Bill Simmons and Matthew Berry anytime, anyplace, anywhere. Speaking of quizzes, I have a multiple choice question for you. Why was there no Week 5 article containing Albaggio's NFL picks ATS?
Albaggio was filming "Mississippi Grind 2" co-starring with Ryan Reynolds. The premise was a sports blogger who owed his bookie so much money after going 3-11 ATS that he had to hit every riverboat and house game possible just to gather enough scratch, not to pay his bookie, but to DOUBLE DOWN on the Patriots (-9) at the Colts (we'll get to that game later).

Albaggio fled to Las Cruces, NM where his brother put him in WITSEC and is now working as a golf marshal at Picacho Hills Country Club where he is currently attempting to lower his 27 handciap.

The disgruntled "clown at the bar" drinking Ketel One & sodas didn't particularly like the way he was portrayed in Albaggio's Week 4 article so in return he filed a complaint on Yelp which yielded the same suspension Greg Hardy from the Dallas Cowboys received (4 weeks) for throwing a female on a couch full of assault rifles after beating the snot out of her. God bless America.

None of the above. Albaggio mismanaged his time and had a flashback to his University of Sioux Falls days in where he procrastinated to the point where the final product wasn't ready for submission.
I've been told by family, friends, and especially girlfriends that this one of my culminating traits as a loveable loser…my inability to lie with a straight face. But enough about me and my abominable usage of the third-person narrative. I wanted to kick my own ass after reading that introduction. Here are your NFL Week 6 picks ATS!!!
As always, home team in ALL CAPS
Redskins (+7) over JETS
If it wasn't for a Jarvis Landry punt return for a TD in Week 1 that never should have happened, the Redskins would be 4-1 ATS in 2015. Their defense is extremely underrated, #9 according to ESPN.com, and for as much flack as Jay Gruden has been receiving, he's had those guys playing a tough, physical brand of football week in and week out.
My favorite part of last weeks' game against Atlanta was when all the amateur gamblers who had the Falcons -7 freaked out when Kirk Cousins threw the Pick 6 in overtime only to realize what I had about seven years ago…you don't kick the PAT for the push in overtime, the game is over. Cruel I know, but tis' the life of a degenerate gambler.
Cards (-3.5) over STEELERS
The following is the brief text exchange I had with my boy BK last Sunday.
BK: Hope you bet the Cards today!
Me: I took the Lions +4.5 and it cost me on the last leg of a parlay that would have paid $1200. Brutal…
BK: That's what you get. I don't feel bad for you at all.
I didn't extract anything from his last text which bothered me. I was hoping for maybe a "lol" or "haha" or even some pathetic emoji easing my pain. To make matters worse, he leaves me a mean spirited voicemail two days later reiterating the fact that I should never pick against his Cards regardless of the circumstances.
I guess he has a point to some degree. Arizona is 4-1 ATS this year but I'll leave you with these two connotations BK…1) I absolutely HATE laying "the hook" in this game on the road. The hook is a gambling term meaning half a point (.5). I can see the Cards punching in a 23 yard FG to win the game as time expires while I simultaneously punch myself in the nuts because I lost by half a point and 2) Don't blame me in about three months when you're shoveling 13 inches of snow with the worst sinus infection imaginable and pissed off once again because for the 22nd time Carson Palmer's knee exploded right before another potential playoff run. You already know how this book ends so don't blame the author.
VIKINGS (-3.5) over Chiefs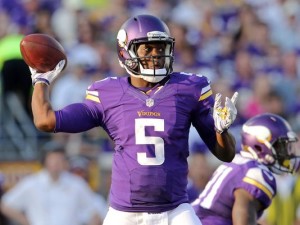 I guess I'm sticking with all the popular trends this week because I like the Vikings at home not worrying if Jamaal Charles is going to break out a spectacular 76 yard TD run to dagger them. To hedge this notion, I overbid on Charles' backup in my big league for fantasy hoping that if K.C. pulled the upset, Charcandrick West would be the reason why. The next logical question is, "why are you so high on a guy whose name you can't even pronounce and has no significant experience in the NFL?" My sophisticated answer to that would be, "because when I lived in Ghana I scored with a European bird who was volunteering in a village up in the Northern Region that sounded like Charcandrick". So there, how you like 'dem apples?!?!
Bengals (-3) over BILLS
If Tyrod Taylor wasn't banged up and questionable for Sunday's start, I take the Bills money line and start counting my winnings after the 3rd qtr. Rumor has it however EJ Manuel is getting the nod and if you read any of my articles last year, you all know how I feel about him. Buffalo's second year stud WR Sammy Watkins has been bitching that he needs at least ten targets a game to be satisfied. I'm pretty sure Bengals' head coach Marvin Lewis went straight to DB Adam "don't call me Pac Man" Jones and advised him to stay away from the strip club on Saturday night and instead watch some film to key in on which route and throw Manuel will 100% telegraph and get the defense some free points on a Pick 6. Yes folks, it's that easy. The first step to turn around a 3-11 week ATS is to bet against EJ Manuel.
Bears (+3) over LIONS
After the halftime score was 28-7 in favor of the Cards and I had already apologized to my neighbors for screaming obscenities that they had to explain to their 8-year-old son, I decided to pour an enormous Crown & Coke and do some research.
The results were astonishing!!! Fat Stafford had thrown an interception on a 2 yard screen pass which was picked off by an enormous defensive lineman and almost returned for a TD if it wasn't for Stafford's tripping, not tackling, into the big man's legs. I immediately googled, "Matt Stafford and the Wonderlic Test."
Here comes the astonishing part. Evidently Stafford scored a 38!!! To put this into perspective, Eli Manning scored a 39 and Alex Smith scored a 40 respectively.
Vince Young reportedly scored a 6. Now after watching Stafford play for seven years and especially after last Sunday's first half effort against the Cards, I was expecting more of a Vince Young Wonderlic score rather than that of a QB genius but then I figured it out. Stafford must have stolen Matt Sanchez's test, who was picked 5th by the Jets in the same draft, switched names and then turned it in! That's the only conceivable way he scored that high because Matt Stafford couldn't score a 38 on that test today even if he had the answers taped to the inside of his ball cap. I'll leave you with this picture and let you decide:
Broncos (-4) over BROWNS
Well ladies and gentlemen, the Broncos did it AGAIN last week to improve to 4-1 ATS. Notice I didn't say Peyton Manning, but the Broncos as whole. I was joking with my buddies that ESPN could make a 30 for 30 on all the miraculous ways the Broncos have covered this year and we're not even halfway through the season.
Peyton isn't right and that's obvious to all, but the defense is just downright menacing allowing a meager 15.8 PPG. I'm not betting this game, but since I'm forced to make a pick, I'm going with the team who's habitually pulling a rabbit out of a hat every week.
JAGS (even) over Texans
I like Bill O'Brien as a head coach, I really do, but when you have to decide between Ryan Mallett and Brian Hoyer as your QB, I look back at the advice my Dad once gave me when I was in a tough situation. "Son, you can't make chicken salad out of chicken shit". Words to live by…
TITANS (-1) over Dolphins
When you have 14 games on the slate, you're bound to get a few stinkers. I'd equate this game to walking your dog in the park bare footed and then stepping on a huge Cleveland Steamer. You want to be mad at somebody else for not picking up after their dog but you knew damn well the chances of something like this happening when you were too lazy to put on your shoes.
The same goes for this game. Tennessee is 2-2 ATS and Miami is 1-3 ATS. Avoid the pile of crap altogether and leave this game alone.
SEAHAWKS (-7) over Panthers
…and on the contrary, save your money and play one of my favorite bets of the week. I'm going cliché monster and am calling this a "statement game" for Seattle. I'll keep it short and sweet and leave you with the two stats on which I based my decision. Russell Wilson is 28-2 at home since entering the league and although Carolina is 4-0 this year, the overall record of the teams they defeated is a lousy 6-15. Do with that as you may. I'm laying the 7 points, enjoying the 12th Man break another noise decibel record, and watching the Legion of Boom put Cam Newton through 4 quarters of misery.
PACKERS (-10.5) over Chargers
I couldn't figure out this game for the life of me. The Vegas sharps always take an NFL underdog once the points reach double digits. Initially, I agreed with that assessment. It's not like the Chargers are as incompetent as the Lions or Texans. Matter of fact, they seem to play better on the road for some odd reason.
It seemed too good to be true and upon some research mixed with life experiences, I realized it was. San Diego is 1-4 ATS this year while Green Bay is the only undefeated team, 5-0, ATS without a push which Cincy has.
I combined that with the oversized leprechaun's, otherwise known as Smash Richmond, recollection of the advice I gave him the first time he had ever been to Las Vegas. "Never walk away from a heater until either the cards or dealer tells you so. I don't care if you have to piss your pants because of the 13 Bud Light's you had on the nine-hour flight over here, you stand firm and we take this down together."
He did and we ended up having an epic night. I'm starting to think I should have majored in Philosophy for my undergraduate studies because I've shelled out some real "doozies" in my lifetime.
49ERS (+2) over Ravens
Do I think the 49ers are very good? Nope. Do I think the Ravens should be a ROAD favorite when they are 0-4-1 ATS this year? Nope. Is there a 100% chance this game/channel will never appear on my NFL Sunday Ticket package this weekend? Yup…
Pats (-9) over COLTS
New week, new movie references you want? You got it. Tom Brady starring as Andy Dufresne and me in my best Morgan Freeman voice as Ellis Boyd 'Red' Redding, "Tom Brady-who crawled through a river of shit and came out clean on the other side". You can't argue with "Forrest Gump" winning the Oscar for Best Picture in 1994 but you can argue with "The Shawshank Redemption" being a more re-watchable flick but that's an entirely different debate.
I'm taking the Pats laying the points because after all the whining the Colts did about a deflated ball and the legal mess that ensued after, you could make this line two touchdowns and I'm still taking New England. I just hope the camera pans over at Tom Brady when the game is over at halftime and they catch the exonerated QB with that Teddy KGB look on his face from "Rounders" that says, "Hey Bill Polian, you remember the last time when I stick it in you?"
EAGLES (-5.5) over Giants
It bothers me to pick the brash Chip Kelly led Eagles over my red-hot, should be 5-0, Giants but I have my reasons and believe it or not for once it's not to jinx my good buddy G-Money in Albuquerque who's a die-hard Eagles fan.
Our best DB, Prince Amukamara, is out 2-4 weeks with a torn pectoral muscle and that dude has been flat out balling on a Pro Bowl caliber level. I still think Sam Bradford is garbage but I do worry that he gained some irrational confidence against the New Orleans "Who dat? Nobody knows lately" Saints.
I see a shootout with the Eagles edging the Giants 31-24 but I sure hope I'm wrong. It would be nice taking the driving seat in the NFC East.
Enjoy your weekend everybody and as always, feel free to comment in the feedback section below or at my Twitter handle @jamesalbaLA
Week 4:   3-11 ATS
Overall Record: 3-11 ATS