New York Yankees 2014 Season Preview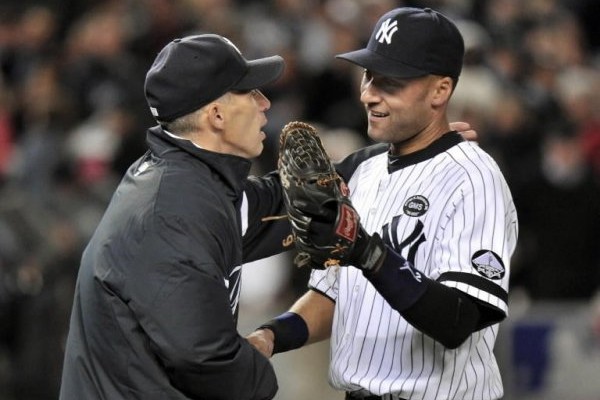 The New York Yankees spent nearly a half-billion dollars on new players during the offseason.
After missing the playoffs for only the second time in over a decade, they were not trying to make it a third time.
And although with the new acquisitions the Yankees look good on paper, there are still many questions.
This is especially true since in their division they have the defending World Series Champion Boston Red Sox; arguably the best pitching staff in Major League Baseball in the Tampa Bay Rays; and a very dangerous lineup in Baltimore with the Orioles. 
Infield:
This is considered to be the Yankees weakest position coming into this year.
I know people are claiming that they have the worst infield in the league but that is an absurd assertion.
They'll have good, not great, infield, which should be enough. 
Losing Robinson Cano will hurt the Yankees because he is the best second baseman in the league.
However, if Brian Roberts stays healthy, he should fill in admirably. Kelly Johnson at third defensively will be a liability, but Yankees fans should expect to see him hit 25 homeruns.
Mark Teixera is a top-5 defensive first baseman, which will help the left side of the infield; and Teixera can also put up 25-30 homeruns when healthy.
Finally, we have the Captain, Mr. Jeter. Please raise your hand if you think Jeter is going to go out like a chump? No hands raised? Exactly, no one believes the Captain is going out on a losing note.
Outfield:
This is the Yankees strong point, IF they all stay healthy.
I am one of the few who love the Jacoby Ellsbury signing.  With him and Brett Gardner, the Yanks have one of the most dynamic lineups.
Ellsbury can steal and has some pop, plus, him and Gardner are going to cover a ton of ground in the outfield. Carlos Beltran might be in the back-end of his career but he can still give the Yankees some quality at bats.
He also is huge in the playoffs and that veteran savvy is always necessary for success in October. Yankees fans can expect him to hit 30 homeruns this year. Between these three guys, they'll hit over 65 homeruns. 
Catcher:
This is another position the Yankees should have little concern because they are deep in this department.
Brian McCann was by far the Yankees best off-season signing.
He is going to bring the necessary attitude and hustle the Yanks were lacking last season. He also calls great games behind the plate and brings a good bat to the line-up as well.
With that short left porch at Yankees Stadium McCann can have 25 homeruns and over 100 RBIs. Behind McCann, the Yanks have Francisco Cervelli, Austin Romine, and JR Murphy.
All three can probably start on a handful of MLB teams. Expect one of the three to get traded for an infielder or bullpen arm. 
Starting Pitching:
This was arguably the Yankees biggest concern coming into spring training.
Now, it could be one of their biggest strengths. We all remember CC Sabathia's dreadful 2013 season, but he looked really good in spring training.
Masahiro Tanaka looks like he is at a minimum a solid 3rd starter and he's slotted to be the Yanks number 4 pitcher this year.
I hate to say this but the pitching staff depends on Michael Pineda being the anchor.
And the reason I hate saying that is because he can potentially be a Number 1 starter, but can we really trust him?
According to this spring training we can. Let's see how everything plays out:  If any of the five starters goes down, there's not too much depth behind them. 
Bullpen:
Replacing Mariano Rivera will be impossible. In saying this, I think Dave Robertson will do what he needs to do to help the Yanks win.
Behind Robertson is a mix of guys who have not really done anything. We signed Matt Thornton as the Lefty Specialist, and he's looked awful. So whom do the Yanks have in the bullpen? 
Remember Delin Betances?
Well he has also looked great in a bullpen role this spring.  Again, if everything carries over, him and Robertson can form a shutdown bullpen. 
Designated Hitter: 
This is the position that will have a revolving door. Alfonso Soriano will be the primary DH and he will also have to play the outfield twice a week to rest Beltran. Joe Girardi has said that he will be giving Teixera more at bats per the DH.
And also, Mr. Jeter will be the Designated Hitter a few times a week too. Since Soriano is in a contract year expect him to put up an easy 30 homeruns. 
Final Standings AL East:
1.) Boston Red Sox
2.) Baltimore Orioles
3.) New York Yankees
4.) Tampa Bay Rays
5.) Toronto Blue Jays 
For the Yankees to make the playoffs this season they'll literally need everything to go right for them. I can see a lot of things going right, but unfortunately not everything.
There are question marks up and down that roster whether it be due to age or injury history, or both.
The Red Sox have really good pitching plus a bunch of young guys ready to take over. 
Baltimore's bats are going to be explosive and both the Red Sox and Orioles are too young for the Yanks to stay afloat in the division.
And even though I have Tampa finishing in fourth, they will be the best fourth place team in the league and right behind everyone. Regardless of my pre-season prediction, would I be surprised if the Yankees won the division? No. 
If Ellsbury, Teixera, and Jeter stay healthy, and if Tanaka and Pineda blossom into future aces, then anything is possible. But as you just read, there were far too many "ifs" in that sentence for me to comfortably say with any conviction this will be a vintage Yankees season in the Bronx. 
But it's one game at a time. Starting with opening night in Houston. Let's do this for Jeter everyone.