Arsenal F.C.: One Missing Piece Away?
The English Premier League season has finally arrived, and with it, comes the hopes an aspirations of all the top clubs in England, as well as their excited fan bases. One fan base in particular seems very excited about the prospects of this season, and what it could mean in the grand scheme of things. Arsenal FC have gone over a decade since last winning the EPL title, and have gone nearly a decade since their deepest run in the UEFA Champions League when they lost 2-1 to Barcelona in a night that will always weigh heavy on the hearts of Gooners all over the globe.
But in the past two seasons, Arsenal has began their ascent closer to where they were pre-trophy drought when the club was winning trophies regularly at Highbury under Arsene Wenger. This current squad has a lot to offer, but are the Gooners missing that one special player to truly take them back to the top?
The Here and Now…
For the past few transfer windows, Arsene Wenger has added pieces to this Arsenal team to form one very cohesive unit capable of some of the most attractive football in Europe. First in 2012, the Frenchman went and captured Santi Cazorla from Spain to add to his midfield's attacking flair. What Cazorla lacks in size and brute strength he more than makes for in technical ability and field awareness.
Cazorla is the model Spanish player of this generation, and his game is reflective of it. Then 2013, Wenger went out and signed German Super-Star Mesut Ozil from Spanish giants Real Madrid. As great as the Santi signing was, grabbing the likes of Ozil from the Spanish giants was Arsenal's biggest coupe in years. Arsene had his world-class number 10, a player capable of creating something out of absolutely nothing. Signing Ozil was a clear statement of intent that Wenger had access to funds to really build something special.
Then during the World Cup summer of 2014, while relaxing and enjoying his time on the beaches of Brazil, Wenger went and scooped up Chilean wonder-man Alexis Sanchez from Barcelona.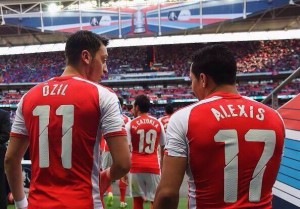 The Blaugrana considered Sanchez surplus to requirements, and their trash became Arsenal's latest treasure. And with the amazing season Sanchez had in his first campaign in England, Arsenal maybe owe Barca some more millions. And this summer (so far) Arsenal have their biggest and possibly most important acquisition yet, goal keeping legend Petr Cech.
One area that Arsenal were sorely lacking in was in the goalie position. Without a top-notch goalie it is very difficult to win silverware on any level. So the signing of Cech was massive. Petr Check not only brings a wealth of knowledge with him to the Emirates, but he brings a trophy winning mentality from his years at Chelsea. Cech has competed at the highest levels and won numerous awards in England. He brings the sort of command and presence that was lacking in the other mega signing I mentioned.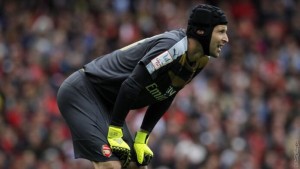 While all the great players Arsenal have brought in the past few summers have been the pieces needed to build a juggernaut, Cech's arrival would be the architect who puts the pieces together on the football pitch. In just a few pre-season games we've already seen what he brings to this Arsenal side and how commanding he is.
And he was just what the doctor ordered for Arsenal. And with the players Arsenal already have in the squad like Alex Oxlaide-Chamberlan, Aaron Ramsey, Theo Walcott and many other very good players, this team is on the precipice of something special. But there is one position that Arsenal need to really secure this summer in order for the footballing world to really be put on notice; the number 9 position. 
A Striker's Striker…
Legendary Arsenal front man-turned pundit Thierry Henry has been beating the drum for Wenger to go out and sign a real world-class striker. Henry came under fire last season from some Arsenal fans (my self included) for his comments on Olivier Giroud not being good enough at striker for Arsenal to win the EPL.
It wasn't so much that I disagreed with everything that Henry said, I just felt the timing was poor for such comments when Giroud was on such a good run of form. After Henry's comments on Giroud, Giroud seemingly forgot how to play striker properly and his form dipped convincingly. But that being said, a world-class #9 starting for the Gunners in the mode of Thierry Henry would really catapult this side to the next level. Giroud can be an impact sub and can even start in most circumstances as the team presently stands.
Theo Walcott has been biding his team to be a striker for the club for years, and Danny Welbeck is an England International who still has years of service to give to the club. But even if I think trio are capable of scoring plenty of goals, a striker like Karim Benzema, Robert Lewandowski or even Alexandre Lacazette would definitely be an upgrade for Wenger's side.
Any of those three strikers would be ideal for this Arsenal with Mesut Ozil behind them, and Alex Sanchez/Theo Walcott on the flanks.
Benzema would be the ideal candidate because of his movement on and off the ball. He moves like the sort of player Wenger has always coveted in his forwards. He's good in the air, great with the ball at his feet, finds open spaces and is always making darting runs into the box. He would be an excellent follow up to Thierry Henry and Robin Van Persie.
I personally think Madrid would be crazy to let the likes of Benzema go, but Madrid have been known to make decisions that leave their supporters puzzled, so anything is possible.
Lewandowski would also be a great capture. From reports I've read, Lewandowski doesn't seem to be high on confidence for the German Champions under manager Pep Guardiola. How true that is, I am not sure. But as they say, where there's smoke, there's fire. Lewandowski reminds me more of a Ruud Van Nistelrooy type of in the box poacher, but he would be an excellent addition if available and would only add to Arsenal's strike force.
Finally, the young Frenchman from Lyon, Lacazette. In truth, I don't know much about Lacazette outside of a few performances I have watched. From the little I've seen, I think he could do the job in England, and with his pace and poacher ability, he could be a Samuel Eto'o type player for this Arsenal side.
Lacazette's goal scoring record in France speaks for itself, and it may be time for him to take the step into one of the bigger European leagues. If recent reports are correct, and Lacazette may be unhappy at Lyon, this would be the perfect time for Wenger to get his young striker to add to this team.
I know I am in the minority of Gooners who thinks that if fully healthy, this current Arsenal side can win the EPL. But, I would be a fool to deny what a world-class striker would bring to the North London giants. Arsenal fans are very optimistic coming into this season, and that is the first time I can say that as a collective, there is a lot of positivity being a Gooner.
Imagine what signing a player like Benzema or Lewandowski would do to raise morale even more. That would be a frightening proposal to all Arsenal opponents. Something we have haven't seen since the mighty Invincibles era. And that would be quite the sight. Only time will tell, but there's still time to make it happen. And as always, "In Arsene We Trust."
Follow @LSN_Frantz on Twitter