Alexis Sanchez & Eden Hazard: Two Of London's Bright Lights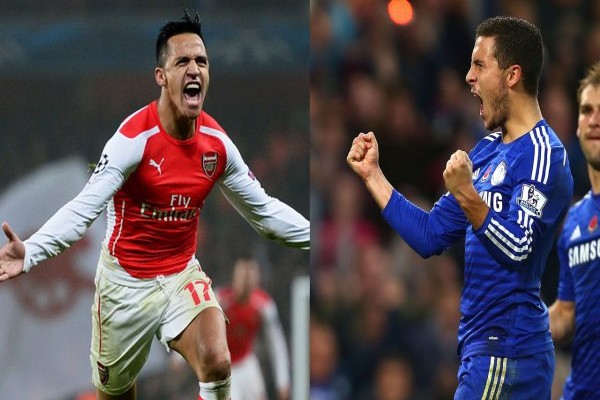 Comparison's between great players is a staple of sports arguments and debates that has been going on for years, and will continue to happen for the rest of time. Sometimes comparisons are so far-fetched that a person must simply laugh at the ludicrous nature of it, or just act as if they never heard the comparison to begin with.
But a recent comparison that's happening in the English Premier League is between Chelsea star Eden Hazard and Arsenal star Alexis Sanchez. Both are having blockbuster seasons for their clubs, and without them, neither team would be fighting for the honors they're currently fighting for.
Eden Hazard: Chelsea's Belgian World-Wonder…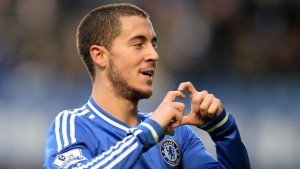 Eden Hazard is becoming one of the greatest players on the planet and it's frightening to watch as an Arsenal fan. His footwork, speed, technical ability, awareness and overall footballing prowess seems to get better week-by-week. This season he has 87 chances created, 785 passes in the final third, and 148 take-ons, all EPL leads.
In recent weeks, Chelsea could have dropped points against Stoke City and QPR, and a lot of people chalk those wins up to goalkeeping mishaps. I've watched every Chelsea game this season, and as much as people want to give credit for those recent debacles to the goal keepers, none of those errors mean anything if Eden Hazard didn't punish both Stoke and QPR for them.
Hazard has become the man on Chelsea that must be man marked, and somehow he is still manages to make magic happen out of nowhere. His short stature and low center of gravity makes taking him off the ball a difficult task for any defender, and once he gets to dribbling towards a defender, it's either foul him or be left in his wake.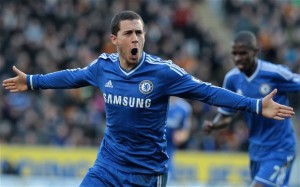 In Chelsea's 2-0 win against Arsenal at Stamford Bridge earlier in the season, it was Hazard's fleet-footed dribbling ability that forced Laurent Koscielny to foul the winger in the box thus giving up a penalty kick. Similar to the Stoke City and QPR goalies, Santi Cazorla had a momentary lapse in judgment which led to Hazard making the Gooners pay. If you're on the receiving end of a Hazard goal it's painful, but if you're merely a spectator, it's pretty amazing to watch.
He's currently playing a brand of football that has caught the eyes of football fans world-wide, and the praise for the winger is rolling in in droves, and rightly so. Hazard is a nominee for the Football Association's Player of the Year award, and it's a much-deserved nomination.
He's the best player on the best team in the EPL. Hazard is starting to hit his stride as a footballer, and he may one day be regarded as one of the best 2-3 players on Earth. For right now, he's one of the best in the EPL, and luckily for Chelsea, he will only get better. 
Alexis Sanchez: Arsenal's Chilean Titan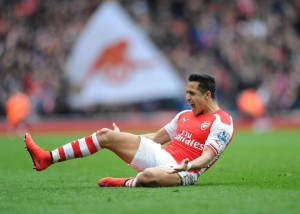 Moving is never easy, and as a person who has lived in different places a few different times, the adjustment period can take weeks or months. But when you're a World-Class talent like Alexis Sanchez, you don't need time to adjust, all you need is a pitch and a ball. In his first season in the English Premier League, Sanchez has been an Arsenal revelation.
After years of sub par players, Alexis seems like Luis Figo compared to the players Arsenal used to employ during the Dark Ages/Banter Era of the trophy drought. Sanchez has 22 goals and 11 assists in 45 appearances for this season. He can score, he can pass, he tracks back to play defense, when he loses possession he's the first to try and make up for his mistakes, and he's as technically gifted as anyone in the EPL.
Time after time this season Sanchez has carried Arsenal on his back when the team needed a lift, and he's one of the key reason why Arsenal is currently residing in second place in the league, and fighting for their second straight FA Cup. Sanchez still needs to scale back his constant work rate just a bit because his form is nowhere near as amazing in the second half of the season as it was in the first half.
No Christmas break and the rigors of the EPL seem to have started take their toll on the Chilean, but his two goals in the FA Cup semi-final against reading show that even when tired, he's still class. Sanchez is one of the 10 best players in the EPL, maybe even one of the 5 best already, and that's nothing to scoff at with only less than one campaign under his belt. 
Both players are must see TV in the EPL, and they help the overall stature of the league. Sanchez carried Arsenal on his back for the first part of the season, and Hazard has carried his team for the second half.
They've both been pivotal to their team's success, and removing either man from their respective teams would be detrimental. London has two of the greatest clubs on Earth within its borders, and also two of the best players in the business.
The upcoming Arsenal vs. Chelsea fixture at the Emirates won't be deciding the EPL or any trophies, but bragging rights for just one game are always fun. And I'm sure both players with play a role in the ultimate outcome. This should be fun.
Follow @LSN_Frantz on Twitter