The Lack Of Understanding On Mesut Ozil
It comes to the point within a fan base where the supporters of a club either recognize what they have in a player, or simply show that their footballing acumen about the sport leaves a lot to be desired. One fan base in particular that loves to criticize, berate and completely destroy their own players constantly is Arsenal F.C. I for one am not above this to an extent, because there are certain players that I think should never start for Arsenal.
But one player that I will never understand the criticism behind is German Superstar Mesut Ozil. The criticism and disrespect the World Cup winner receives from some fans borders on the absurd at time. And it makes me wonder, do fellow Gooners watch and truly understands what it is that Ozil does?
Or are they simply talking just because? It obviously can't be the former because I watch the games. Meaning it's the latter, which makes the Ozil criticism all the more puzzling. Something is amiss in the Arsenal fandom Love/Hate for Ozil, and the hatred portion needs to be put to bed. 
If Not Mesut, Than Who?…
Since Ozil's arrival at the Emirates, it seems every transfer window that a sect of fans wants him transferred away from the club. Maybe there are those that don't feel he's lived up to the hype? Ozil was touted as the man who would bring Arsenal back to their Pre-trophy drought prominence.
Ozil would help Arsenal and Arsene Wenger reach the lofty heights of the legendary Invincibles days when the only club in England that could truly match those Wenger teams were Sir Alex Ferguson's Manchester United squads. With the addition of the German Wunderkind, Arsenal was BACK.
And therein lies the first fundamentally flawed issue with Ozil as a Gunner. As great as Ozil was at Real Madrid and Werder Bremen, Ozil is not the man who can single-handedly lift a club from the doldrums and carry them to the pinnacle of success. Rather, Ozil is a vital piece in a machine that needs other parts to succeed.
He's not Lionel Messi, he's not Cristiano Ronaldo, but he is the man dubbed the "best number 10 in World Futbol" by Jose Mourinho. Mourinho doesn't heap praise on players lightly, especially on players he no longer coaches. So when he said it, he meant it. A player like Ozil doesn't receive praise from managerial legends like Mourinho, Wenger and Joachim Loew by happenstance.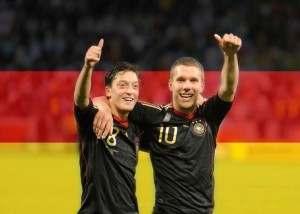 Praise is a result of what Ozil brings on the field, and what he adds to a team. When Ozil was behind Ronaldo, it was a goal fest for Madrid. But at Madrid, Ozil had one of the greatest players at possibly the greatest football club ever at his behest.
As much as I love Olivier Giroud, and this is no sleight to the Frenchman, he's no Ronaldo. So Ozil's performances have to be taken in context with what he's working with. Even so, the criticism he gets is vastly unwarranted from some Arsenal supporters and his number show he's been an asset to Arsenal F.C., and the supporters should be glad he is wearing our crest.
Men Lie, Women Lie, Bloggers Lie…Numbers Don't….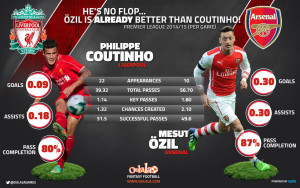 Since Joining Arsenal in the beginning of the 2013/2014 season, Mesut Ozil has 14 assists and 8 Premier League goals to his name. Keep in mind he was in a new league and has battled some very unfortunate injuries in that time. Ozil missed three months earlier this season with a bad knee injury, but since coming back at the start of 2015, the German has been sublime for Arsenal while playing out of position at the wing.
Ozil is back to being in the assist, and his 2 assists in Arsenal's 2-0 win against Everton showed the German is capable of creating goals out of nowhere for Arsenal. And this breakdown of his assists to minute's ratio also tells a story:
224 - Mesut Özil has the third best minutes per assist rate in Premier League history (min. 10 assists). Nicked. pic.twitter.com/VMZDUDhJCN

— OptaJoe (@OptaJoe) March 1, 2015
Keep in mind Jose Antonio Reyes was playing with the like of Dennis Bergkamp and King Thierry Henry and other Invincibles legends, and Arsene Wenger taught Cesc Fabregas how to be a top-class footballer while Cesc was able to hone his craft playing alongside the aforementioned legends. Cesc is a born and bred Premier League player, so his numbers should come as no surprise. Ozil is less than two seasons into the rugged life of the EPL and has been great for Arsenal since his purchase.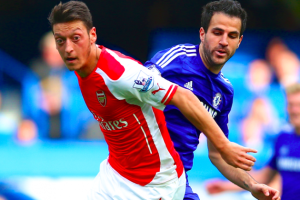 I believe one major reason for some fans' un-appreciation for Ozil is the way the German goes about the game. Ozil is not a fiery type like a Jack Wilshere or Francis Coquelin. He just plays the game and his demeanor betrays what he may actually be thinking and feeling. Ozil is an even player emotionally, and although I am sure he loves Arsenal, even his celebrations are a bit muted. But never mistake Ozil's calm demeanor as a lack of passion; it's simply not true. Another facet of his game that gets over-looked is just how often he tracks back and gets on defense.
Ozil's work-rate is phenomenal. He may not have the gut-busting runs or non-stop energy of an Alexis Sanchez, but Ozil isn't just standing around waiting to get the ball, he's on both ends of the pitch working his socks off. He does a job, and he does it well.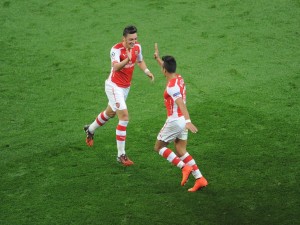 So I would implore those Arsenal fans that criticize Ozil to remember how you felt the day we got him. We were all elated, and it was for a reason. Because we knew we had just captured the man that would help us get back to where we needed to be. Arsenal as a team may still be flawed, but that's an entirely different discussion for another day. But your ire is ill cast if it's being thrown in the direction of Mesut Ozil.
He's integral to Arsenal's future success, and we should be grateful to have him. And if you feel differently, pre-Ozil trophy drought Arsenal should be a reminder of what life was like before him. Long Live the German Wunderkind. And as always, "In Arsene We Trust."
Follow @LSN_Frantz on Twitter