Anything is Possible in the Big 12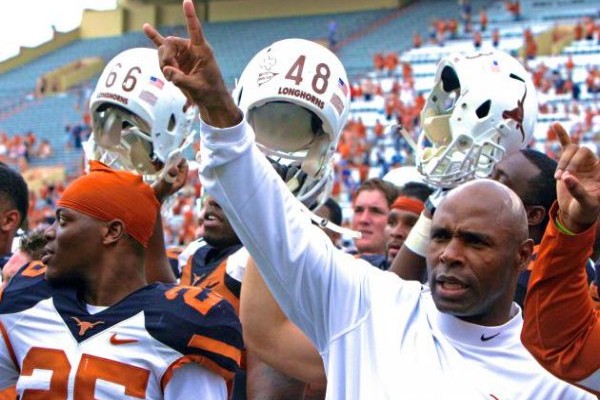 Prior to week four of this young college football season, the Texas Long horns decided that athletic director Steve Patterson should be relieved of his duties after only two years with the University.
Many felt that Texas head coach Charlie Strong was in need of a win over Oklahoma State in order to keep his job not that Patterson was no longer there to have his back. Unfortunately, when punter Michael Dickerson let the snap slip through his fingers late in the 4th, any hop e of victory flew out the window for the Long Horns.
That mistake by the punter cost them a 30-27 loss which is as demoralizing a defeat as a team can suffer in football. Just as the week before when place kicker Nick Rose missed a makeable field goal ending the game in a 45-44 loss for Texas.
The Longhorns are going into week five against 4th ranked Texas Christian which will be as difficult a game as Charlie Strong has faced in his collegiate career, and their remaining schedule looks gloomy for a chance at a bowl game this season. As for Charlie Strong,
I don't know if I would hold my breath on his future. Yet as far as dismal outcomes go, it seems like there has been plenty of poor play up to this point in the BIG 12. As for ISU, KS, and TX, they're at the bottom of what looks to be quite a heartbreaker of a season for a few teams in the BIG 12, as the rest of the conference looks strong.
Texas Tech nearly pulled what might have been one of this seasons biggest upsets of the season so far against TCU, only to have what may go down as the play of the year (or the luckiest right place right time moment) as Aaron Green with only his third catch came of the fingertips of overthrown Josh Doctson by Trevone Boykin.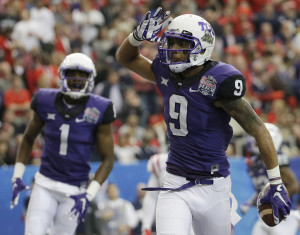 But as they say, a win is a win. Texas Tech Should feel good as they played a great game and showed the BIG 12 and all of college football they're not to be overlooked. #23 West Virginia showed up and maintained that they are great defensive side and thus far have only allowed 7.7 PPG. This weekend West Virginia head into Norman and face off with #15 Oklahoma, who have been a quite the team so far this season.
New starting QB at OU as well as seasoned WR sterling Sheperd have shown the ability to keep the offence held to a never say die attitude with the help of a stiff Mike Stoops Defense. The OU defense seems to show up when they are needed the most to keep the wolves at bay, and this should make for a great game.
Kansas State who is well-known for winning even when not always having the best talent on the field, may have the best coach in college football in Bill Schneider. KSU will take the trip down to Boon Pickens Stadium to take on #20 Oklahoma State fresh off a gift wrapped win in Texas.
If OSU is to win this one, they cannot make as many mistakes as they got away with at Texas.
Bill Schneider's team is always well-disciplined and will capitalize where Texas could not. This game will be yet another game that will be a must watch. Texas Tech will have the chance to prove their game against TCU was no fluke, as they will take on the second powerhouse in the BIG 12 at #5 Baylor.
Baylor has put up some big numbers in there first three outings, but in fairness, they have yet to face any real challenge as their victories were against SMU, Lamar and Rice respectively. Baylor has the lightest Schedule in the BIG 12.
It is way to early to tell how the BIG 12 will turn out when the season ends, and only time will tell if there are really any playoff hopes for the conference, but the BIG 12 is a stacked conference, and history dictates that no one can predict how everything will turn out. After all, there is a lot of football yet to be played, meaning a lot of twist and turns left.