Francis Coquelin & Laurent Koscielny: Arsenal's French Connection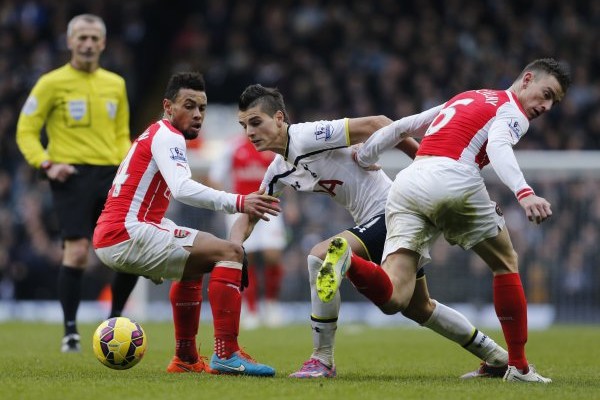 The English Premier League is one of the top sports leagues on the planet. England is a world power so it's only right they'd have one of the premier sporting leagues in all of football. And under that core British existence lays an array of foreigners from all over the globe.
Owners, managers, players, back room staffs, as well as foreign fans makes the EPL one of the most if not the most diverse league on the planet. And one club in particular, Arsenal F.C., has been a staple for French-born players for years. And under the reign on French managerial legend Arsene Wenger, that trend won't be broken anytime soon. Although
Arsenal has a very British core of players with Aaron Ramsey, Jack Wilshere, Theo Walcott and the like, it's two Frenchmen that are helping Arsenal's second half turn around this season, Laurent Koscielny and Francis Coquelin.
From Ligue 1, With Love?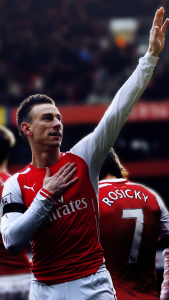 If anyone can find a diamond in the rough, it's Arsene Wenger. He's found gems in the most obscure places on Earth, and Laurent Koscielny was no different. When Wenger discovered Kosc, he was plying his trade with mid-table division 1 side Lorient in France in 2010.
No one knew much about the young Frenchman, but to the Lorient supporters he was a fan favorite and a player they felt would be a staple in their side for years. To everyone else outside of France, he was a no name Frenchman that Wenger purchased because Arsenal weren't in the financial position to spend money on well-known well-established centre backs.
So Kosc was brought in to back-up German International Per Mertesacker and Belgium International Thomas Vermalean. Initially Thomas Vermalean was supposed to be the man to lead Arsenal's backline to its former Invincibles level defense, but between injuries and lack confidence, Vermalean's form dipped considerably.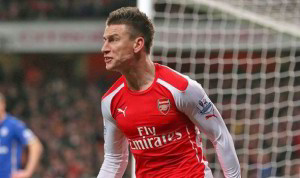 So it was time for Arsenal's new CB to prove his worth, and once Koscielny stepped up to take over the CB spot, he's had a virtual chokehold on it ever since. Koscielny had been a rock in the center of Arsenal's defense next to Per Mertesacker or anyone else who's deputized in that spot next to him.
Koscielny is a feisty defender that will give up his body to make sure Arsenal do not give up a goal. Kosc is quick, he's intelligent, he reads the game well, sniffs out potential danger from anywhere on the pitch, he's an excellent one on one defender, a great header of the ball, and is never afraid to try to make a last-ditch tackle in the box.
The only real issue that can be found in Koscielny's game is his penchant to try to save the day with last gasp tackles that have lead to him getting red cards or giving up penalties. He's has 4 red cards and 22 yellow cards since his arrival in 2010. He's a bit of a gambler so it's to be expected.
But this season he's calmed down significantly in the box and has not been the reason Arsenal have given up penalties or silly fouls. Koscielny has been a steady and calming presence when in the side, and when he is out, his absence is felt throughout the team. He's the defensive soul of this Arsenal team and the Gunners will only go as far as their defense will allow them.
And at the core of everything is Koscielny. It can be argued that Kosc is one of the best CB's on the planet, and he's in the same class of defender as John Terry and Thiago Silva to name a few. Kosc is a World-Class defender and now a regular in the France National team as well. Not bad for a guy who no one ever heard of just 5 years ago, eh?
Coquelin, The Man of The Hour?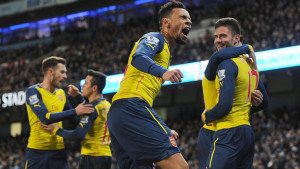 My two favorite positions in all of Futbol are centerback and defensive midfielder. Anyone can score goals, and only the best can create them, but there's only a select few men on the planet that can do all the dirty work needed when the offense loses possession, or when the defense needs protection. The defensive midfielder is the linchpin of the team. World-class Strikers are lauded, the trequaristas are revered, and the centerbacks are respected, but in the game of Futbol, the defensive midfielder is the unsung hero.
Having a World-class DM can make or break a team's chances to really compete for honors in a league. For years Arsenal have suffered due to a lack of World-Class DM in the middle of the park. And although it's far too soon to call Coquelin a World-Class DM, since he was recalled from Charlton Athletic, he's been nothing short of outstanding for Arsenal.
He seems to always be in the right place at the right time, he's always up for a challenge, he barks orders and commands like a true leader, and he gives it his all on the pitch every second he is out there. Coquelin does everything necessary for a DM to excel in Top-Flight futbol. He's not selfish, he thinks of the team first, he's rarely caught out of position and in the rare occasions he is, he makes up for it with is unrelenting persistence to get the ball back.
Coquelin is small in stature but he plays like a man far bigger than his frame belies. If there is one area that Coquelin needs to improve it's in the rashness of some of his challenges. Coquelin goes in far too often with either a two-footed challenge or some other over the top tackle that can put the team in peril if he's ever red carded. That facet of his game will improve with maturity and growth as a team player.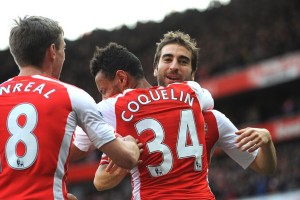 I've heard some Arsenal fans say they don't believe Coquelin is the real deal, and this is just a one-off season like Mathieu Flamini had in 2013-2014. I've heard others say that Coquelin is a good back up for the likes of Paul Pogba and Morgan Schneiderlin, two other highly touted Frenchmen. All I can say is that I've watched every second of every match Coquelin has played in since his return from Charlton, and I can only go by what I've seen. And for all intents and purposes, Coquelin is the real deal.
Arsenal should definitely get another DM in the summer because two class DM's are necessary, but so far, Coquelin is proving in every game that he's possibly Arsenal's future star DM, and if he continues playing like he is currently, I don't see why he can't star for Arsenal while making appearances in a French National team shirt. Only time will tell.
Koscielny and Coquelin will play a large part in Arsenal's remaining fixtures this season, and whether or not the Gunners finish this season better than last. Arsene Wenger once built an empire with a talented core of French players, and they took the EPL by storm. Are you we witnessing Déjà vu? I sure hope so. And as always, "In Arsene we trust."
Follow @LSN_Frantz on Twitter