Messi and Ronaldo: Mount Olympus Gods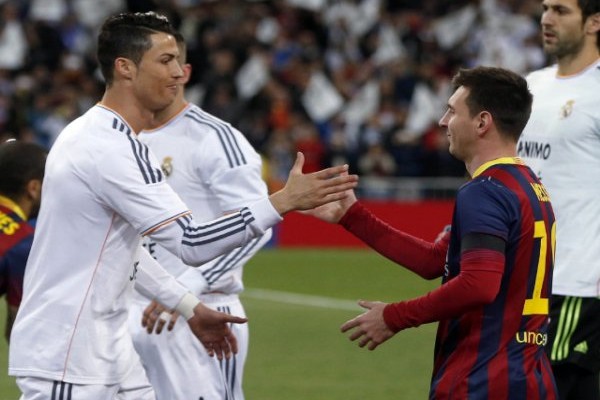 Player appreciation is a bit of a lost art in sports these days. Now, everyone has a shocking and argumentative opinion that can be seen by the masses due to the internet, social media, and other platforms. Gone are the days where people would just sit back and enjoy the marvels that were in front of them. Modern day Futbol fans have been blessed with the presence of two Futbol Gods playing at the highest level while conquering every team and record in their paths. Lionel Messi and Cristiano Ronaldo are the best players on the planet, and the gulf between those two and everyone else can't be described in words.
And there is no bigger debate in World Futbol than the debate over who's better between the two goliaths. Messi has his fans and detractors, and so does Ronaldo. I never get into these debates because first and foremost I find them silly. Second of all, I find it pointless. They're not the same kind of player and both bring entirely different methods of their madness to the pitch. And I think that's where the problem has always lied.
Their individual brand of Futbol appeals to certain people more than others. An individual latches on to either Messi or Ronaldo and feels that by praising one, he's slighting the other player. It's the wrong approach. The right approach is just to enjoy what we are all witnessing and to be in awe of two legends. If not, you're not fully experiencing the greatness that is Messi and Ronaldo
Ronaldo, The One Man Wrecking Crew…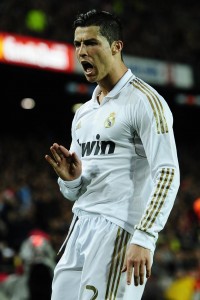 Although Ronaldo hails from Portugal, I've always likened him to fine German engineering. He's like the most expensive luxury car that we all wish we can afford, but there's only one like it of its kind. He's flashy, he's fast, nice on the eyes, but under the hood is what's important. Ronaldo has the heart of lion and the drive of a million footballers wrapped into one perfect player.
There's absolutely nothing Ronaldo can't do on a football pitch. He can pass, he can score, he can assist, he's usually the fastest player on the field, he's an excellent jumper and is a world-class header of the ball, he can use both feet, and he tracks back to play defense. He is literally the perfect specimen.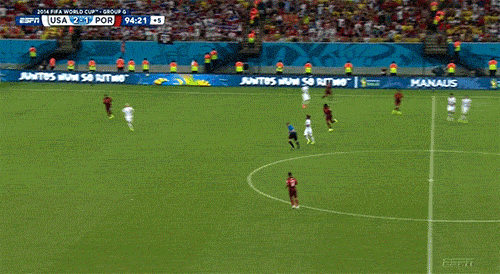 I've seen Ronaldo win matches by his lonesome on many occasions and make it look like something out of a blockbuster movie. On the field he is cocky, arrogant, ruthless, and absolutely unplayable on his day. But his rise to greatness didn't just happen over night. Ronaldo has put in the work to be who he is right now. Ronaldo's game has evolved so much from his early days at Manchester United where he was promising youngster with world-class dribbling ability. Over his time at Manchester he became the integral part of United side that would regularly conquer England and won a Champions League title.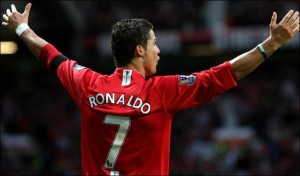 In 2008 the United winger/forward annihilated the EPL by scoring 42 goals in the season and leaving every other EPL player in his wake. Ronaldo could do no wrong and it was time for him to hit the biggest stage in Futbol, the Santiago Bernabeu. Since moving to Real Madrid in 2009, Ronaldo has done what many thought was impossible, he's actually exceeded expectations at the worlds biggest club. Ronaldo is not just a Galactico, he's the Galactico. Season after season Ronaldo continues to show the world that his £80 Million pound move from Manchester was absolute highway robbery. Ronaldo is worth a King's ransom, maybe even more.
He's helped bring titles to Madrid including the elusive La Decima in the Champions League in the 2013-2014 season. He's won everything there is to win at club level with two different teams in two different countries. He's conquered every imaginable individual award and holds numerous records. Fans of Ronaldo will argue his brash and arrogant demeanor is just the confidence in him knowing he's at the top of the food chain; it's what drives him. To me, all I see is the passion to win by any means necessary.
He's put in the work to be one of the greatest ever, and he won't down play his achievements for anyone. Nor should he. Ronaldo is who he is, and hate him or love him, you will respect him and fear him as an opponent. And that's exactly how he wants it.
Lionel Messi, The Last Of the Joga Bonito Footballers…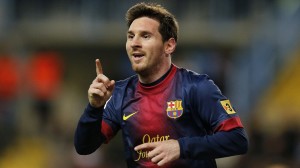 I don't even know how to start this and to begin to do this man justice. Ronaldo has a certain style about him that made it easy to put that sort of perfection in words. With Messi, it's not that simple. Messi is the perfect street futbol player from the streets of Argentina in South America. He is a Picasso painting in live action. When I watch Messi, I feel like a rich kid in a candy store. It's the ultimate pleasure watching the Argentine wizard weave through several players as if they didn't exist.
As ludicrous as it may sound, there are honestly moments when I watch Messi play that I genuinely believe he could be 1 v 11 and still win the match 4-0. He's that level of unstoppable. His short stature gives him a low center of gravity that makes it nearly impossible to knock him off the ball. He's as strong as a bull and as light on his feet as a ballet dancer, and when he gets going it's as if the ball is at his feet attached to invisible string of gold.
There are countless runs that Messi has made where he's made as many as 5 players look foolish, while leaving them with nightmares for years to come of what they just witnessed. Messi is a video game, and that's the only way I can put it to where it makes sense. He does things on the pitch that are absolutely unreal. And he does them weekly.
Pep Guardiola who coached Messi from 2008-2012 witnessed Messi grow into possibly the greatest footballers on Earth, got to see Messi every day at practice and during games. And even after 4 years, Messi was able to make Guardiola feel like a child when Messi put this move on James Millner in the Champions League: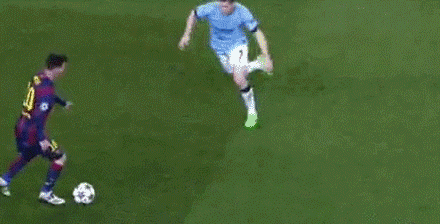 Like I said before, Messi is a video games controlled by Zeus himself. Just like Ronaldo, there's nothing Messi can't do on the pitch. He's even good in the air at heading the ball which is frightening because he's so short. He has instincts that seem to be telepathic with the futbol. It's as if the ball is telling him where it's going to be and for Messi to meet it there and score.
Messi has a season where he's actually scored 73 goals. Think about that, he was essentially worth a point had their been a tie at the top of the table and it came down to goal differential. He's not human. The one knock I've heard of Messi is that he's played his entire career in Barcelona and would have a difficult time in a country like England. You're a fool if you think Messi wouldn't go to any league on Earth including the EPL and run riot.
The man has destroyed teams from different countries in the Champions League on their own pitch for years. His class is not confined to the borders of Spain, he can do as he chooses anywhere on the globe as long as he has a ball. He's that great
The Messi and Ronaldo debate will rage on far past their primes, and long beyond their playing careers. This is just the new Pele vs. Maradona debate, and nothing will change that. Both players understand that they will forever be linked as the two greatest players of their time, and I think it pushes both of them to try to out do the other whenever they touch the field. The FIFA World Player of the year award has been a two-man race in recent years, and it will continue to be the same for the foreseeable future.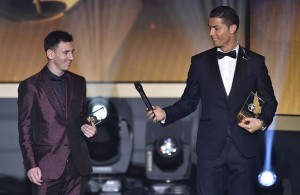 To Messi and Ronaldo, everything that's happening is probably just a friendly competition that they've never spoken about but are aware is present. They'll let the rest world angrily debate who's better. The Futbol legends will continue to raise the bar higher every week for the other one, and just leave it all on the pitch. We won't have these two playing forever, and while they're both playing at an out of this world level, we all need to come together and praise what it is we are actually witnessing.
Because there may never be another era where we get to watch two players literally make history every single week. We live in the time of Messi and Ronaldo. And I couldn't be happier.
Follow @LSN_Frantz on Twitter