The Same Old NBA Eastern Conference?
Updated: November 20, 2014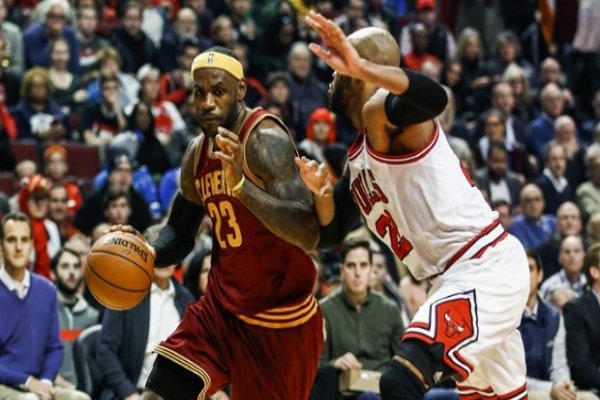 The NBA Eastern Conference was supposed to have a resurgence in the 2014-2015 NBA season. Well, at least I thought the conference would have a resurgence. Players moved around to new teams, injured players would be back and better than ever (I hoped), new coaches in the conference would establish their new teams as serious threats, and the knowledge that after how terrible the conference was last season, there was no way it could possibly be worse.
I was right, kind of. I don't believe the Eastern Conference has become worse than it was last season, but from what I've seen in the first month and a half, maybe the conference didn't get any better, at all. It just moved laterally as opposed to up. There has already been a lot of bad basketball played in the East, and I have no idea how much of it will realistically get better this season.
But with a long season still ahead, there is hope that the Eastern Conference can shape up to be what I expected coming into the new season.
Big Cities, Low Expectations…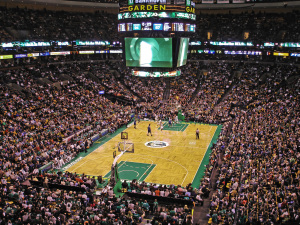 The Eastern Conference has a lot of major cities that are just not in a good place right now basketball wise, and that hurts not only the conference but the NBA in general. The Boston Celtics, Philadelphia 76ers, Detroit Pistons and New York Knicks are all in different stages of rebuilding their franchises up to be power brands again.
The Boston Celtics have a very intelligent General Manager in Danny Ainge who has already built a championship winning side before in Boston, so we all know it's very possible. The team has amassed a lot of draft picks and good young talent around star player Rajon Rondo and young coach Brad Stevens.
Even with the plan Ainge has in mind to rebuild, he still has the ace in the hole of trading Rajon Rondo who is one of the premier guards in the league. No matter if Ainge keeps or trades Rondo, the Celtics will be a force to be reckoned with in time.
The New York Knicks are essentially in the same predicament. Any intelligent Knick fan or basketball fan in general knew that coming into the season this would be an 82 game experiment and learning process. The Knicks have a new coach in Derrick Fisher, a new system with the Triangle Offense, but not enough talent on the roster to implement that system and be successful. The Knicks have a super-star player in Carmelo Anthony, and a few complimentary pieces, but not enough to really do damage this season.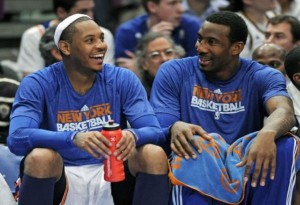 Once the summer of 2015 hits and the Knicks shed the contracts of Amare Stoudemire and Andrea Bargnani, they'll have the requisite cap space to bring in the type of players they need to succeed and be the New York Knicks of the Pat Riley/Patrick Ewing era. Until then, the Knicks should just let this season be what it is and at least hope for a high draft pick. The Sixers are a puzzling anomaly that I just can't figure out.
They're tanking yearly, but I don't really see what their end game is. They keep drafting good players, mostly big men, they always seem to draft injured talent, then tank and repeat the process all over again. I am sure that eventually we will all see what they had planned all along and I am hoping it works to get the team to back to the days of Allen Iverson's Sixers teams, and they have a lot of good young players. But until that actually happens, they're just another tanking team and no one outside of Philly is really paying them any attention.
Last but not least are the Detroit Pistons. Pistons legend Joe Dumars who was also their former GM left a complete and utter mess behind in Detroit for incoming head coach and president of basketball operations Stan Van Gundy to clean up.
I can't tell you what Dumars was thinking assembling a team of Brandon Jennings, Josh Smith, Andre Drummond and Greg Monroe other than he was playing a real life version of NBA Live and got free agent happy. That mix of players was never going to work and now Van Gundy has to figure how to get rid of certain players to make one cohesive unit, as opposed to a collection of high-volume, low-percentage shooters in Detroit.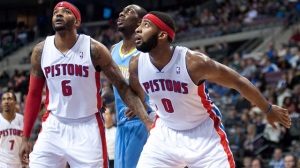 With Drummond, Monroe and Smith all looking for touches and clogging the paint, there are way too many chefs in that kitchen and this team is going to continue to be a disaster until one or two of them is moved in return for draft picks or players that fit whatever it is Van Gundy is doing. Good luck, Stan.
Will the Upper Echelon Teams Get Back On Track?….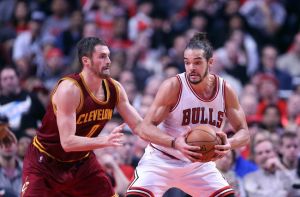 There are currently only 5 teams in the Eastern Conference with a winning record, and there are only two teams (Chicago Bulls, Toronto Raptors) that have 8 wins or more. Compare that with the Western Conference where 10 teams have a winning record and 5 of them have 8 or more wins. Again, it's early and a lot has happened in the East this summer. The two teams that were expected to run away with the east this season were the aforementioned Bulls and the Cleveland Cavaliers who added LeBron James and Kevin Love.
Sitting at 5-5 the Cavs aren't exactly off to flying start, but that was to be expected. The Cavs have an NBA rookie coach, guys who never played with each other barring possibly an all-star game, a new environment, etc. The Cavaliers have issues that can be resolved like chemistry, bad habits, cohesiveness, and other intangibles that will come with just being around the same group of players and growing over 9 months.
The problem the Cavs will experience is lack of defense and a lack of elite level coaching. This Cavs team is not a great defensive team and LeBron is accustomed to being on teams that can clamp down defensively and make runs happen. Kyrie Irving is not a great defender, nor is Kevin Love. Bron can still defend well enough to cause turnovers but this is not 2006-2011 LeBron where you could put him to guard the other team's best player and let LeBron do work.
Now LeBron is a bit more human and does not instill fear into opposing ball handlers. The only great defender on this Cavs team is Shawn Marion and at his age he is not going to provide much for an entire game. Defense wins championships and so far there is nothing about this Cavs team that says they can really subscribe to a high level of defensive prowess.
And having a rookie coach surrounded by all this talent won't help matters either. David Blatt may have a lot of coaching experience in Europe, but he's never seen the players he's planning against now and I doubt he really has a feel for the American way of coaching games yet.
That will all take time, possibly an entire season and off-season. I know the fans in Cleveland expect a huge return from LeBron returning, but they're a couple of players and year away of growth from really being dangerous. But I doubt Cavs and LeBron fans want to hear that. The Cavs may end up going far, but I think it would be more of a product of a weak conference than of the team being great. Patience is key in Cleveland. Which brings us to the Cavs expected chief rival, the Bulls.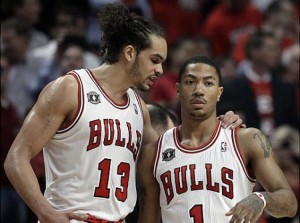 I had the Bulls as my pre-season favorite to make it to the NBA Finals because of the return of Derrick Rose. I still have high hopes for Rose but this beginning of the season and constant injury scare dilemma is not very reassuring. But that's to be expected after missing so much time out with two separate major knee injuries. Luckily (if I can even say luckily) Rose has missed games so far with ankle and hamstring injuries, which if taken care of properly, he can manage throughout the season.
His body is going to have to get used to this constant grind again, and head coach Tom Thibodeau will have to monitor his start point guard like a new-born child nightly. Rose needs reps and game time, but not at a 30-minute a night clip for right now. The Bulls have a very good squad that can make the playoffs without Rose, but that's as far as they'll get without him.
Even with the addition of Pau Gasol the Bulls can't beat any of the Western Conference powers if they make it to the NBA Finals, and with some of the other teams in the East they may not make it out of the conference either. Rose is key.
If Rose stays healthy, which is a massive if, the Bulls are clear favorites in the East and may be able to at least challenge for an NBA Title. If Rose can't perform, then the Bulls may never know how great they really could have been.
Middle of the Pack Teams That Can Make Noise…Maybe?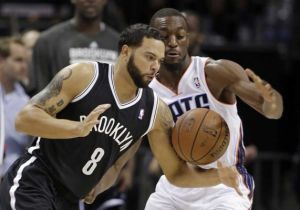 The Brooklyn Nets, Charlotte Hornets and Atlanta Falcons have all been an early season disappointment. I expected all three teams to be good and to come out of the gates doing good things. All three have been massive let downs so far and it's painful to watch. The Nets got back a seemingly healthy Brook Lopez and Deron Williams, while adding an experienced coach in Lionel Hollins. Deron has been very good to start the season, and Hollins got the team off to a hot start at 4-2.
Then the wheels started falling off and the Nets have lost five straight. In a piece I wrote earlier in the week, I detailed why Brook Lopez was at the center of the losing streak, and I still stand by everything I wrote. Brook is the biggest issue plaguing the Nets and his lack of effort to do basic fundamentals is hurting Brooklyn.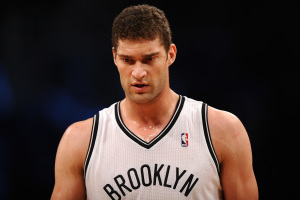 If Brook doesn't shape up, the Nets are in a world of trouble. It's on Hollins to figure out what to do with his young center, or be doomed to watch a bad basketball team languish in obscurity in a bad basketball conference, fun.
The Hornets have a really good center in Al Jefferson and a good young New York City backcourt with Kemba Walker and Lance Stephenson. But the Hornets are currently sitting at 4-8 and don't look to be getting any better. Stephenson's already been benched for playing poorly, the team's chemistry is off, there isn't great ball movement or spacing, players aren't being selfless enough, and Michael Jordan is watching all this probably losing his mind.
This may be nothing more than issues with players getting used to each other, but with this start, there may be more underlying problems that head coach Steve Clifford will need to address. There is a lot of talent on the roster so that's not the issue, and if the Hornets are lucky it's just a matter of time before everything comes together.
If Clifford can right the ship then the Hornets can give a lot of teams a run for their money, but if not, changes may have to be made. Because Michael Jordan likes winning, and he likes winning a lot.
The Atlanta Hawks are currently sitting at 5-5 so they aren't terrible, but they're not particularly good either. I thought Al Horford coming back from injury would help propel them from a decent showing last season where they ended up making the playoffs and having a really good first round.
But so far they've managed to lose to a bad Los Angeles Lakers team, and just look out of sorts. The Hawks have a head coach from the Gregg Popovich coaching tree in Mike Budenholzer so they know there's a smart guy leading. Why haven't they played better is anyone's guess.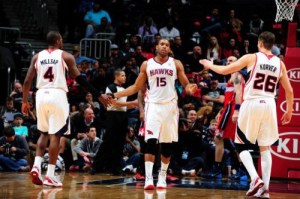 They have a good point guard with Jeff Teague, great three-point shooter with Kyle Korver, really good bigs with Paul Millsap and Horford, and a smart coach. They should be much better than 5-5, and I think they'll turn it around. But for now this team is only beating other bad teams and they have to step it up to be taken seriously.
Surprise Contenders?…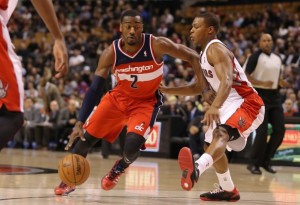 Two teams that I've enjoyed watching are the Toronto Raptors and the Washington Wizards. Bot teams have really good unheralded coaches, and some really nice talent. I like both point guards, Kyle Lowry and John Wall, as well as both shooting guards, Demar Derozan and Bradley Beal.
Those four players are a lot of fun to watch and they help drive their teams to success. Both teams were in the playoffs last season and both teams showed a lot of poise for being new to the dance. This season they've actually piggybacked off that success and started off the very well. The Raptors may have the best fan base in the NBA behind them, and they have a no fear attitude.
They ply their trade in Canada so no one pays attention too much to them until they're on a nationally televised game and then we are all reminded that the Raptors are actually a really good team. They still need some fine-tuning but they can run the court for four quarters with any team in the league. All they lack is genuine experience which will come in time. But this Raptors team is good, and under the tutelage of Dwane Casey they'll continue to grow and become better; meaning the rest of the East may be in trouble. And the same goes for the Wizards.
As long as John Wall and Bradley Beal can keep performing at a high level, and coach Randy Wittman can keep his young star duo focused on the prize in front of them, the Wizards have all the pieces necessary to shock the East and make a deep playoff run that could find them in the Finals. Experience and focus is paramount for both teams.
It's been an up and down start for the Eastern Conference in the early weeks of the 2014-2015 NBA season. Things can change in this league month to month, and the teams that are down now can find themselves on incredible winning streaks that change everything.
But so far from what I've observed the East hasn't gotten worse from last year, but hasn't shown me anything to thing it's a far better conference than last year either. I'm hoping by All-Star break I can start seeing enough from the East to write a new piece saying the East has improved drastically. Fingers crossed.
Follow @LSN_Frantz on Twitter