I Was Terribly Wrong About RG3
Updated: November 21, 2014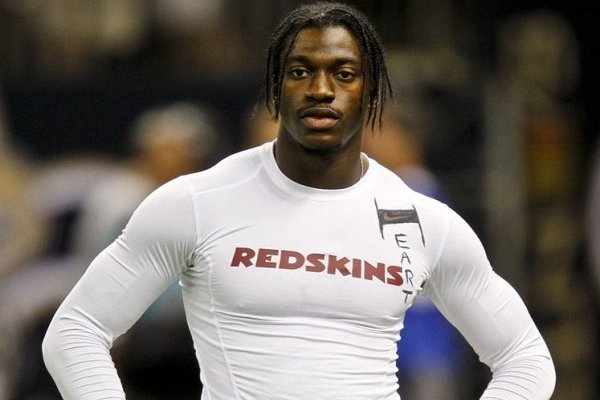 As a sports writer, I love debating about sports. As a matter of fact, forgot the sports writer part, as a sports fan in general I enjoy debating sports. Sports debates are and always will be a never-ending battle of who one-ups whom. You win some debates, and then you lose some, but you never want to whiff terribly with an opinion of a team or player.
Because if you get your prediction wrong on how good they will be, you'll never live it down as long as that player or team are playing terribly. The one guy that I whiffed on massively is Robert Griffin III. I truly believed this kid was going to be a great quarterback in the NFL. And barring a hell of a rookie year, he's been very sub par on the NFL stage.
I was wrong on so many levels with RG3 that it's startling. La Sportsa Nostra writer and resident Oakland Raiders and Andrew Luck expert @SJ82Ross told me I was out of mind for thinking Griffin would be as good as Luck. He's proving to be right with his assessment from three years ago on Griffin. And I can't honestly say that Griffin will ultimately prove me right, which is a shame.
The Great Luck Debate….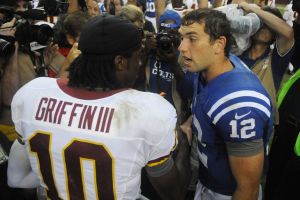 When RG3 was drafted in the 2012 NFL draft second overall, I said he would be just as good in the pros as Andrew Luck would be. They were both great college quarterbacks and RG3 won the Heisman over Luck. To me it was going to be Tom Brady vs. Peyton Manning reborn. And during his rookie year, Griffin didn't disappoint.
Throwing for 3200 yards, 20 touchdowns and 5 interceptions while leading the Washington Redskins to a playoff berth in his rookie year was no small feat. I felt validated in my assessment that RG3 would be just as good if not better than Luck. What a difference a season or two makes. While Andrew Luck gets better every season, RG3 is regressing and seemingly looking like a broke down QB who needs a system to thrive.
RG3 is constantly hobbling from one start to another, and his 6'2 222 pound frame, which made him such a menace in college and in his rookie season, has proven to be part of his downfall. The more hits he takes the harder it is for him to get back up and be himself. In his rookie year he was able to get away with running the read option because Alfred Morris was having such a great rookie season himself, and defensive coordinators weren't ready for RG3.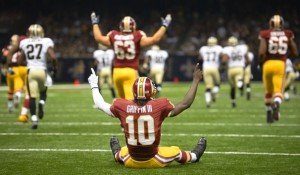 Towards the latter part of his rookie season DC's from across the country started catching on, and they realized that Griffin refuses to slide or go out-of-bounds. Instead of sliding or going out-of-bounds, Griffin continued and continues to get pummeled in every game in and out of the pocket, and that should have been my first indication that he wouldn't be a great QB.
He hasn't learned simple things in 3 years. Sliding, getting out-of-bounds, how to read a defense, how to adjust pre-snap, how to look off a safety, 3-5 step drops, the works. I've heard NFL Analyst like Trent Dilfer, Steve Young, Rodney Harrison and Cris Carter all say the same thing about Griffin, he's a very talented QB but he's not maturing into a great QB.
But when Griffin's own head coach Jay Gruden came out and openly criticized his quarterback's ability to get the job done, that was just another sign of Griffin's lack of maturation as a high level QB. His former coach Mike Shanahan seemed hell-bent on having the back-up Kirk Cousins come in and be the starter over Griffin.
Although we've seen over a period of 6 games this season that Cousins is nothing more than a stop-gap for a game or two and not the man to lead a team to success, the writing was on wall thanks to Shanahan about RG3. But RG3's poor play on the field is only part of the problem. His numerous press conferences and me first attitude doesn't help either.
When Being In The Limelight Goes Wrong…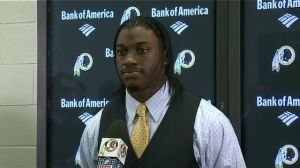 I am happy to see that RG3 has numerous endorsements and is making money off the field because branding is always great. The problem is he's doing all this while his game hasn't improved and it gives off a very selfish looking attitude. Griffin comes off as having a "me first" persona. Keep in mind perception isn't always reality.
Just because he's doing commercials and getting endorsements doesn't mean he's not taking his craft seriously, but it's one of the things that won't help him in the court of public opinion. I don't have a problem with a player making money off the field and maximizing his star power because the NFL and the owners do it off the backs of the players, so the players should be able to do it as well and prosper.
But his media coverage revolving around football is the real issue. RG3 loves the cameras and the microphones and the press conference life. Every time I looked up in during his first two years he was standing at a podium like a politician. That certainly couldn't have gone well with his veteran teammates. For such a young player to always be behind the microphone is great for the media, but it can be harmful to the locker room.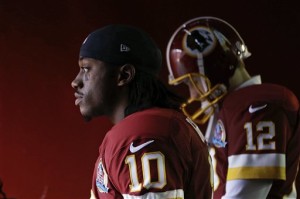 When RG3 came into the 2013 pre-season and told the world he was going to be ready to start the regular season, I don't think Mike Shanahan fully agreed with it, but the owner Dan Snyder certainly must have been on-board with that decision which compelled RG3 to tell the world he was ready. But after watching the first few games, he wasn't ready.
His mechanics were off do to lack of reps in pre-season, his knee was still not ready which was obvious due to his lack of mobility, and the entire team looked out of sorts. Griffin had no business starting the 2013 season, but he did, and the Redskins went 3-13, Mike Shanahan got canned, and the Redskins were back to square one. It was all good just a year ago.
Nothing Changes, If Nothing Changes…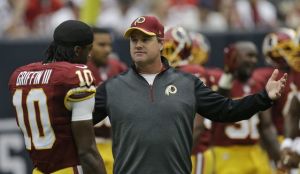 Most of the 2014 NFL season is over and nothing has improved for RG3 and the Redskins. The team is 3-7 overall and 4th in the NFC East. Griffin is playing poorly, he seems to be throwing his teammates under the bus, his head coach is calling him out like I mentioned earlier, and there are no positives in sight.
It's too early to consider firing Gruden because it is his first season as head coach, his quarterback was injured for a good amount of the season, the back-up Kirk Cousins proved to be just a back-up caliber performer, and there's uncertainty everywhere. The Redskins can't get rid of RG3 after the king's ransom they sent to the St. Louis Rams to secure his pick.
So now there's the meddlesome owner who's been quiet but won't be for too much longer with back to back terrible seasons, the new head coach that's stuck between a rock and a hard place with the meddlesome owner and the injury-prone star quarterback, and at the heart of the problem is the quarterback that isn't getting any better on the field, and isn't helping his team win games.
I saw an alarming stat on ESPN the other day that said Griffin has been sacked 5 or more times in 5 of his last 7 games. That's a startling statistic. Either his line isn't blocking for him, his line isn't good enough and with his frail build he's taking unnecessary damage, or Griffin has just flat-out lost the ability to escape would be sacks due to constant injury.
None of those three reasons bode well for the Redskins, and they have a lot of work today from the ground up. It's safe to say I was way off on RG3, and I'm not ashamed to admit it. It was supposed to be Luck vs. RG3 for the next 13 years, but it's turned into Luck vs. Russell Wilson now, and RG3 is just another QB that has talent but can't put it all together.
Maybe another bad season like the one the Redskins are having will humble the young QB and he will do all he can to improve his craft. But recent history has shown it's not the way the Redskins and Griffin operate. The Redskins made their bed with the RG3 pick, and now they must lay in it until the experiment has become a complete disaster, if it hasn't already. Not a great time in the nation's capitol for football, not a great time at all.
ƒFollow @LSN_Frantz on Twitter