King Thierry Henry, Not Quite Done?
Updated: December 1, 2014
KING Thierry Henry. Those three words are synonymous with Arsenal, Arsene Wenger, and greatness in general. King Titi is one of the greatest footballers to grace God's green Earth, and he's my favorite footballer by a mile. As an Arsenal fan it was always a privilege watching the greatest striker in EPL history dawn the Arsenal shirt.
Henry helped Arsenal win trophies and go undefeated, a feat yet to be matched by any team in England. He's an absolute legend. Now that Henry's time in Major League Soccer with the New York Red Bulls is over, it's anyone's guess what's next for him. But I think the best place for him is back at Arsenal for one last hoorah on the pitch, and possibly even greater things off the pitch.
You Can't Put A Price on Leadership…
Arsenal are bereft of one of the most important intangibles in sports, leadership. It's no secret that when Mikael Arteta goes out with injury, Arsenal usually dips considerably in form. It's not just because Arteta is the best DM on the roster, but also because Arteta is a born leader.
Arsenal's win % with @m8arteta starting in the PL last three seasons is 58%, without him it is 48%. Appearing at all it is 60% v 38%

— Orbinho (@Orbinho) November 27, 2014
He commands the midfield when he plays and demands the rest of the squad to do the same. Henry is the same type of player. As a former Arsenal captain, Henry has the leadership skills needed to raise the game of his troops around him. And no Arsenal player will dare be the one that half-asses it on the pitch knowing the great Titi Henry is watching from the bench or alongside them on the pitch.
Although Arteta has been injured often this season, his impact on the team is never felt more than when he's not on the field. Having both Arteta and Henry on the field, and Henry on the team period is a lift. Look how well Frank Lampard and Didier Drogba are doing in their leadership roles now. That could be Henry for Arsenal. And for this second half of the season push, Arsenal will need all the leaders they can get.
Arsenal's Strikers Could Use Henry's Guidance…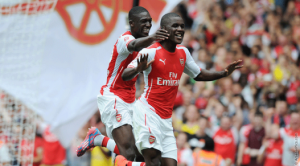 Arsenal has a young crop of strikers who are all very talented, and they would grow in leaps and bounds under the tutelage of a legend like Henry. Henry could do it all on the pitch as a striker, and with talent like Danny Welbeck, Yaya Sanogo and Joel Campbell on the team, who better to help hone their skills during training than the great Titi Henry.
All the young Arsenal strikers have their own attributes, but Henry has everything that all the young strikers have individually, so he could all help get the best out of them. Welbeck has great off the ball movement and pace, Henry had both, in abundance.
Welbeck is some times a step or two out of position and lacks just that little bit of clinical assassin-ship that Henry had. Training with Henry in practice and seeing that once a striker gets into the box, his job is to shoot, will be instilled in Welbeck if he got the chance to work with Henry daily. Yaya Sanogo has great work ethic and always seems to be in the right place at the right time, just like Henry.
Sanogo has long limbs that help him disrupt passing lanes and latches on to passes that would normally be out of range for smaller strikers.
Sanogo could watch what Henry does in training and get tips on what to do with the ball once he gets. Sanogo is better than people give him credit for. And at just 21 years old, he can grow under the right tutelage…Henry's tutelage. Campbell is the wildcard because I have no idea what he lacks because he rarely plays. When he does get game time he plays hard and he's like Henry in that he thinks about striking first, and passing second.
I think Campbell can be very good, and maybe Henry will see something in him that Wenger isn't seeing yet, and help get the lad some more playing time. All these young strikers would only benefit by having Henry around them pushing them and showing them how to hone their crafts. But having Henry as an option off the bench is also a boost. Henry is still class from what I've seen in his last season in MLS.
He can't give a full 90 minutes at 37 years old, but he can definitely be an impact sub like Didier Drogba and Frank Lampard are now. Having Henry back at Arsenal would be the equivalent of having a young head coach on the field and on the bench. Which leads me to what could possibly be Henry's next great act for Arsenal.
We've Seen This Act Before…
Henry has said in the past that he would love to get into coaching, and he would love to one day be the coach of his beloved Arsenal FC. And that dream may come to fruition at some point in his career. But once Henry really hangs up his boots, it would be great to see him at Arsenal in some capacity. And what better role than as a coach or an assistant coach of the Arsenal Academy?
This wouldn't be the first time a great player retired then started off his managerial career with his old club and rose through the ranks. The most recent and most successful case of this is Pep Guardiola. Pep Guardiola is one of the best managers in World Futbol, and before he led an all-conquering Barcelona team to some the greatest football the world has seen, he was the manager of Barcelona's B-Team from 2007 until 2009 when he was appointed the coach of the senior team.
Guardiola had success with the young Blaugrana stars on the B-team level, and it gave him the opportunity to learn his craft and learn from his mistakes. The same can be done with Henry. Henry is a brilliant footballer and from listening to him as a pundit over the latter part of his career, it is clear he knows the game as well as anyone.
Henry knows how to get the best out of the people around him and giving him the opportunity to coach at Arsenal's youth level would be a great step towards him possibly becoming an assistant coach either under Wenger or whoever Arsenal's next coach is. I know it's a long way off and Henry would definitely need to prove that he is ready to coach Arsenal at a higher level than the academy, but this would be a great start.
And with the way Henry loves Arsenal, he would give it everything he had to make sure the team was successful. It also helps that Wenger will always be there in some capacity to help is favorite pupil succeed. Because even after Wenger retires, he's going to be working for Arsenal in some capacity, that's a given. Wenger could help guide Henry until Henry is ready to be an assistant and then who knows, maybe Henry may one day be the coach of Arsenal and have success like Guardiola did at Barca. Maybe not that elite level of success that Guardiola did but Henry may be able to do big things for the Arsenal from the touchline.
Thierry Henry has had an amazing career, and it may not be over. I would love to see him hang up his boots as an Arsenal player, then come back to work for the club in some capacity. Henry is a Gooner, and always will be. It was a pleasure watching him play and I hope to see that famous Henry smile at every match day at the Emirates until the end of time. I know the legend will succeed at anything he does from this point on because he is, King Thierry Henry.
Follow @LSN_Frantz on Twitter