Tony Romo & Dez Bryant Come Up Huge For Cowboys
Updated: December 15, 2014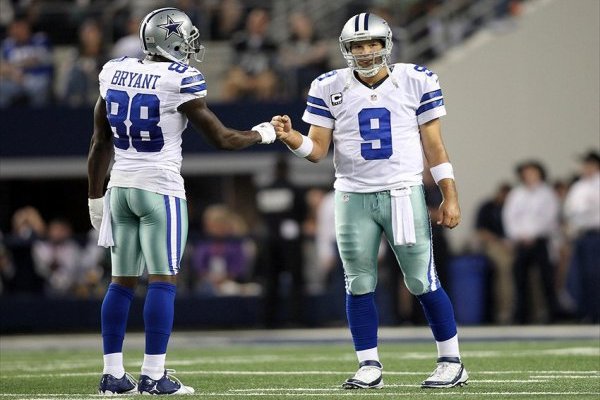 The Dallas Cowboys continue to do what everyone coming into the season thought they couldn't do, win important games. Cowboys fans have been saying for weeks that this is not the same Dallas Cowboys teams of old that would fold in big games when the pressure was too much, or the moment was too big.
The Cowboys have went into Seattle and beat the defending Super Bowl champion Seahawks on their home turf, and did the exact same thing to a favored division rival in the Philadelphia Eagles on Sunday night.
This Cowboys teams has a backbone, they have grit, they have determination, and above all else they believe they can beat anyone. And the way they're pulling out games this season, it's time for everyone to believe that the Cowboys are as good as their record says they are.
Forget MVP Votes For Tony Romo, Give Him Playoff Wins…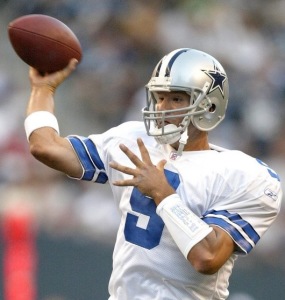 Tony Romo is quietly having one of the best seasons of his career. With all the back issues and broken ribs and Lord knows what else he's dealing with that we don't know about, Romo is keeping the Cowboys humming. There has always been the knock on Romo that he can't get it done in crunch time, and more importantly he's a terrible quarterback in December. Here's a look at Romo's career December numbers prior to this season: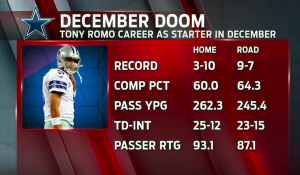 The record isn't great, but the numbers are there. But no matter if the Cowboys play poorly and Romo excels, he will get the brunt of the blame for the loss, and that's just the reality of being a pro Quarterback. Still Romo never lets it interfere with his performances from week to week and this season he has been lights out.
The Cowboys are 7-0 on the road this season (including two straight road December wins) and Tony Romo has 18 Touchdowns to just one interception in this road games. These stats are also amazing:
Tony Romo is first player in NFL history with four straight road games of 3 passing TDs and no INTs, per Elias.

— Adam Schefter (@AdamSchefter) December 15, 2014
Romo is playing the best football of his career and it's because he's playing mistake free and intelligent football. Romo isn't playing that Brett Favre Gun-Slinger brand of football. He's just making smart plays and hitting open receivers and dare I say it, he's managing the games. Yes, the great Tony Romo is game managing, but not like the way you would say a player like Alex Smith is.
Romo is simply getting his players in the right positions at the right time and he's doing it with confidence, which is coursing through the rest of the team. This is the leader the Cowboys have needed in order to prosper, and now Romo is delivering. And leaders like Romo need generals to back them up, and Dez Bryant is proving to be an excellent second in command.
Ladies and Gentlemen, Throw Your X's Up….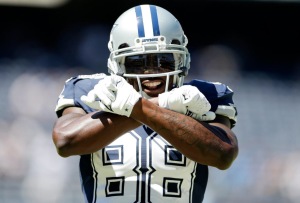 ESPN had a documentary on this past weekend on the Miami Hurricanes and their amazing run from the late 1990's to the early 2000's. IN one clip they had the famous quote by Santa Moss when he said, "Big time players make big time plays in big time games." Dez must have been watching that documentary just like the rest of the world was. Against the Eagles, Dez was just a menace. Dez, and Eagles safety Malcolm Jenkins, had some words prior to kick off: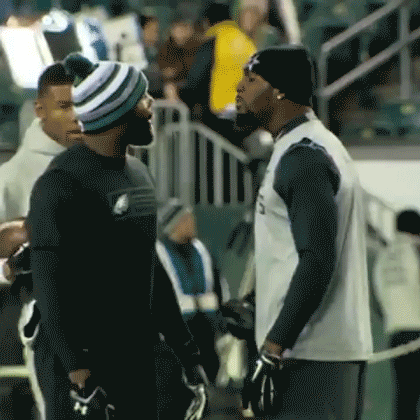 Cowboys Safety Barry Church is quoted as saying that this exchange, "woke a sleeping giant" in Dez; and Church was correct. Jenkins wrote a check with his mouth that Eagles cornerback Bradley Fletcher couldn't cash. Dez had his way with Fletcher all game long to the tune of 6 catches for 114 yards and 3 touchdowns (career high). And Dez did it in style. You can see from this picture he's pointing at Fletcher letting Romo know it's one on one coverage:
Romo gives Dez a thumbs up as acknowledgment, (LOL) and then this happens: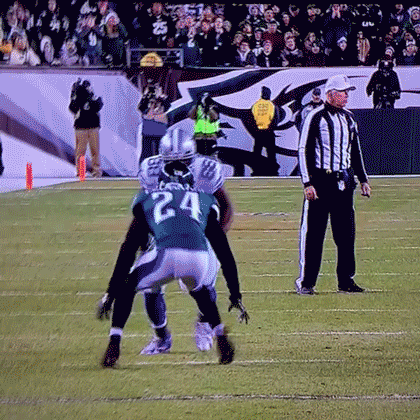 And that was essentially the ball game. People keep saying Chip Kelly is a brilliant head coach, but leaving Dez one on one with a cornerback he had been destroying all night was coaching ineptitude at it's finest. Romo and Dez were throwing the ball around the Eagles secondary like it was practice on a sunny Wednesday afternoon in August.
It was fun to watch if you're a Cowboys fan, and an ominous sign to opposing defenses that have to defend against those two.
If Romo and Dez can keep this up, and Demarco Murray can continue running effectively behind the offensive line, then the Cowboys are on track to make the playoffs and make a deep run.
The Cowboys quieted a lot of haters with their win in Philadelphia. The Division is not wrapped up and the Cowboys still have a lot of work to do starting with the Indianapolis Colts and Andrew Luck. The Cowboys must win out. If they win, they're in, and this season that started off with such low expectations, will be something special for Cowboys Nation.
Follow @LSN_Frantz on Twitter