Josh Ho-Sang: Out To Make His Mark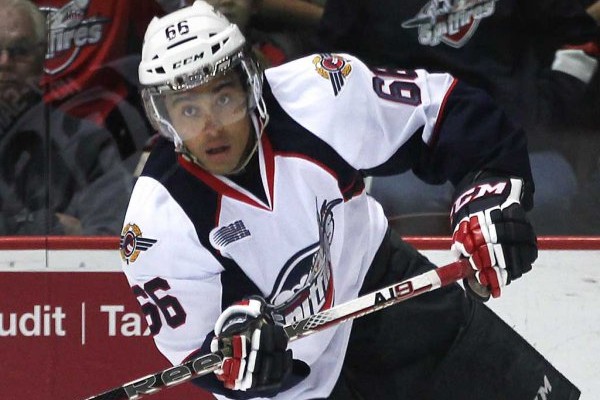 In June 2014, Joshua Ho-Sang of the Windsor Spitfires was selected with the 24th of the first round of the 2014 NHL Entry Draft. Renown for his agility and nifty hands, Ho-Sang lit up the Ontario Hockey League the previous season, scoring 85 points (32 goals- 53 assists) in just 67 games. Heading into his draft year with the OHL's Windsor Spitfires, Ho-Sang, who's father is Jamaican and Chinese descent, and mother is Jewish, was mentioned as a potential top-five pick. His speed and hand-eye coordination have been described as "rare," and his ability to pick gaps in defense and speed through them is truly a thing of beauty. Why then, did teams wait until the end of the first round to select such a talent?
At some point during this last season, Josh Ho-Sang acquired the reputation as a "selfish" player. As many are aware, hockey is perhaps the best definition of a team sport that there is, and the mindset of "I am a cog in a machine," is instilled in players as they learn to play the game. The end product? Have you watched an interview with a hockey player? They never mention themselves individually in victory; but they also don't say much of anything, either.
This isn't to say that hockey players are robots. Often times, confidence is mistaken for something it isn't. The fact that Josh Ho-Sang, a player whose style of play is predicated on making flashy plays-or setting-up teammates to make flashy plays-is considered to be a selfish player because he isn't afraid to speak his mind, saying things like, "If I was a general manager and had first pick in the draft, I'd pick me No. 1 … In three years, I'll be the best player in this draft," Regardless of the potential truth the statement holds, the brashness of the comments were not taken well by the extremely humble contingency of NHL players.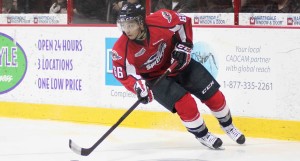 In the weeks prior to the draft-for reasons that weren't quite unknown, but rather murky-Ho-Sang's draft stock began to plummet precipitously. The Los Angeles Kings had just won their second Stanley Cup in three seasons, predicated on a physical, rough-and-tumble manner of play that necessitated puck management over everything but defensive responsibility. While for many teams it would have been easy-and truthful-to say that Ho-Sang's style of play-and slight physique-did not fit their team's overall structure, the term "head case" was thrown around. 
Prior to playing in the OHL, which considered by many to be the most advanced major junior hockey league in the world, Ho-Sang lined-up with Connor McDavid, who has been described as generational player along the lines of Sidney Crosby-for the Toronto Marlies of the Greater Ontario Hockey League. Steve Simmons of the Toronto Sun noted that the only difference between Ho-Sang and Connor McDavid was that "…Ho-Sang was the more electric player. You couldn't take your eyes off him." 
How could teams pass on a player of his talent despite the freakish natural talent? Perhaps it's his style of play? He's the player that immediately resonates with irregular hockey fans. He's the player that your eight-year-old starts idolizing because of his flashiness and big numbers. Ask any traditional NHL prospect who his favorite player is, and you'll get one of a few responses: Joe Sakic (hockey players are remarkably respectful of their predecessors…or are just really good at listening well to their agents' talking points), Mike Richards, Chris Pronger, Drew Doughty, or maybe Anze Kopitar.
What do these players have in common other than their undoubted greatness? They are some of the best two-way players-that is, offensive and defensive-players of the last 25 years. As good as they are offensively, their "200-foot game," or ability to play at their highest level in every zone, is unmatched. That is what young hockey players look to duplicate; not the style of play of an Alexander Ovechkin, who is criticized for his lack of defensive ability (rather, his perceived lack of desire to exert himself in the defensive zone) just as often as he is lauded as being one of the greatest scorers of all time.
But perhaps it's a bit deeper than that. Perhaps it's because Ho-Sang stands out as much for his physical suddenness, as much as his appearance on the ice. Ho-Sang is as best a definition of "multicultural" as there is. His father, as noted before, is originally from Jamaica, and has some Chinese ancestry. The younger Ho-Sang's mother was born in Chile to a German and Russian mother, and South American father. She was raised Jewish. For a sport where players-almost to a man-are outwardly humble and quiet individuals, it's outspoken players like P.K. Subban, Evander Kane, and Josh Ho-Sang that are the obvious outliers. Those player are portrayed as relying on talent and talent alone. Their success-it is told-is reliant on their ability to stay in their lane, and play good hockey; their judgment is somehow considered to be suspect, due to their penchant for saying what they think. These players also happen to be Afro-Canadian.
What's baffling about the outward sense of disdain for a style of player behavior-that seems only associated with black players-is that hockey is generally perceived as very tolerant. Take a look at the You Can Play Project:

And remember that it gained a foot (skate?) hold in the sport of hockey, thanks in large part to the support of hockey hard man Brian Burke, whose son Brendan was a noted supporter of gay athletes. While there aren't any outed gay hockey players currently in the NHL, there are men of color, and public opinion of them—almost to a man—is considered suspect.
Take a look at this clip from when Ho-Sang was drafted in June. Aside from the mention of his natural freakish talent, it seems that the experts have already written him off as a player that has no future aside from scoring goals. Pierre McGuire goes as far as to accuse the Islanders of picking Ho-Sang as a "respect pick" to John Tavares-one of the great young players in the NHL-as if it takes a man with maturity, who isn't afraid to speak his mind, but rather knows when to hold his tongue, to keep Josh Ho-Sang and his oodles of talent on the straight and narrow. 
I don't think that Ho-Sang's detractors are racist. I believe that they see an individual known exclusively for his flashy style of play, and fault him as being one-dimensional. In a sport-much like the other North American sports-where to be "blue collar" is perhaps the ultimate compliment, NHL scouts are the fault of their own perceptions of what is right. Yes, the Kings have won two Stanley Cups in three seasons because they have a big, physical, unselfish team. They also wouldn't have won the most recent Stanley Cup without Marian Gaborik, a player with unbelievable offensive talent, who was seen as a mismatch with the rest of his team. Gaborik gelled with his teammates and was a force to be reckoned with in the playoffs. His presence made everyone around him better, and despite the repeated holes the Kings dug themselves, they ended up winning it all.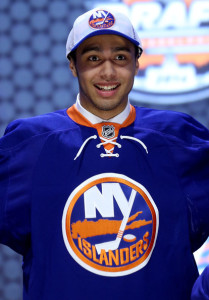 Why scouts and officials beat around the bush when it comes to Josh Ho-Sang is understandable, to a certain degree. He's small, his defensive play needs work, and at 18 years old he's not nearly as strong as he needs to be to play against grown men in the NHL. But does he need to change who he is as a proud, outspoken individual? No, that would be absurd. Players are made differently, and it's the players like Joshua Ho-Sang that makes the sport so entertaining to watch. While racism doesn't necessarily play a factor in all the analysis that has been made on ho-Sang, there will always be a sect of people in hockey who will pre-judge a player based on his race and economic status. But the flash and excitement that players like Ho-Sang, Evander Kane, or Patrick Kane (no relation) bring to hockey are an integral part of the game. And certainly their value as prospects or proven players are respected for it.