Jameis Winston vs Marcus Mariota: A Sign of Things To Come?
Updated: December 12, 2014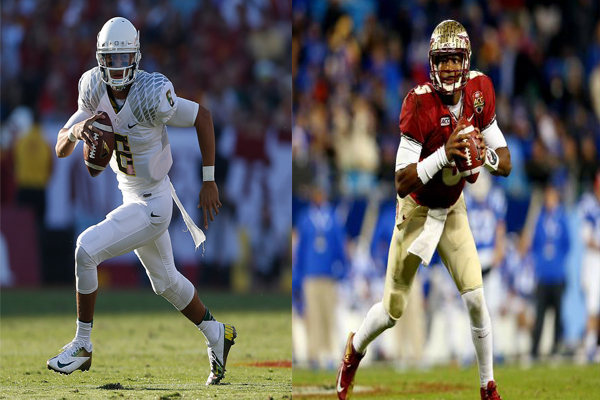 It's always fun to link quarterbacks to one another for the sake of discussion and debate. For almost 14 years in the NFL, the comparison has been between Tom Brady and Peyton Manning. Two all-time greats that I have in my top 3 quarterbacks list ever. From Brady and Manning we moved on to the new generational debate of Andrew Luck and Robert Griffin III.
The RG3/Luck debate started in their final year of college when they were both Heisman finalist. Then it moved on to the NFL where both quarterbacks are currently plying their trade. Luck has so far won that debate on who's better, and he's done it by a wide margin.
Since RG3 is looking more and more like a subpar QB every week, Russell Wilson has moved into RG's slot in the Luck debate; but I'll let you make of that debate what you will. On January 1, 2015, the latest chapter in the "Who's the better quarterback" debate will be born between Jameis Winston and Marcus Mariota.
The two heavy weights of college football quarterbacking will meet for the first time in college football's inaugural playoff competition; and it will be must see TV. Winston was the reigning Heisman trophy winner; Mariota is latest college great to raise the coveted Heisman after an amazing season with the Oregon Ducks. Two special players in one all-important position on the football field. On the first day on the New Year, Winston will be leading his undefeated Seminoles team into Pasadena, California, to face Mariota and his high-powered Oregon Ducks squad. With that matchup of  two college quarterbacking titans, we may be on the precipice of many great head to head battles between the two of them for  years to come.
Clash Of The College Titans…
When looking at Mariota's and Jameis' numbers over their college careers, you can't help but shake your head in amazement on how great both of them have been. In 3 seasons, Mariota has 10,125 yards, 101 touchdowns and just 12 interceptions; absurd numbers. Mariota is a very intelligent quarterback who rarely makes mistakes and runs the Oregon Ducks offense to a near perfect efficiency.
Opposing defenses must find it difficult game planning for Mariota and the Ducks because they can beat you in so many different ways, starting with their quarterback. Mariota is fast, accurate, he doesn't take unnecessary hits, he gets rid of the ball in the rare instances that there is no one open, and he's selfless.
He puts the team first and he's a leader. He's a model teammate and keeps his head down and just goes out and does the talking on the field. He's led his team this far, and he's going to do everything in his power to make sure this Ducks team wins a National Championship before his time in Eugene is over.
Jameis is on the other side of the country, and on the other side of the spectrum when it comes to quarterbacking. There is no system in place for Jameis; just hand him the damn ball and tell him to go play. This is not a knock or a shot at Mariota. Because although Mariota gets the system quarterback tag, he's excelled at Oregon and makes things happen even when things around him break down.
But Jameis is surrounded by chaos on and off the field, and he continues to rise to the occasion. Of course all the off-field chaos is brought on by Jameis himself, but it never seems to bother him. In his two-year college career, Jameis has 7616 yards, 64 touchdowns and 17 interceptions to go with a 29 game winning streak. As impressive as Winston has been overall, his second half crunch time numbers are nothing to be scoffed at either. In the second half of games with the score with in one touchdown, Winston has QBR of 80.2, a 70% competition rate, 8 touchdown to 2 interceptions, a 3rd down conversion rate of 51.4%, and a game winning drive in a National Championship games.
Winston is the epitome of clutch. The more chaotic his surroundings are, the better he seems to perform. Leading up to this season's ACC Championship game, most analysts were picking the Seminoles to lose to a formidable Georgia Tech team. The Noles needed Winston to be nearly perfect against Tech, and he was.
Kirk Herbstreit said that prior to the game Jameis had a look in eyes that was just pure focus, and Jameis backed up Herbstreit's observation. Jameis went out and had his most complete game of the season in a game where the Seminoles needed him to be at his best from start to finish.
And now, the Nation will have the chance to see the latest quarterback duo go at it for the chance to play for a National Championship berth, and I am sure it will live up to the hype. But even beyond this playoff game, what should we expect from the two young quarterbacks in the NFL. Well, that depends.
Coming To A QB Near You?…
There are a lot of teams that can use a good quarterback to grow with them and eventually be a franchise piece for their organization. The teams that come to mind are the New York Jets, Tampa Bay Buccaneers and if more craziness transpires in the next few months, the Washington Redskins may be in the market for a new Quarterback also. But with the way Redskins owner Dan Snyder loves RG3, Jay Gruden will sooner be gone than RG3.
And we can throw the Tennessee Titans into the mix as well, but they may give Zack Mettenberger more time to develop. So if it's down to just two teams in the hunt for the top two QB's in this upcoming 2015 draft, I'm pretty sure the Jets and Bucs are firmly in the driver's seat.
I will be completely honest, I feel sorry for either player if they end up in New York with the Jets. In Mariota's case, he may need time to develop into a more pro-style quarterback in order for him to reach the peak of his abilities. Again, the handle "System Quarterback" gets thrown around often for Mariota, and I've been guilty of referring to him as that as well, but he can still play his ass off. For all we know, he's a great quarterback in a great system.
He just needs some fine-tuning and a coach that can get him to where he needs to be in his progression to break out of the "system QB" tag and just be a really good quarterback. But even if we are to go with the Mariota is a system QB narrative, the Jets don't have a system in place for him to succeed.
The Jets don't have a system in place for anyone or anything to succeed, period. Going to the Jets would only ruin what could be a great prospect in Mariota. Mariota needs a coach like Jim Harbaugh who can get the best out of QB's, but there is no Harbaugh brother in New York; just a Ryan brother, for now anyway.
The same situation goes for Jameis in New York. Jameis is more NFL ready than Mariota , but that means nothing on the wrong team in the wrong environment. A team like the Jets will make Jameis go from the next Andrew Luck to the new Jamarcus Russell in two seasons flat. Jameis is already having off-field issues in small town Tallahassee, Florida.
Imagine New York City with 6 months of down time and a lot of disposable income and fame? With a weak organization behind him, willing him on? You'll essentially get the RG3 fiasco all over again, just in the Tri-State area, awesome. Unfortunately one of those poor souls may likely end up in NYC with the Jets, and I feel bad for either player if that happens.
The Tampa Bay Buccaneers is an interesting destination that would benefit either player. That team is dying for a franchise QB badly, and with the way their current quarterbacks are playing, both Jameis and Mariota could come in and win that starting job. And that's what Lovie Smith will need them to do.
Lovie Smith is a good coach, but that Bucs team is a long-term project. If people thought he was going to come in and reach a Super Bowl in his first year, they were sadly mistaken. But Lovie can look over his team at the end of the season and evaluate what he has, what he needs, and what to do next. At the top of his list must be a quarterback.
The two quarterbacks on the Bucs currently, Josh McCown and Mike Glennon, are back-up caliber QB's at best. And although Lovie worked a minor miracle in Chicago getting Rex Grossman to a Super Bowl, that's a tough ask to do twice. Plus those Chicago Bears defense Lovie had in the mid-2000's were ridiculous.
Lovie is going to need a QB like Jameis or Mariota on his team in order to reach those Super Bowl heights again. And from what we are seeing in the NFC South, that division is ripe for the picking. We all know Lovie is a defensive mastermind, but he will surely have learned from his stint with the Bears that having a solid offense to compliment his stellar defenses is key to success.
He will bring in whoever is necessary to develop both Mariota and Jameis. And in the case of Jameis, Lovie Smith would be the perfect coach to keep him in line. And Jameis will have a far smaller spotlight on him in Tampa as compared to the media crazy city of New York.
The unfortunate dilemma is that both QB's can't end up in Tampa. So whichever one of them doesn't, I wish him luck, because he's going to need it.
Both Jameis and Mariota have what it takes to be really good on the next level, but so did a lot of other promising QB's that fell into the wrong situation. I hope both of the are the exception and shine for years to come. January 1st may be a sign of things to come for football fans across the globe.
It will be our first taste of a rivalry that could span a long time. Godspeed to both of them, and lucky us for getting to watch it from it's inception.
Follow @LSN_Frantz on Twitter