Arsenal Fans: A Generation Lost To The Banter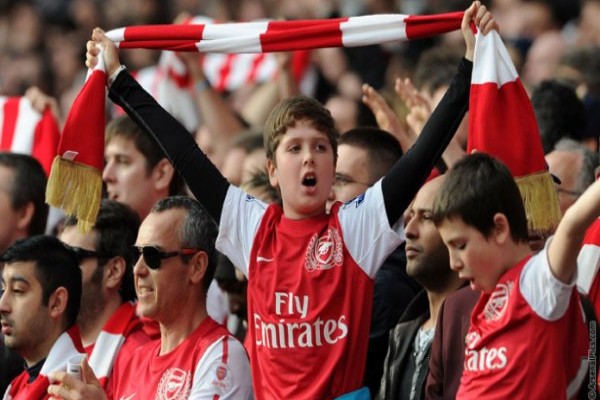 It's currently May 19, 2015, and Arsenal F.C. are one year removed from ending their 9 year trophy drought that made the one time London powerhouse a perennial punch line for nearly a decade. On May 17th 2014, Arsenal won the F.A. Cup by beating Hull City 3-2 at Wembley Stadium.
The trophy drought was finally over, all the jokes could finally stop, and Arsenal were back on their way to ascendency. But for one generation, those "Banter years" as Arsenal fans have affectionately began calling the drought, must have been a jarring and humiliating experience. The Gooners who were just entering their teenagers years went through something no other Gooners ever had to endure, a continuous trophy drought that coincided with watching rivals win non-stop around them.
The Worst of Times…
Imagine being between the ages of 12-14 in the summer of 2005. Arsenal just captured their 4th F.A. Cup title, a new stadium was being built mostly due to the current success under manager Arsene Wenger, the Invincibles were still fresh in memory, and as a young goner there was no reason to think your teen years would be nothing less than trophies and bragging rights. Unfortunately it was not meant to be for that generation of Gooners.
First, captain and club legend Patrick Viera transfers to Italian giants Juventus which felt like a stab in the heart, but it's ok because Thierry Henry and Robert Pires are still there, as well as a young up and coming duo of Cesc Fabregas & Robin Van Persie. In 2006, Arsenal make it all the way to the Champions League final just to lose to Barcelona 2-1 in a game that could have ended differently had Arsenal not had a man sent off. But it's ok, the Invincibles are still fresh in memory,
Arsenal just won the F.A. Cup last year, and a Champions League Finals shows the team is still ambitious. Then just like Patrick Viera, legends and stars start bolting from the club year after year. Following Viera out the door is club legend Thierry Henry who left Arsenal for further challenges in Spain. Robert Pires, Freddie Ljunberg and Jose Antonio Reyes all followed Henry out the door as well. But again, all was not lost. Arsenal still had enough young burgeoning talent to compete! Right? No, wrong.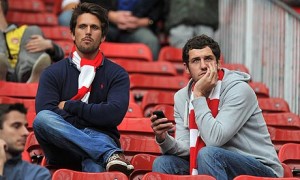 Year after year Arsenal fought to just make it into Europe finishing 4th annually while Wenger tried to balance the books due to the expensive new Emirates. All the while the new generation of stars that were supposed to replace the past legends started their mass exodus as well. Imagine being a teenage Arsenal fan in Europe were the press links your players with all the top stars all over the world, then come August you've landed no one of significance.
All the while your rivals get the likes of Fernando Torres, Michael Ballack, Eden Hazard, Kun Aguero, Juan Mata, Yaya Toure, Carlos Tevez and more. Not only are these rivals loading up on world class players and trophies, but you're watching your own stars like Emmanuel Adebayor, Samir Nasri, Cesc Fabregas, Gael Clichy and Robin Van Persie leave to win titles all over Europe.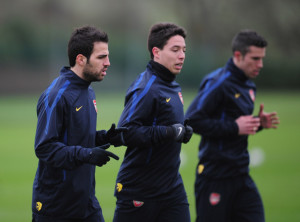 Not only did this generation have to endure this pain with their friends in person, the emergence of social media sites now allowed people you never met to make you feel like crap about your team, but on an even bigger platform.
This, my fellow Gooners, is what an entire generation of our fan base had to endure during what should have been some of their most exciting years as an Arsenal fan. My generation was introduced to Arsene Wenger, then watched Wenger dominate the league with legends.
But the Banter Era kids got left holding the bag of the Emirates cost. But now, finally, for the first time, the Banter Era generation is getting a taste of what Arsenal was like during my teenage years, but they'll reap even greater benefits.
A Brighter Future Ahead…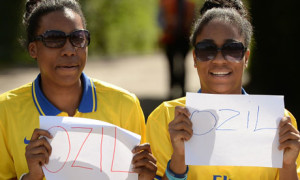 The Emirates stadium is one of the best looking stadiums in Europe, and it will be Arsenals fortress for decades to come. The beautiful stadium that was the cause of the Banter Era to begin with, will help attract some of the world's elite footballers.
There's nothing better than European nights in one of the greatest cities on the planet surrounded by 60,000 screaming Gooners. And plying their trade in the stadium is already a foundation of some of the brightest young talent in Europe.
Mesut Ozil's arrival in 2013 was a sign of changing times for Arsenal. Signing Ozil felt like Arsenal were heading back to the future, if you will. Ozil's capture showed ambition and a return of a World Class player to our ranks while keeping all of our current players.
The following summer brought the arrival of Alexis Sanchez who has been nothing short of revelation in his first season in England. The duo of Ozil and Sanchez will breed beautiful Wengerball for years to come.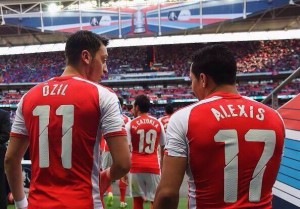 Aaron Ramsey and Jack Wilshere are two young stars patrolling Arsenal's midfield, and hopefully they can build a tandem with Ozil and Sanchez that will be the most feared midfield/wing in all of England and maybe Europe.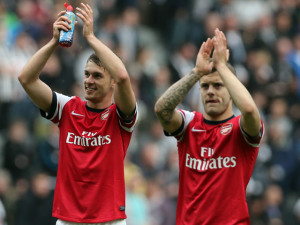 Danny Welbeck will have a great second season at Arsenal, and he will show the world that Manchester United lost out on a great talent. And of course there's this summer's transfer window which will surely bring in more talent for Arsenal to finally fight for EPL and Champions League crowns.
Things are looking bright again for Arsenal. Wenger is going to leave the club soon, and he's going to leave the club in the best position possible for the next manager. And once Wenger is gone, the new manager will begin his own Arsenal revolution.
There's no looking back for Arsenal. No more striving for fourth place finishes and possible entry in European competition. Only top 3 finishes and trophies will suffice from this point on, lots of trophies. And for a generation of fans who weren't lucky enough to watch our Arsenal be great during their adolescent years, they may be on the precipice of seeing the best Arsenal sides possibly ever.
The light at the end of the "Banter Era" tunnel has started to show itself, and it's about to shine brightest on a generation lost to the banter. And I couldn't be happier for them. As always, "In Arsene We Trust."
Follow @LSN_Frantz on Twitter