Arsenal FC: The Good, The Bad, The Ugly
Updated: November 5, 2014
Arsenal FC is a very peculiar club to follow for many reasons. The team is up and down, the players are excited and playing their hearts out for the majority of the games and then just quickly they switch off. The manager Arsene Wenger looks like his brilliant legendary tactician self in one half of football, then come second half everything is lost. Fans love the club then hate the club. A player is world-class in one breath and after one mistake he's not good enough for the club. So on and so forth.
It's astonishing. I witnessed all the aforementioned reactions during Arsenal's 3-3 tie with Anderlecht at the Emirates in the Champion's League this week. The team played their usual brand of amazing football for 60 minutes, then in the last 30 minutes it looked like a completely different Arsenal side. So much is great and so much is awful about this Arsenal team, and it's a wonder to behold.
The Good: Alexis Sanchez, Pace, And Effort…
Arsenal's best player on the season has been Alexis Sanchez, and it's by a wide margin. The Chilean International has been in rampant form and he's been the catalyst for most things good with this Arsenal season. He is up there for signing of the year so far in the EPL, and Gooners world-wide should thank the heavens this man plies his trade at the Emirates. When Sanchez is in the Arsenal starting XI, things are bound to happen, and it's usually good things.
His pace is maddening and his ball control is Lionel Messi like with the way he can run around defenders with the ball never moving more than inches from his feet. And just like the Argentine maestro Messi, Alexis Sanchez seems to score when he wants at this point. This goal he scored off of a volley after his free kick was blocked with always go down as one of the most absurdly great goals fans have seen in some time:
I watched the goal over and over again and it wasn't until about the 7th viewing that I realized that Sanchez actually volleyed the ball in and it never hit the ground before he struck it. Just absurd. And when Alexis is on the pitch and working as hard as he does, it seems to have an affect on the entire squad. Against Anderlecht the entire squad was like a swarm of bees to the ball whenever they lost possession. The Anderlecht players had no idea what hit them.
The way Arsenal was closing down the Andelecht midfielders was standing ovation worthy. Arteta looked great as the holding midfielder, Nacho Monreal was holding down the fort in Laurent Koscielny's place, and the Arsenal attackers were going insane. Alex Oxlade-Chamberlain was undressing defenders all night long with his pace and his goal to put the Gooner up 3-0 was well deserved.
All was good in the Emirates and world-wide. Wenger was about to win his 3rd straight match and Arsenal were trying to keep their third straight clean sheet and THE GOONERS WERE BACK!…That is until Mikael Arteta got injured.
The Bad: Wengers Tactics, Lack of Reinforcements, Lack of Leadership…
As much as people say we need a new defensive midfielder, which we do, Mikael Arteta on his day can do a great job covering in front of the Arsenal back 4. Again, against Anderlecht he was great. Then the inevitable happened, an Arsenal player got injured and sent the squad into a strange downward spiral. Once Arteta was subbed off, mayhem ensued. Arteta is a leader on the field, and even though his skills have eroded with age, he's still a beacon of trust.
First, Anderlecht scored a goal when the goal scorer was about three yards off sides. Once that goal went in and I looked at the clock and saw that there was a lot of time left, I wondered would Wenger bring on Hector Bellerin as defensive entrustment and fresh legs. Instead he brought in Tomas Rosicky and Lukas Podolski. Then the Arsenal defender that had played his best game on the night, Nacho Monreal, gave up a deplorable penalty. It was funny watching Arsenal fan reactions because all game long people were saying how great Monreal had been doing in Laurent Koscielny's place…until that moment.
Then Monreal became a man not good enough to put on an Arsenal jersey and is the worst signing in decades. It was a poor moment for Monreal defensively but before that he had been rock solid at the back. It happens to even the best defenders. Even at that point Arsenal was up 3-2. Then it happened, this happened:
I love Per Mertesacker, and even before he gave up this goal he was having a decent game, but he's had a very poor season by his standards. Far too many times Per has been caught out of position this season and it's cost Arsenal. Once that goal went in and tied up the match, I knew all hell would break loose. Anderlecht were going for it, Arsenal Fandom went into complete meltdown and Arsenal were spoken about as if they were an MLS team in the United States. It was ridiculous.
But Wenger and the entire squad were to blame. The squad became complacent at 3-0 and became lackadaisical. Wenger stopped coaching and just let the lead dwindle without getting into his players ears and telling them to fight, and Wenger's lack of buying enough reinforcements at defensive midfield and centreback ultimately backfired. If hindsight is 20/20 so blaming Monreal for this loss is unfair, because he was great. But having an out of form Per Mertasacker and an out of position Monreal hurt Arsenal in the end.
Wenger refuses to get that two-three extra players in the squad that can really make Arsenal fight for top honors, and last night in the final 30 minutes, it reared its ugly head. If there was a player behind Per on the bench that could do the job then that breeds competition and with competition comes the best of every players ability.
The defenders don't have to fight for places in the squad so if they have a poor game it just is what it is, and that's unacceptable. There's enough blame to go around, but it's not the end of the world. It was a poor result, but not season or competition defining.
The Ugly: Arsenal Fandom At it's Worst…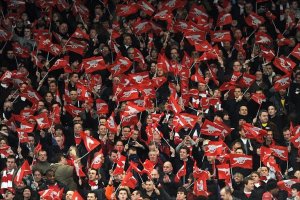 When fans are upset about a result, it's fine. Most times results really let me down. Yesterday's result wasn't great, but it was still a point and the Gooners are almost through to the next round. But the reactions from Arsenal fans after the games in which the Gooners don't win have become reprehensible and deplorable. The same people who were praising the team in the first 60 minutes were calling for Wenger's head in the last 30. Some consistency would be nice.
Arsenal has fair weather fans, and all of the footballing world knows it now because of social media. Rival fans laugh at Arsenal's losses not because the team is poor, but because they know they can get under the Arsenal fandom's skin. All that is well and good until you get lowlifes like this: 
going to dream about Flamini and Podolski getting into a fatal car crash on the way to training, good fucking night

— Andy (@andyyy_1) November 4, 2014
How even joking about wishing death on anyone is beyond terrible, but wishing it on members of your own team for any reason is scumbag behavior, period. This is a game ladies and gentlemen; it's not that serious. If an Arsenal tie/loss defines your life then you have issues. That was one of many tweets I saw like that after the match, and even fans from other teams were disturbed by it.
Never been more envious of anyone than the man that's gonna get the chance to call Flamini's family one by one to inform them of his death — Andy (@andyyy_1) November 4, 2014
Tells you something. This isn't funny, this is not banter, this is classless. And for all of the Arsenal fans saying they feel sorry for Sanchez because he plays for Arsenal, you're the worst sort of fan. Don't feel sorry for a man playing a sport he loves making a king's ransom for a few hours of work each week. I'm sure he will get over this tie pretty quickly and as a professional get ready for the next fixture. You need to follow suit. Also, the Barcelona team he just left hasn't won a trophy since the Super Copa in 2013, so there's that. Arsenal has won a trophy since then and can win more this year, breath.
All is not lost Gooners. Arsenal can still qualify to get out of the group stages, They have won two straight in the EPL and kept clean sheets, Theo Walcott and other players are slowly but surely coming back from injury, and for the love of God with have Alexis Sanchez. Things could be far worse. Support your club, and root every player on until they no longer wear the shirt of the club we all love and support. And as always, "In Arsene We Trust."
Follow @LSN_Frantz on Twitter