Four Moves to Revamp The Red Sox Pitching Staff
Updated: December 5, 2014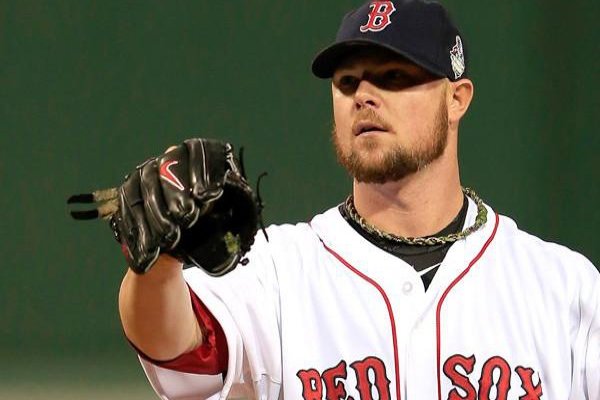 The Boston Red Sox have already made headlines in the 2014 off-season. They went out and signed Pablo Sandoval to play third base and Hanley Ramirez to play left field, shoring up an offense that was the fourth worst in the American League last year.
While these signings obviously filled needs, they were clearly made with other moves in mind as well. These signings created an excess of offensive players at multiple positions, which will allow the Red Sox to trade these assets for much-needed pitching. Given the dearth of quality bats in the free agent market, the Red Sox should have no problem finding trading partners
That being said, the Red Sox still have nothing but question marks in their rotation. They need to be smart and deal from their strengths to build a championship quality pitching staff. With that in mind here are four moves which I believe are not only feasible, but could propel the Red Sox to their fourth world title in the last eleven years.
1) Sign Jon Lester
First and foremost let's address some of the concerns being voiced around the web about Lester and how he compares to fellow free agent pitchers James Shields and Max Scherzer. Has James Shields been arguably a better pitcher than Lester according to Wins Above Replacement over the last four years? Yes. Is Max Scherzer a better pitcher than John Lester? Yes. Was Lester's strikeout-rate spike last year and subsequent career year an anomaly? No one knows.
Here's what we do know. Shields will sign for less money than Lester, but it sounds like it's going to take a fifth year to sign him. I'd rather have Lester from ages 30-36 than Shields from ages 33-38. Furthermore, Shields strikeout rate declined for the second straight year, which is worrisome for a 33-year-old pitcher.
Perhaps if Shields were available for three years, I'd go with him, but he's not. We also know that it's also going to take a LOT more money to sign Scherzer than it's going to take to sign Lester.
Jon Lester has proven he'll be one of the top twenty pitchers in baseball, year in and year out. He's proven that he can thrive in Boston, he's proven that he can thrive in the American League East and he's proven that he can thrive in the post-season. Sign John Lester now.
2) Trade Matt Barnes, Devin Marrero, Sean Coyle, Will Middlebrooks, Alan Webster and Daniel Nava and to Philadelphia for Cole Hamels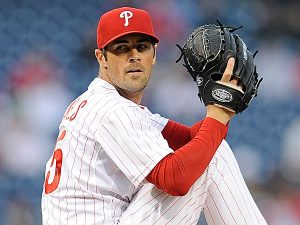 Here's where things get interesting. The Phillies are looking to move Cole Hamels because they have finally realized that they can't compete as currently constructed. The Phillies have holes all over their team and they're looking to get a major haul back for Hamels. Philadelphia and the Sox have already had discussions about Hamels.
This trade proposed here is a win-win for both clubs. Devin Marrero, 24, is an elite defensive shortstop without a place to play in Boston. Incumbent Phillies shortstop Jimmy Rollins, 36, has one more year on his contract which will allow Marrero time to develop in Triple-A before jumping to the big leagues full-time in 2016. There are questions about whether Marrero's bat will develop from average to above average, but he's currently tearing up the Arizona fall league and his superior glovework will earn him a starting spot in the majors.
Second base prospect Sean Coyle, 22, is an intriguing player. In Double-A last year he hit .295/.371/.512 with sixteen homers. He strikes out a lot but he walks and hits for power. He's also solid defensively,despite not being the most athletic player on the planet. With Chase Utley still playing great at 36, the Phillies don't need a replacement just yet, but having a young power-hitting prospect waiting in the wings couldn't hurt.
Third baseman Will Middlebrooks, 26, has major league power but his relationship with the Sox is strained, and it just doesn't seem like he wants to be in Boston. With the signing of Sandoval he also doesn't have a position to play anymore. A fresh start for him seems to be best, and the Phillies need a third baseman.
Daniel Nava, 31, got off to a slow start last year, but he's proven he can hit major league pitching and finished with a .372 OBP against righties last year.  He can play left and first, both positions of need for the Phillies. Oh yeah, he's affordable as well, as his estimated haul from arbitration is $1.9 million.
The Phillies would also get a true top pitching prospect in Matt Barnes. Barnes, 24, has a mid-nineties fastball to go along with a plus curve and would immediately be one of the Phillies top prospects. Combine that with Allan Webster, 24, who projects to be a middle of the rotation starter, and this is exactly the sort of haul the Phillies need, one that could net them almost a whole starting infield for years to come and two potential rotation anchors.
For the Red Sox the deal makes sense because while they're giving up valuable pieces, almost none of them have a home on the roster. Xander Bogaerts is blocking Devin Marrero for the foreseeable future. Sandoval is blocking Middlebrooks. Dustin Pedroia isn't giving up his spot to Sean Coyle any time soon. Nava is blocked by Hanley Ramirez/Mike Napoli. Webster and Barnes would essentially be handed rotation spots in Philly as opposed to duking it out with Rubby De La Rosa, Brian Johnson, Anthony Ranaudo, Edwin Rodriguez, and Henry Owens for spots in Boston.
This trade makes both teams better and clears out a significant amount of the logjam created by the Ramirez and Sandoval signings.
3) Trade Yoenis Cespedes, Clay Bucholz and Brandon Workman to the Tigers for Rick Porcello
I wouldn't have thought this a possibility, but it's certainly being discussed. The Tigers are looking for a power bat for their outfield. Yoenis Cespedes, 29, plays outfield and hits home runs (although he doesn't do much else). The Tigers want a starter in return and rumor has it the Sox are trying to move Bucholz, 30. Workman, 26, is another valuable but moveable piece.
He features a nasty cutter to go with mid-nineties heat but he took a step back this year. It's not quite clear whether his future is as a starter or a reliever, but he's the sweetener that can make this trade work. Considering Detroit's historical bullpen problems, Workman might just be more valuable to them coming out of the pen.
And I think it's pretty clear to everyone at this point that Bucholz needs a change of scenery. Detroit, where nobody would be asking him to be the ace of the staff just might be a perfect fit.
I don't quite understand Detroit's motivation to move Porcello, 25, other than he's coming up on a big payday next year, but if Detroit is looking to trade one of the better young pitchers in baseball for the over-hyped Cespedes and a starter, I'm in.
4) Put Rubby De La Rosa and Anthony Ranaudo in the bullpen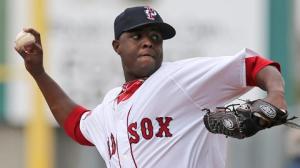 I've been in love with the 25-year-old De La Rosa's stuff for a long time. How can you not love a fastball that reaches triple digits paired with a devastating change? Same with Anthony Ranaudo, 24, who slings a mid-nineties heater and a hammer curve. The problem is both lack a third out pitch and struggle the deeper they get in to games.
Considering the Sox plethora of upper level starting pitching prospects, I believe the smart thing to do here would be to follow the Kansas City model and put both of these power arms in the pen. Between these two flame-throwers, Junichi Tazawa, Edward Mujica and Koji Uehara, the Red Sox bullpen would be formidable, to say the least. Furthermore this plan allows the Sox to get a feel for potential in-house successors to the 40-year-old closer Uehara.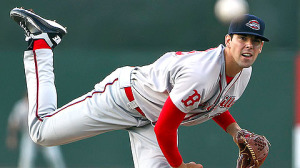 This would also pare the competition for the final rotation spot down to lefties Brian Johnson, 24, and top pitching prospect Henry Owens, 22, both of whom I believe have the potential to be more successful as starting pitchers in the majors than either Ranaudo or De La Rosa.
Let's take a look at the 2015 Boston Red Sox if these moves were made:
Starting Lineup
Mookie Betts, RF
Dustin Pedroia, 2B
Hanley Ramirez, LF
David Ortiz, DH
Mike Napoli, 1B
Pablo Sandoval, 3B
Rusney Casillo, CF
Xander Bogaerts, SS
Christian Vasquez, C
Starting Rotation
1) John Lester
2) Cole Hamels
3) Rick Porcello
4) Joe Kelly
5) Brian Johnson/Henry Owens
Bullpen
CL Koji Uehara
SU Junichi Tazawa
SU Edward Mujica
RP Anthony Ranaudo
RP Rubby De La Rosa
RP Drake Britton
RP Steven Wright
You'd be hard pressed to find a better built team in baseball. In fact I think that team would have to be considered prohibitive World Series favorites. So there's your blueprint Ben Cherington, if you have any questions feel free to DM on twitter.
Follow @CeeLukes on Twitter