Kirk Herbstreit is Spot on About The Seminoles
Updated: November 19, 2014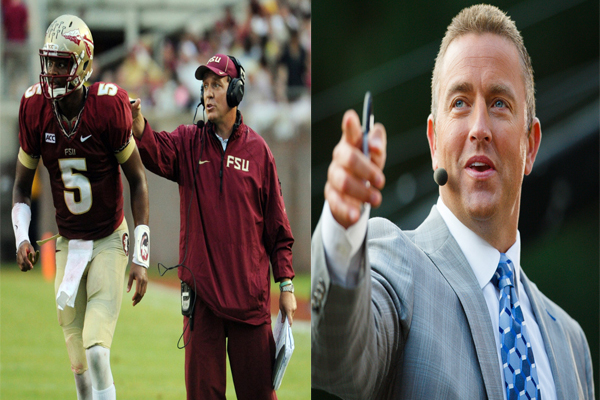 These last two years of college football have been a very amazing but peculiar time for myself, as well as Seminoles Nation. Last season, FSU were all the talk in college football, and they were picked to be the team that could actually dethrone the mighty SEC and remove their chokehold on the National Championship.
But this season, FSU has become the most hated team in college football. The 180 degree turn has caught Seminoles Nation off guard and has put us on a weekly defensive. There can be many reasons why America does not want the Seminoles to prosper. The one person that has spoken up for the Seminoles week in and week out is ESPN college football analyst Kirk Herbstreit.
Herbstreit is a noted Ohio State Buckeyes fan, but he may be the most objective analyst in college football, and his recent comments about Florida State on ESPM's Mike and Mike told the entire story of the current Seminoles season.
The Hunger Is Not As Intense As Last Season…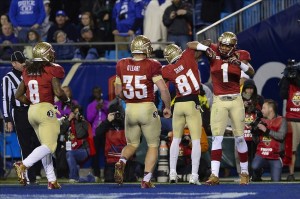 Herbstreit was asked why does he think the Seminoles keep playing with fire every week by getting down big at halftime before coming back and winning. He gave two great reasons. First, the players that left to the NFL were talented leaders, and second, this team is simply just bored. I think he's right.
Prior to the 2013 National Championship victory, Florida State hadn't won a National title since the late 90's under legendary head coach Bobby Bowden. The Seminoles went years languishing in anonymity while watching rivals like the Miami Hurricanes and Florida Gators raise trophies and dominate the state. After countless sub par seasons and the eventual retirement of Bobby Bowden, Florida State brought in Jimbo Fisher to replace the legend, and to bring the Seminoles back to prominence.
Although the Seminoles would start thrashing opponents on the arm of their young star quarterback Jameis Winston, it was the core nucleus of the team that made FSU so dominant last season. Florida State had players like Tim Jurnigan, Kelvin Benjamin, Devonta Freeman, Lamarcus Joyner, Telvin Smith, Bryan Stork, and more, helping Jameis along the way. Every player I named played a significant role in those dominant FSU wins last season.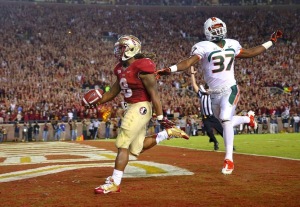 Some of those players are already starting for their NFL teams this season, so imagine how big a loss that was for FSU. I understand every team loses guys to the NFL, but it's not easy to replace experience and talent with just talent. Those players that left knew what it was like to fall short; they understood what losing felt like. A lot of these new FSU players don't. The guys who were on last year's team have a trophy under their belt, and the new 4 and 5 star recruits were likely high school state champions where they came from or just used to being dominant players on really good teams.
This may be why in the first half of most of the games this season the Seminoles do in fact look bored. They're so talented that they can just flip a switch after half time and turn into last year's team. Talent is scary thing. The way Florida State bounces back week after week is interesting to see, but nerve-racking as a Seminoles fan. People are waiting for the other shoe to drop, and for the Seminoles to dig themselves into a hole that not even they can get out of. Until that happens, they're undefeated and all that matters is the result at the end of the game, not the result at the end of the first half.
Say Hello To The Bad Guy…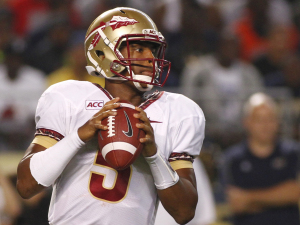 During the interview, Herbstreit said that the country seemed to be rooting against the Seminoles not only because they are National Champions, but also because Jameis Winston has proven to be quite the polarizing figure. Again, he's right. The Seminoles are the National champs and haven't lost a game in nearly two seasons. It's obvious every team they play will have the game against them circled and will give the Seminoles their best shot. That's just how it is in sports.
When the champs roll into town, your team wants to knock them off their pedestal. It's what makes sports fun. But added with it is the Jameis factor. Between rape allegations, stealing food, immature conduct in public, allegations of other NCAA violations like allegedly signing memorabilia for money, Jameis has made himself a target outside of Seminoles nation. And I think some of the desire around the country is to see Jameis go down in some form or fashion, whether it be on or off the field.
With all the off-field stuff never leading to anything more than suspension for half of a game, the world sees it as Jameis being above the law. I don't know anything about the politics in Tallahassee, Florida. I have no idea about the politics involved at Florida State. Is Jameis getting outside help to keep him playing? Anything is possible.
But I'm not there so I can't speculate on how things are done. If Jameis is guilty of any of the things he's been accused of then I hope he gets whatever he deserves from the courts, but until then, he's eligible to play and people will root against his team to lose because he is on it. I also don't know if that playoff selection committee has an agenda against Winston either, but every week they seem to wait for FSU to slip up so they can remove them from the top 4.
How teams with a loss are in front of the undefeated defending National Champions is beyond me, but if the committee could, they would probably have Mississippi State in front of FSU right now also. At the end of the day none of this matters. If FSU keeps winning, then the committee and the entire country can root against FSU; and Seminoles Nation won't care. The only objective is to get to the National Championship game and watch the Seminoles defend their crown.
Herbstriet finished his interview by saying that on a neutral field, he would pick Florida State to beat anyone in the country. Can Florida State run the table for a second straight season and win another title? That remains to be seen. But until then undefeated is undefeated. And with the best quarterback college football has seen since Andrew Luck leading them, Florida State is in good hands with Jameis Winston. And no committee on Earth can take that away from the Seminoles.
Follow @LSN_Frantz on Twitter