Albaggio's Week 4 NFL Picks Against the Spread 2015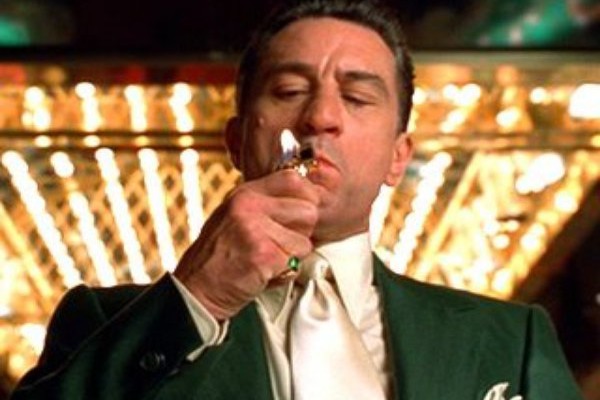 The overflow of angry texts and e-mails asking about the absence of my weekly NFL picks against the spread had become too much to bear. Well, actually it was like three texts and one e-mail but who's counting? The point is, Albaggio is back and ready to make you laugh and maybe win you a few bucks simultaneously.
Last year I was ten games over .500 Against The Spread (ATS), which I thought was rather respectable. The goal this year is to beat that mark and hopefully come up with some witty material that you can pawn off as your own at work. I love the guy who comes into my restaurant/bar and quotes a thought he heard on 710 ESPN radio and then interjects with their falsely acquired "two cents" during a provocative sports debate and smirks after with a sense of pride praying nobody heard the same segment they did earlier in the day.
I'm a nice guy so I usually let it slide but if the guy is habitually acting like a clown, I roll into my Matt Damon in "Good Will Hunting" character and embarrass the poor lad. Here's a hypothetical dialogue for everybody. The bar is full of regulars and the one guy trying hard to fit in after three Ketel One and sodas. The topic is Deflate Gate. The following participants are actual regulars from my bar, only under their nicknames to secure some sort of anonymity.
Mountain Dave: So, is Roger Goodell's four game suspension of Tom Brady really going to be upheld?
Big Bob: I don't know and I don't care. I'm just ready for some football to start.
Slick Rick: I'm so sick of that overpaid idiot Roger Goodell. He's been nothing but a black eye for the NFL the last two years.
Clown at the bar: How can you call Goodell an idiot? You guys are all CLUELESS!!! My sentiment is that Roger Goodell is the ultimate fall guy for the owners and that he will never be replaced because they love having his name in the headlines instead of their own. Furthermore, he's going to continue cashing those $44 million dollar a year checks and laughing his way to the bank!
Me: YOUR sentiment huh?
Clown at the bar: Yeah, what of it?
Me: Well that's funny because I heard Adam Schefter explain at 7:32am on the "Mike & Mike in the Morning" show the exact same fall guy theory and I heard Dan Le Batard make the $44 million dollar a year joke at 3:32pm. If you wait until midnight I'm sure you could find something to regurgitate from the Freddie Coleman show. Is that your thing? You call my friends CLUELESS just to participate in some bar chat? You make some good points, just give credit where credit is due.
Clown at the bar: (Slurping his final cocktail at a frantic pace and signaling for the check).
Enough of comparing myself to a fictitious character who's a 1000 times smarter than me and just a tad better looking. On to my Week 4 NFL picks ATS!!!
As always, home team in ALL CAPS
DOLPHINS (+2) over Jets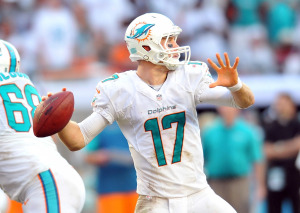 Can we talk about Ryan Fitzpatrick's beard for a second? It deserves its own press conference if you ask me. It screams of things like, "I don't give a s&%@" and after he throws to Brandon Marshall in triple coverage for a Pick 6 it suggests, "hey, you guys knew what you were getting when you signed me."
If he were a baseball player he would be equivalent to the bullpen catcher who is constantly scratching his nuts and when the jumbotron spots him, instead of being embarrassed like a normal human being, he just smiles like Matthew McConaughey in the Lincoln car commercials. It's truly fascinating and I can't wait to bet against him this weekend.
COLTS (-9.5) over Jaguars
This segment took me awhile to find a Beverly Hills 90210 parallel but I finally managed it. I really want to hold a grudge against Andrew Luck for ruining my Fantasy team in my big league but he just seems like too nice of a guy to have such a petty reaction to a stupid addiction that has me hitting the refresh button on my iPad every 60 seconds.
It's eerily similar to when Dylan momentarily despised Brandon for dating Kelly years after their initial romance. Dylan knew damn well Brandon would treat her a hundred times better and acknowledged the fact Brandon would never get caught having a ménage a trois at the Beverly Hills Beach Club with a wealthy cougar and her 20-year-old daughter wearing nothing but a poncho and sombrero with Corona's and rubbers lying everywhere as Kelly tried to surprise him with eggs benedict only to scurry away moments later in a bed of tears. Yup, I just pulled that off…you're welcome.
BILLS (-5.5) over Giants
Blood vs. Blood, Hermano vs. Hermano. I'm going for the jinx and picking my brother's Bills laying the 5.5 against my beloved Giants. I'm doing this for two reasons. First, I have Buffalo locked in a very lucrative parlay that could send me on a luxurious tropical vacation. Secondly, I have this intuition Percy Harvin is ready to have a Charlie Tweeder game from "Varsity Blues". This entails one punt return TD, one receiving TD, and one celebration after the game so epic that he ends up in an urgent care clinic uttering the famous Tweeder quote while looking at his manhood, "What the f%$# is that?!"
Panthers (-3) over the BUCS
Stubbornness. This one character trait has haunted my entire gambling career. I blame it on my genetic makeup and have a story to prove it. I once saw my brothers win $2,800 on a single chute of Blackjack (I won $2,200 on the same chute). We couldn't make below a 20 and the dealer couldn't avoid busting if his life depended on it. It was "The Perfect Storm". Now I know what you are thinking, "Hey moron, the all DIED at the end of that movie."
Be patient, I'm getting there. The pit boss heard all the commotion, went to what seemed to be the equivalent of a bullpen phone and out walked a guy who's name might as well have been Mariano Rivera. I looked at my brother and hinted that we should probably leave because this table was about to go down like the Titanic.
He turned to me as I grabbed my stack of $100 black chips and started to walk away and responded, "I'm on a heater, I can beat this guy!" Five hours later as we're devouring $25 French toast and my brother is examining the lent in his pockets where there used to be a stack of big bills, he drunkenly gazes over at me and murmurs, "I thought I had him."
Stubbornness. The segway of this story is that Vegas always makes money by taking the home underdog if they are getting points and in this case, the "Famous Jameis" led Bucs are getting 3 points. I'm taking the Panthers because even though I know I'm going to get burned, I refuse to bet against Greg "Third Leg" Olsen simply because he made a hilarious cameo on the infamous rap song featured in ESPN's 30 for 30, "The U…Part 2". That's the last genitalia joke folks, I promise…for this week anyways.
Eagles (-3) over REDSKINS
Shakespeare I am not, but it's time for some poetry.
Betting against home underdogs seems like such a venial sin,
But when you check your offshore account don't be surprised when you don't have a win.
Las Vegas sports all those fancy hotels for a reason,
When you bet against the cardinal rule, the sharps see it as a sign of treason.
Need one more premonition to pick against me?
I just picked Sam Bradford in a divisional game, the same guy who single handily ruined the NFL's rookie money guarantee.
Raiders (-3) over BEARS
Dean Martin wanted to take this one so I figured what the heck, let's honor the Rat Pack and keep it short and sweet…
"When the Silver & Black beat you with 168 yards and 2 TD's receiving attack, that's AMARI!!!
When the Raiders win three in a row, you know the rookie wide receiver that helped them do so, that's AMARI!!!"
Texans (+6) over FALCONS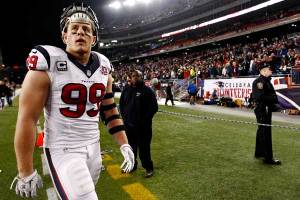 If you were looking for some statistical data on why I chose the horrific Texans you may as well skip ahead to my next pick. This is strictly based on the last two seasons of HBO's "Hard Knocks". I never got through an episode of the Atlanta Falcons season without taking a nap somewhere in the middle and on the contrary, the Houston Texans' season was off the charts funny.
Between the rookie initiation skits and the entire Texans' defense miserably attempting to spell the word "opportunity", I'm not sure I've laughed harder all summer.
BENGALS (-3.5) over Chiefs
Alex Smith may have cost me some money against the Broncos a few weeks ago but he concurrently gave me an idea for what may go down as my favorite material ever. Ladies and gentlemen, this is Alex Smith playing Maverick and myself playing Sundown in the move "Top Gun" (YouTube "Maverick won't engage" for additional imagery).
Me: Alright Alex, we're down 7 and we got Maclin repeatedly beating his man on a go route down field. You got the angle, piece of cake pal.
Alex: (Breathing heavily and sweating profusely)
Me: I know your completion percentage beyond 10 yards is atrocious but you have to make the throw Alex!!!
Alex: It's not good, it doesn't look good.
Me: What do you mean it doesn't look good?! It doesn't get to look any better than that!!!
(Fast forward to the locker room after another devastating loss…)
Me: Hey man, we could have had him. Hey man, we could have had him!!!
Alex: (as he launches me off my feet into a Gatorade cooler) I will throw the ball down field when I'm damn good and ready, YOU GOT THAT?!?!
I can't watch a #1 overall draft pick be that terrified of throwing a ball over 10 yards down the field anymore. If it's something mental, then so be it. Just remember, nobody cut Steve Sax and Chuck Knoblauch a break when they couldn't throw a baseball from second to first base.
CHARGERS (-7) over Browns
For this week only, we're going to change the Bolts corny theme song from "San Di-ego…SUPER CHARGERS!!!" to "San Di-ego…GONNA COVER!!!"
Packers (-8) over 49ERS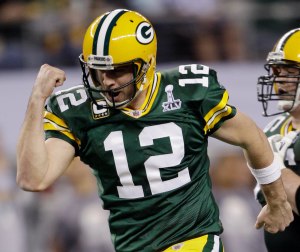 This is a loyalty pick. I visited Dublin, Ireland this past summer to attend one of my best mates, Smash Richmond, wedding who happens to be a Cheese Head as well as a renowned wrestling fan. He chose, "I am a real American" for his entrance music to the reception. It literally made my trip watching 300 Irish folk lose their shit to Hulk Hogan's entrance song. If that doesn't pump up Aaron Rodgers to a double digit victory, then I don't know what will.
CARDS (-7) over Rams
This pick is for my 6'7" friend who will be decked out in his front running Cardinals jersey and styling his Jordache jeans that expose his Achilles because they're three inches too high. Okay, I lied twice just now. He's been a die-hard fan since the Kent Graham and Frank Sanders days' and the Jordache jeans is an inside joke.
Just know this BK, when Nick Foles connects with Tavon Austin for a 68 yard meaningless late 4th quarter score to back door the spread, you WILL be receiving a nasty text from Albaggio.
BRONCOS (-7) over Vikings
I liked the Broncos when they were only laying 6.5 points but this even TD business has a push written all over it. I'll stick with Mr."Chicken Parm it tastes so good" Manning but get ready to have one of your 3 team parlay's knocked down to a 2 teamer.
Cowboys (+3) over SAINTS
My first act of reconciliation next time I see my priest is going to be asking for forgiveness for throwing my TV off my second story balcony for betting on Brandon Weeden. I'm hoping he gives the ginger and myself two Hail Mary's apiece to serve my penance. We're going to need them to stay within the 3 points.
SEAHAWKS (-9.5) over Lions
According to the Albaggio Census Bureau the Lions have a 67.4% chance to get shut out just as the Chicago Bears did last week. Once again, this is another painstakingly false statement. What isn't a false statement is my boy JT's text early yesterday morning saying, "bet $10,000,000 against the Lions, you'll be fine. They're getting goose egged on Monday night". The guy knows his team, what can I say.
Enjoy your weekend everybody and I look forward to entertaining you for the rest of the year. Please feel free to comment in the section below or at my Twitter handle, @jamesalbaLA