2014 NFL Midseason Awards
Updated: November 7, 2014
The NFL season is now at the halfway point, which means a couple of things. If you're a Raiders or a Bucs fan, it means your season's over. If you're a New England Patriots fan, it means you've demanded that either Tom Brady or Bill Belichick have to retire at the end of the season at least once. If you're a Cincinnati Bengals fan, it means you've burned and replaced your Andy Dalton jersey at least twice. Basically, a lot has happened in the first half of the season. That being said, it's time to hand out some midseason hardware, so let's roll.
MOST VALUABLE PLAYER
Ben Roethlisberger, QB, Pittsburgh Steelers
This award came down to two players, Ben Roethlisberger and Tom Brady. No doubt there are others to be considered but for a variety of reasons Brady and Roethlisberger are a cut above the rest.
Brady and Roethlisberger are playing the position about as well as you can play it. They're completing a high percentage of passes, throwing touchdowns, limiting turnovers and winning games. No QB in football has a better touchdown-to-interception ratio than Roethlisberger or Brady, both of whom have thrown twenty-two touchdowns with three interceptions. But there can be only one.
I really, really wanted to pick Tom Brady here. Since I left Brady and the Patriots for dead several weeks ago, Tom Terrific has ripped off eighteen touchdowns in his last five games while being picked off only once, and that pick was the result of a bad Danny Amendola drop. This torrid stretch has returned Brady to elite quarterback status, ranking him second behind Big Ben in the Pro Football Focus quarterback rankings.
Regrettably for that particular Cinderella story, Ben Roethlisberger has simply been better than Brady. Where Roethlisberger really sets himself apart is yardage. While Brady and Roethlisberger have had almost the exact same number of pass attempts, Roethlisberger has thrown for 2,720 yards versus Brady's 2,392. That's a 328 yard difference, almost a whole game's worth of passing yardage. It puts Roethlisberger ahead in yards per attempt by almost a full yard, 8.05 to 7.16.
Furthermore, Roethlisberger is currently completing 68.3 percent of his passes, just behind league leader Drew Brees. Brady is no slouch either at 64.1 percent, but he's simply not in the same league as Big Ben. No quarterback in the NFL is combining accuracy, yardage, and scoring better than Roethlisberger right now and that's why he's the MVP of the first half.
OFFENSIVE PLAYER OF THE YEAR
DeMarco Murray, RB, Dallas Cowboys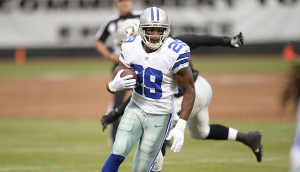 We can all agree this is a stupid award, right? It's usually given to the best offensive player who just so happens to not play quarterback. But if a quarterback is the Most Valuable Player in the NFL how is he not also the Offensive Player of the Year?
Logic aside, this award still exists, so let's hand it out to the best non-quarterback available. That would be the seemingly unstoppable DeMarco Murray.
Murray is putting up some truly historic numbers behind a very good Dallas offensive line. Overall this year Murray has carried the ball 225 times, scored seven touchdowns and racked up 1,133 yards, good for 5.0 yards per carry. He also has thirty receptions for 250 yards, an average of 8.3 yards per reception. This puts him on pace for 2,014 yards and twelve touchdowns on the ground to go along with fifty catches for 444 yards through the air.
If DeMarco Murray is able to keep this pace up, it would place him fifth overall on the single-season rushing list and second overall on the all time single-season yards from scrimmage list. That's surely a season worth recognizing, regardless of the inanity of this award.
DEFENSIVE PLAYER OF THE YEAR
J.J. Watt, DE, Houston Texans
This is isn't even close. Barring injury, J.J. Watt is going to win this award every year for a long time. Watt is such a singular force of nature that he's forcing consideration for the MVP award (see here, here and here).
Watt is so much better than his front seven counterparts in all phases of the game it's ridiculous. Watt is almost doubling his next closest competitor in both Pro Football Focus' overall defensive grading and their pass rushing grading. So far this year, J.J. Watt grades out to a 53.8 with Von Miller coming in second at 28.1 and Cameron Wake sliding into third with a 27.0.
In terms of pass-rushing Watt is currently sporting a 49.6 pass rusher rating while Cameron Wake and Gerald McCoy are second and third, respectively, with 25.6 and 25.0. Additionally, Watt is currently doubling his next closest competition, Robert Ayers, in quarterback hits, twenty-seven to twelve. Watt also leads the NFL in batted passes with seven.
This isn't new. This is his is the third straight year of such dominance. Watt's overall grade last year of 99.8 was far and away the best in the league. The only defensive player within sniffing distance was Robert Quinn, with a score of 74.6. Gerald McCoy was a distant third with 48.8. 2012 was slightly closer. Watt dominated the league to the tune of a 94.2 PFF score. Von Miller was the closest anybody's come to matching Watt's brilliance in the last three years with an outstanding 82.6 that year. Cameron Wake came in third with a score of 51.2.
There is no other player in football who is as disproportionately superior to his counterparts as J.J. Watt is. He is playing at a level (or two) above anyone else on the defensive side of the football. That doesn't figure to change any time soon, nor does the winner of this award.
OFFENSIVE ROOKIE OF THE YEAR
Zach Martin, G, Dallas Cowboys
A guard for Offensive Rookie of the Year? This is insane! Well no, not actually. Yes, Sammy Watkins and Kelvin Benjamin have put up flashy numbers for rookies. Yes they are both very good rookie wide receivers. But Zach Martin is currently the fourth-best guard in the league according to PFF offensive line rankings. In comparison, Watkins and Benjamin are ranked thirty-fourth and ninety-seventh amongst wide receivers respectively.
In fact, if I were to get a second choice for Offensive Rookie of the Year, I would go with another guard, Joe Bitonio of the Cleveland Browns, currently ranked as the fifth-best guard in football according to PFF. If the world was a fair place, not only would Martin win the Offensive ROY, but both he and Bitonio would be going to the Pro Bowl. Unfortunately they're rookie guards, so they're probably not going to the Pro Bowl and Martin is definitely not winning the Offensive Rookie of the Year award. But he should.
DEFENSIVE ROOKIE OF THE YEAR
Khalil Mack, OLB, Oakland Raiders
Outside of MVP, this was probably the toughest choice on the ballot. Baltimore Ravens middle linebacker C.J. Mosley is currently Pro Football Focus' top-rated middle linebacker. On the year he has eighty-five tackles and two picks. Minnesota Vikings outside linebacker Anthony Barr is the third-ranked 4-3 outside linebacker according to PFF.
He has forty-six tackles, nine quarterback hurries and four sacks But it's the man that broke the Raiders' ten-year streak of first-round busts who stands above all, outside linebacker Khalil Mack, who has been dominant in all phases of the game.
There was never been any question about Mack's ability to rush the passer coming into the NFL, the question was could he stop the run at the pro level? Question answered. Mack ranks as Pro Football Focus' top overall run defender for any defender anywhere on the field, J.J. Watt included.
Now some are questioning Mack's supposedly elite pass rushing skills given that he has zero sacks. The fact is that he has twenty-three quarterback hurries which currently ranks second amongst all outside linebackers and is tied for seventh league-wide, so the sacks should come with time and a little bit of luck. Mack's overall performance has him as the sixth-most valuable player amongst all front seven players and cements him as a force to be reckoned with for years to come.
COACH OF THE YEAR
Bruce Arians, Arizona Cardinals
This was a J.J. Watt level no-brainer. Best record in the NFL? Check. Best record in the NFL with Carson Palmer as your quarterback? Check. Won two games with Drew Stanton at quarterback? Check. Overcame multiple major injuries? Check. Turned a 5-11 Cardinals team into a Super Bowl contender in just two years? Check.
Bruce Arians has proven that he is one of the elite head coaches in the NFL. He proved it in Indianapolis and now he's proved it in Arizona. No matter what obstacles his teams face, they always compete. Did I mention that he has consistently won with Carson Palmer for two straight years?
COMEBACK PLAYER OF THE YEAR
Rolando McClain, MLB, Dallas Cowboys
As of this time last year, Rolando McClain was just the latest in a long line of notorious Oakland Raiders first-round busts. If you had told me that he would ever have a productive football career after retiring from the Ravens at twenty-three last year, I would've laughed you out the door. I would've been wrong.
In the now infamous picture above from 2011, McClain had just been arrested for threatening to kill a man and firing a gun next to his head. He was later arrested in a separate incident for saying, "Fuck the police" to a police officer and resisting arrest after being ordered to leave the scene of a disturbance. Shortly thereafter he was arrested for providing police with a false name when pulled over for a window tint violation. That all happened within a year-and-a-half time period.
But credit where credit is due. McClain left football last year due to anger issues that made him feel "like Aaron Hernandez." He spent time away from the game in an attempt to better understand himself and get his life in order. When he came back to football this year and joined the Cowboys for training camp nobody really took notice except for Cowboys' beat writers and a few internet jokes about the above photo.
Everyone is taking notice now that McClain is playing like one of the best middle linebackers in football. According to Pro Football Focus he's been the sixth-best middle linebacker in the league with at least 400 snaps. His vaunted athleticism has been on display as he's been the third-best middle linebacker in pass coverage in the NFL. In the history of comeback players there may not be a stranger one than Rolando McClain, but you can't help but be happy for him. Unless you're a Raiders fan.
Follow @CeeLukes on Twitter