Arsenal F.C.: What A Time To Be Alive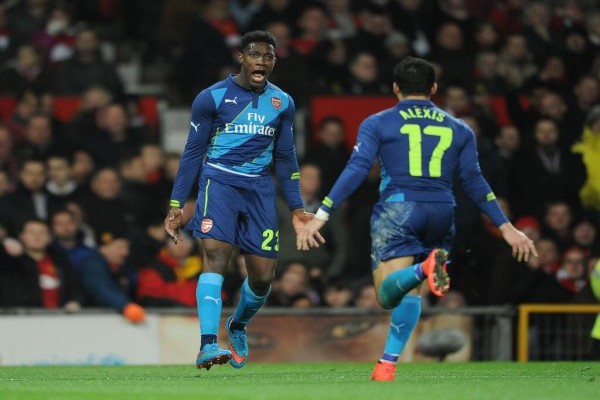 One of my favorite English sayings that I see often on social media from fellow football fans is, "What a time to be alive." I always find it funny because it's not a saying we use here in America, and most of the time that sentence follows something bad, and it just makes the entire quote all the funnier. But at certain times as a Futbol fan, that saying genuinely expresses how you feel about what your team is doing.
And right now, Arsenal FC has done something I didn't think would be possible again this season, and that's unite an often fragmented fan base. The ebbs and flows that can be witnessed from tweet to tweet, picture to picture, or post to post in regards to Arsenal can go from the sublime to absolutely frightening in mere seconds. But sports are a funny thing. One great stretch of games, or one victory can almost single-handedly cure-all woes, well, at least temporarily.
And right now that's where things stand with Arsenal FC. The most recent FA Cup victory at Manchester United was as uplifting a victory as Arsenal has had since the FA Cup Final last May. And as well as things seem to be going right now, none of this is possible without what's been happening on and off the field for the Gunners.
There Is Always Strength In Numbers…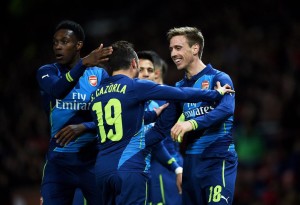 Before I continue, sit back for a minute and think to this date, January 1st 2014. As an Arsenal fan I know this date well because on that day, Arsenal FC were top of the league and our future looked bright. Then the inevitable happened, Arsenal was ravaged with injuries throughout the entire squad and key players like Mesut Ozil, Theo Walcott and Aaron Ramsey were all lost for long stretches. Once key players started dropping like flies, Arsenal's position at the top started dropping too.
And the horror show hit rock bottom with the 6-0 drubbing at the hands of Chelsea on the day Arsene Wenger was to be in charge for his 1000th Arsenal match. After the battering at Chelsea, things at Arsenal started to turn around, and as luck would have it (something Arsenal fans rarely get a chance to experience with injuries) players started returning at a pivotal time in the season. Arsenal needed to finish top 4 and hopefully win a trophy, and the club managed to do both. But none of that would have been possible without a full strength squad at Wenger's disposal during the final stretch.
This Arsenal team is always a few players away from being elite, and I think we are starting to see a more ruthless squad approach in Wenger that the fans have been asking for. Shipping out the likes of Lukas Podolski and Joel Campbell would have been unthinkable in years past because of Wenger staunch loyalty to his players, and also because Arsenal were in no financial position to wheel and deal in the transfer market. But the captures of Ozil and Alexis Sanchez have proven that there is money to be spent, and that the squad when healthy is capable of doing amazing things.
When the squad is healthy for the most part, players have to step their games up in order to get a place in the start XI. And one thing Wenger had been missing since the trophy drought was the problem of a selection headache. On his departure to Old Trafford, Robin Van Persie said he always felt comfortable at Arsenal because he knew he would always have his starting place. Samir Nasri uttered the same.
Now, Wenger will drop you because not only does he have enough reinforcements, but also because he knows that his time is running short on getting Arsenal back to the top with him at the helm. And with the likes of Theo Walcott and Wojciech Szczesny having trouble getting into the Arsenal starting XI, something that would have been unthinkable last year, it's safe to say there's a new approach at Arsenal, one that will breed a fighter's mentality. Something Arsenal has desperately needed for a decade.
The Unsung Heroes Should Be Heralded More…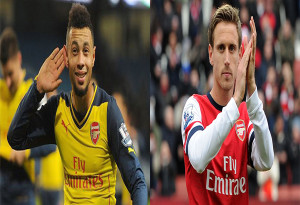 Super-stars always make the headlines in sports because they're the face of the franchise and usually the best players on the team. But in team sports, role-players are necessary in order for the entire team to achieve ultimate success. Two players, Francis Coquelin and Nacho Monreal, have been pivotal in Arsenal's recent success. For years Arsenal have missed the presence of a defensive midfielder in the middle of the pitch that could not only protect the back 4, but also help link play to the attacking players while cleaning up messes all over the field.
Wenger hoped that man would be Abou Diaby, and in brief flashes, Diaby looked like he could be the new and improved Patrick Viera. But unfortunately for both Diaby and Arsenal, his body would never allow that union to flourish. So Arsenal toiled with players like Mathieu Flamini and Mikael Arteta in the middle. And although Arsenal eventually won an FA Cup, Flamini was nothing more than a stopgap, and Arteta's best years were firmly behind him.
Instead of spending money on a defensive midfielder in the summer of 2014, Wenger rolled the dice on the same tandem of Flamini and Arteta, and barring one good performance by Flamini in the 2-0 loss away at Chelsea, neither player has been able to handle the load. Enter Francis Coquelin. Since returning from his loan stint at Charlton Athletic, the young Frenchmen has been an absolute revelation in the middle of the park for Arsenal.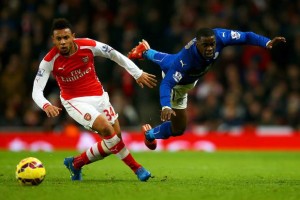 It can be argued that as of right now, the only DM in the Premier League playing as well if not better than Coquelin is Chelsea's Nemanja Matic. Coquelin's reading of the game is second to none. He seems to always be in the right place to make timely interceptions and tackles, and he's full of passion and fire. Some of his tackles leave a lot to be desired, but with him, the Pros far out-weigh the Cons.
Although there is still a section of Arsenal fans that feel Coquelin is still not good enough to be Arsenal's full time DM, week in and week out he proves that no game and no task is too big for him. And his performances at Manchester City in the League, and Manchester United in the FA Cup (both wins) show that no game is too big for him.
That takes me to the mighty Spaniard Nacho Monreal. What more can I say about Monreal other than he is the ultimate world-class utility player. He's talented enough to play in every position in the backline and handle his own. Monreal is a natural left-back but he's been deployed out of position so much this season due to injury problems that he's been thrust into fray with no prior forewarning. And more often than not, he's excelled.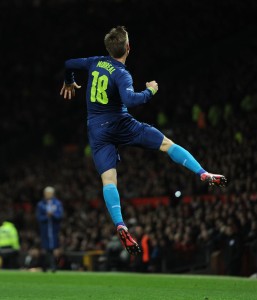 Against Manchester United he was rampant at his left back position and his hard work and performance was rewarded with the opening goal. Monreal is a simple player that doesn't have a flair for the dramatic. He's not flashy like so many of his fellow countrymen, and it can be argued he's the most English Spanish player there is. He goes out, and he does a job like all hard-working English people do. He's perfect for Arsenal. And with what he's been asked to do for the club this season, he should definitely at least get a mention for Arsenal player of the season. 
Wenger Still Knows Best?…
Nobody at Arsenal gets criticized and destroyed in the press and media and by fans as much as legendary manager Arsene Wenger. It's come to the point that you're either a Wenger Out or a Wenger Knows Best. Wenger has not made it easy on himself with transfers and some tactics that have found the team left wanting, but he's still one of the sharpest minds in football. And sometimes it takes a while to actually see what Wenger saw from months earlier. Take the curios case of Cesc Fabregas.
Fabregas left Barcelona in the summer and joined hated rivals Chelsea in what felt like an absolute body blow to all of Arsenal fandom. But Wenger never looked worried. He said there was no room for Cesc because he had all the talent he needed. People laughed when Cesc got off to a flying start in life at Stamford Bridge. Meanwhile, Arsenal's own midfield titan Mesut Ozil was taking heavy criticism for his lack of killer mentality and his poor form in "Big Games." Then in October Ozil blew out his knee and had to miss 3 months.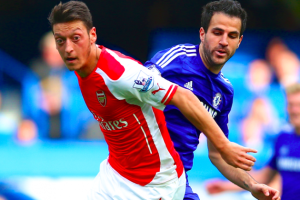 The knives were out for Wenger and praise was in for Jose Mourinho and Cesc. Then January 1st, 2015 hit, and since then, it's been a difference in fortunes for the two midfielders. While Ozil has hit form and helped propel Arsenal's current rise, Cesc has taken a nose dive and has been completely anonymous. This graphic shows how poorly Cesc has performed since the New Year: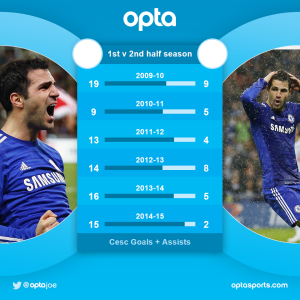 And This graph shows just how Well Ozil has played since the New Year: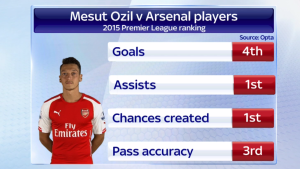 And seasons are won and lost in the second half of campaigns. Did Wenger know something we didn't? Possibly. After all, who knows Cesc as well as Wenger? No one. And think about this, would Santi Cazorla be in the form of his life had Cesc been in the side? Probably not. Would we be seeing these amazing performances off the bench from 34 year-old Tomas Rosicky if he were 4th in the pecking order with a crowded midfield? No, we wouldn't.
Hell, would we have had the money to splash on Danny Welbeck had Cesc come? I'm not sure. But Wenger new what he was doing, and now Arsenal's players are playing at a level that has benefitted them because of the faith their manager had in them. And with that faith they have repaid him with their recent form. Barring the debacle against Monaco in the Champions League, this Arsenal team has been solid, and a lot of it has to do with Wenger setting up his team in ways that they don't throw away easy points.
Prior to the win at Manchester City, people said that Wenger no longer knew tactics and the game has passed him by. Well, an FA Cup Semi-Final later, and a possible top 2 finish in the league has proved we don't know better than Wenger, and we never have. There's a lot of season still left to play. First thing's first, the Gunners have to go to France and pull a smash and grab job in Monaco to salvage the Champions League hopes. Then Wenger's men have to continue the ascent on the Premier League table, and finally, the FA Cup must come back to the Emirates for a second straight season.
The sky's the limit for Arsenal, and for the first time in quite a while, we've beaten Manchester United at Old Trafford, the fan base seems to be united, our players are hitting top form, and Wenger is looking like his lively self on the touchline. Arsenal FC is playing great football when they need to the most? What a time to be alive. And as always, "In Arsene We Trust."
Follow @LSN_Frantz on Twitter