In Wrestling, Hard Work Conquers All
While the uncertain future of Olympic wrestling looms in the air, college and high school wrestling rolled into 2015 with the intention of keeping the sport a thriving endeavor. 
In St. Louis, Missouri, the place who played host to NCAA Division 1 Wrestling National Championship Tournament, the atmosphere was electric in anticipation of the Ohio State Buckeyes heavily favored to win their first team title; and they certainly did not disappoint. Leading the Buckeyes was 141lbs star Logan Stieber who walked away with his 4th national title, and becoming only the 4th wrestler in NCAA history to win four.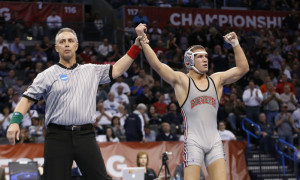 The Buckeyes became only the twelfth university in the history of Division 1 wrestling to win a wrestling title. The university with the most titles is Oklahoma State who has won it on 34 occasions. University of Iowa is the second highest winning D1 School with 23. And Iowa's in-state rivals Iowa State are a distant third with 8 titles to their name.
With all the more prestigious and possibly lucrative sports out there, it's difficult for most sports fan to understand why any great athlete would choose to get into wrestling. There may not be another sport that calls for more personal sacrifice and hard work than wrestling. And no matter how good you become at the high school and collegiate level, there are no seven-figure contracts waiting for you when it's all over.
Once a wrestler finishes his college career, it pretty much ends there. Actor and former College wrestler Billy Baldwin is a frequent spectator and guest commentator of this year's D1 championship tournament.
When asked what brings him back every year, Baldwin answered as only a former wrestler would, "I love the people, I love the sport and the subculture and the fact that this is not Beverly Hills or Miami Beach. Its places like Bethlehem, Broken Arrow and Waterloo I love. It's the heartland and real people, and a beautiful reflection of what America is all about."
I had the honor of attending the Broken Arrow Oklahoma 6A state Wrestling Champions banquet, and it was an amazing experience. I sat down and had one on one conversation with a couple of outstanding young men. I first spoke with 2x 138lbs State Champ Davion Jeffries.
I asked Jeffries what his goals were going into the season, said Jeffries, "I wanted to go undefeated and ranked 1st in the nation." Unfortunately Jeffries fell just short with a record of 34-3 and ranked 4th in the nation by Intermat magazine; definitely not an accomplishment to be scoffed at.
Jeffries will be headed to the University of Oklahoma and told me it was an easy choice, as he felt the program at OU felt closest to a family environment with a great support group, much like his high school program in B.A. Jeffries also told me he was going to Major in Criminology as he has hope of joining the F.B.I. following his college career.
I have no doubt Jeffries will reach all the goals and aspirations he has set for himself. Next I spoke with 3x State Champ at 126lbs Markus Simmions, better known as "pup" by his teammates. Don't let the nickname fool you, Simmions is a tough kid with a constant look of determination. You can tell he always up for a challenge on the mats, and I was instantly impressed with Simmons.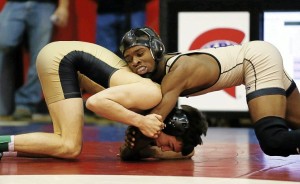 I asked pup what drives him to achieve athletically as well as academically, and Simmons simply replied, "My Dad." Simmons has chosen to attend Iowa state and Major in Engineering. Simmons said he will miss being around his dad who has always been there for him, but is looking forward to the next chapter of his life. Broken Arrow qualified 11 kids for state, 9 of those placed and 4 took the state title.
Wrestlers who are dedicated to the sport are also some of the best students. As head coach Sean Jones of BAHS wrestling put in simple terms, "Hard work Conquers all!" Jones is the type of coach who is not satisfied with just Regional, Dual, or individual titles, he puts as much effort towards academic titles.
His squad carried a cumulative 3.27 GPA this season, and yet still challenged a hungry group of kids who look to carry the championship torch that has been burning In Broken Arrow for close to 20yrs now and remain
Holman Tuff. If you're not into wrestling, you should definitely check out some videos on YouTube or go to your local high school and college and support these amazing young individuals. It will definitely be worth your while.
This piece is dedicated to the memory of Skyler Holman. May your wife and children always remain Holman Tuff!